The best climbing frame will keep kids entertained, curious, and safe while playing in the garden, with some of the climbing frames on our list so intricate and cool that the adults may want to join in for a bit, too.
Choosing the perfect climbing frame for your family and for your garden can be difficult as there are so many options out there. Don't be swayed by price alone, though: take a look at our selection, which offers a variety of activities and are safe, sturdy and long-lasting. From the perfect climbing frames for small gardens to wooden varieties and more, we've got the lot.
Need something a little more portable? These are our best garden games for summer.
Best climbing frame
Why you can trust Real Homes Our expert reviewers spend hours testing and comparing products and services so you can choose the best for you. Find out more about how we test.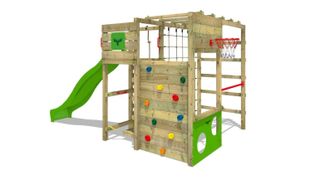 A really cool piece of kit, this climbing frame is more of a playtower playground, as the name suggests, as it comes with so many extras to keep kids happy for hours.
Activities available
This wooden design comes with so many fun activities – a slide, MagicSurf balancing board, monkey bars, climbing ladders and climbing net, all of which are quality and safety tested for peace of mind. Suitable for ages 3+, it will see children through to early teens so makes a great garden investment.
Quality of build
The easy-care wooden frame is made from high-pressure impregnated solid timber and there are multiple configurations to choose from with assembly instructions included. There's also a 10-year guarantee on all wooden parts. It's recommended the frame be set in concrete with anchors.
Added Benefits
It comes with a Wave slide MegaGlider XXL, MagicSurf wobble plank, LineUp climbing rope, climbing wall, three climbing ladders, five GrabOn climbing stones, four MasterGrab safety handles, a large climbing net, gym bar as well as a mirrored mounting option and a water connection on the slide for those hot summer days.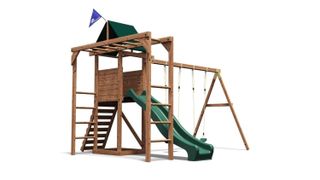 Bring a sense of adventure to your own back garden with this all-in-one design that comes with a variety of fun accessories to keep kids entertained.
Activities available
A fantastic option for two or more children or for when the kids have their friends over, this design comes with a tower platform and roof, extra thick wave slide, two swing seats, grooved grip monkey bars and a ladder/climbing wall with professional-grade climbing stones and space-saving sandpit.
Quality of build
It's made from fully pressure-treated timber, which is low maintenance and hardwearing and it's guaranteed for 10 years against rot and infestation. There's no need to dismantle it every year for timber treating either, as with some wooden climbing frames. Safety ground anchors are included as are all the fixings you'll need.
Added Benefits
The swing seats are made of moulded plastic, which makes them super-strong as well as comfy to sit on. Buyers say it's really stable and you can buy different swings and ropes from elsewhere to provide further variety at a later stage, as they are easy enough to change over.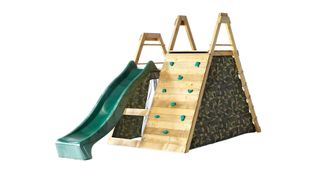 We love this compact climbing frame, as it shows that you don't need acres of outdoor space to keep the kids happy.
Activities available
Kids will enjoy hours of fun on this play centre, which comes with a large double play deck with cargo net, metal rung, ladder, rock wall with coloured hand and foot grips and an 8ft wave slide. The camouflage fabric side panels also feature roll-down windows to create a secret hideaway, perfect for picnics and secret spy meetings. We think it will really fire up their imagination as well as helping to burn off all that excess energy.
Quality of build
Made from premium FSC certified timber, this model comes with a five-year guarantee against wood rot and insect damage. It's super-strong and sturdy and comes flat packed and pre-drilled with easy assembly instructions.
Added Benefits
The 8ft slide can convert into a water slide during hot summer days – just add a hose pipe and turn on. Invite the kids' friends over, make a picnic and let them loose in the garden – happy days.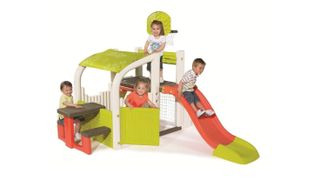 This plastic playhouse climbing frame is perfect for toddlers, as it offers plenty of activities to keep them entertained and is low to the ground.
Activities available
A multi-activity design centred around sports, this climbing frame features a playhouse area with door, picnic table, slide, basketball net, footie net and ladder/climbing wall. It's a perfect purchase for little ones, as it's built low to the ground and there are plenty of things for them to do, whether playing together or separately, even stopping for lunch at the picnic table.
Quality of build
It's made from blow moulded plastic for extra stability as well as being UV treated so it won't fade in the summer sun. Buyers say it's well built and sturdy and is easy enough to put together.
Added benefits
It comes with one ball so your kids can start playing as soon as it's assembled and ready to go.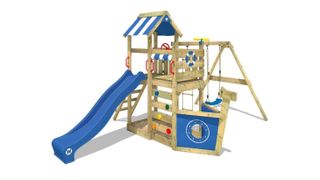 Ahoy shipmates, this climbing frame will really inspire kids' imaginations with its nautical design. Play at pirates, ship captains or pretend you're stranded on a desert island with this fun frame.
Activities available
We love this seafaring frame, which comes with a 220cm slide, swing seat, rope ladder, three swing hooks, wooden swing connector, five climbing stones, four handgrips, steering wheel, telescope, weatherproof cover, sandpit and ship front – everything children need to play at pirates or sea captains.
Quality of build
Made from pressure-treated solid wood, this design is quality and safety tested and you can make up multiple configurations from the component parts.
Added benefits
The swing beam is already set up for an additional swing should you want to buy an extra. Users say the quality is excellent, even if you do have to spend a whole day putting it all together. There are no pre-drilled holes so bear this in mind before you buy.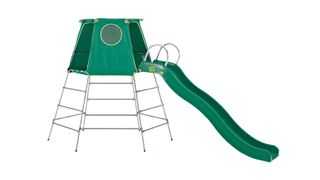 A great option for when you want to invest in a climbing frame with a slide that will grow with your kids.

Activities available
Combining a climbing frame with a green den and slide, this design is fuss-free but still offers endless fun. The den comes with a round viewing window and two entry/exit points. Secret password required!
Quality of build
The galvanised steel frame is sturdy and hardwearing and low maintenance, too. The structure is freestanding and doesn't need to be anchored into the ground. It comes with plastic cups for the feet.
Added benefits
There's nothing particularly fancy about this climbing frame but it does the job and does it well. Perfect for smaller spaces as it's easily movable, it can grow as your children grow with a lower height for 18 months+ then a higher frame for 3-12 years. Kids love the viewing platform too.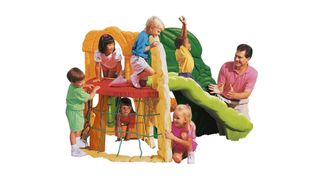 For days when the rain or wind makes its appearance, or if you want to keep an eye on tots and toddlers inside the home rather than in the garden, this compact plastic playcentre is the perfect choice of indoor climbing frame for your playroom!

Please note that The Jungle Climber is currently out of stock online.
Activities available
Ideal for younger kids, this jungle themed playzone is built low to the ground for peace of mind and safety and it comes with a secret entrance and a multi-level climber with two platforms and a wavy slide. There's also a cargo net, rotating door and ground-level openings that connect to the play areas.
Quality of build
Reviewers commend it for its sturdiness, especially for a more lightweight plastic model, and how easy it was to put together, meaning your little explorers could be setting out in no time.
Added benefits
We love this design, as it helps build younger children's confidence, giving them the chance to climb, slide, tunnel and hide all in a small area. They will also love the colourful jungle theme.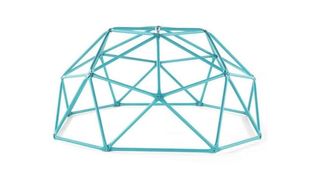 Help kids develop and enhance their climbing, construction and motor skills with this simple geodome frame.
Please note that the dome is temporarily out of stock online.
Activities available
Simple, fuss-free yet highly effective, this Dome Climber will help children build on their cognitive and motor skills.
Quality of build
Made from hardwearing steel tubes, galvanised and powder-coated for maximum protection against all weathers, this dome looks more futuristic than traditional timber climbing frames and comes with ground anchors for stability. It's also UV resistant so it retains its strength as well as maintaining colour.
Added benefits
There's no staining or painting needed and it's freestanding so no need to cement in. The rock climbing hand grips help develop strong muscles and co-ordination. Pop a tarpaulin over the top and you have an instant den, too.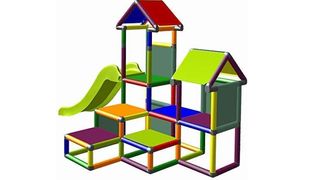 Lots of different configurations
This climbing frame is a bit like a Rubik's Cube: you can configure it in lots of different ways, changing heights and shapes to suit your growing child's abilities. You can also purchase more kit over time and build an even taller castle with more options.
Colourful and high quality
We also really like how colourful it is – guaranteed to get the kids' attention. It is plastic, but the plastic is top-quality, with a nice weight to it.
No English instructions
Although it's not difficult to assemble once you get the hang of it, the instructions are in German only, which can be a bit confusing at first as parts aren't labelled.
What is the best climbing frame?
If you want to buy the best climbing frame (in our opinion), we wouldn't hesitate to buy the Fatmoose FitFrame Fresh XXL. It's our favourite. The wooden cube design comes with so many activities, it will keep the kids happy for hours. Suitable for ages 3+, it's a fantastic all-rounder. These, below, are the best of the rest.
How to buy the best climbing frame
We hope our reviews have helped you on your way to choosing the best climbing frame to suit your family as well as your outside space. Here's what else to look for:
Suitability
Before you buy, check the age that the climbing frame is suitable for. Younger children are better off with a low-level plastic play centre that will help to build their confidence while older children will love added accessories such as slides, climbing walls, netball/basketball hoops, forts and play dens. As well as making sure it's suitable for your child's age, you also want to check the climbing frame is suitable for your garden in terms of size, so look at the dimensions and measure up the allocated spot outside to ensure it will fit comfortably on a lawned area.
Material
We like the look and feel of a timber climbing frame, so long as it's FSC certified, and with some TLC it should keep its looks for years to come, even during the harsh weather. Wood is much more eco-friendly than plastic (although most wooden climbing frames have elements of plastic to them anyway, the slides) but it won't be as easy to keep clean. Plastic designs can look a bit gaudy but they are a safe option for little ones, as there are no splinters to worry about. Steel is tough and hardwearing and perfect for teens and rough play.
Assembly
Most climbing frames will require self-assembly, so check the small print and make sure you have all the tools you may need in order to fit it all together. It's also a good idea to have somewhere warm and dry to store the frame before you have the time to unwrap it and start building.
Climbing frames: can they be recycled?
The fact is that there will come a day when you kids will have outgrown the climbing frame, usually around the age of 12-13. Given how bulky climbing frames are, you're unlikely to want to keep it, so can you out your climbing frame into your recycling? The answer is: technically, yes, but in practice, you'll need to do a bit of research. In theory, all the materials commonly used for climbing frames – wood, metal, and plastic – are recyclable. In practice, you can't simply put your climbing frame into the recycling and hope for the best. You'll need to contact your council for a bulky waste collection and ask whether they will recycle the particular material your climbing frame is made from.
There are services that will recycle and repurpose your climbing frame, but you will have to pay. Contact Green Clover, for example. If you don't want to pay for recycling, you can put your climbing frame on Freecycle to give it to someone who needs it.