Finding the best climbing frame for your garden can be a fantastic way of getting kids outside, getting some exercise and vitamin D, but with the added bonus of being somewhere you can keep an eye on them. The best climbing frames offer a variety of activities, a safe and sturdy build, and loads of longevity, which is how we've put together our list of top buys for active kids.
For more garden buys and supplies, see our garden sourcebook. In the meantime, whether you're designing a garden from scratch or simply need something to keep the kids busy outdoors, here's our pick of the best climbing frames.
Which is the best climbing frame?
The very best climbing frames score high for imaginative as well as active play. Our top pick for variety, versatility, longevity and all-round quality is the Fatmoose FitFrame Fresh XXL, a jam-packed wooden activity centre that can be configured in any number of different ways and provides scope for imaginative and active play as well as skill-building. Suitable for ages three and up, it's a great all-round option.
What to consider when buying the best climbing frame
Suitability
Is the climbing frame age suitable? For smaller children looking to strike out in the outdoors, you may want to look to a confidence-building, low-lying plastic play centre instead. Our pick is the Smoby Fun Centre, which comes with a playhouse and picnic bench as well as activities. For yet more options, including sailing ships and geodesic domes, keep reading below.
Which material?
We prefer wood – looked after even only a little it will last and last and look good in your garden, and assuming it's made from FSC certified timber, it's a good buy environmentally when compared to plastic. That said, most wooden climbing frames have elements of plastic to them anyway (think slides). Want something easy to wipe clean? A plastic climbing frame is a good option, especially for little ones. Steel is a tough choice – and a well-made metal climbing frame will be a good pick for those kids who (in the nicest possible way) are likely to bash the hell out of their new garden toy.
And afterwards, why not check out even more fun garden activity options for the kids? We have plenty to choose from: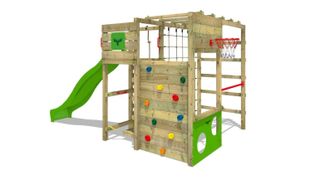 1. Fatmoose FitFrame Fresh XXL
The best climbing frame: every activity you can think of, and then some, features in this extra large climbing frame
Specifications
Best for: Versatility
Material: Timber
Suitable for: 3+ years
Weight: 195kg
Reasons to buy
+ Lots of different configurations + Huge variety of activities
This versatile garden play centre is sure to get their eyes boggling and their imaginations racing. There's practically no end to the different ways they can use it, with a boulder climbing wall, hidey holes, basketball hoop, wavy slide, climbing net, climbing rope, wobble plank, gymbar and even more besides, it's one to keep even the most active of kids occupied for many happy hours.
The whole thing's made of pressure-treated easy-care timber for strength and stability, but best of all, it doesn't need painting or oiling. Low-maintenance and high-variety, this is our best climbing frame.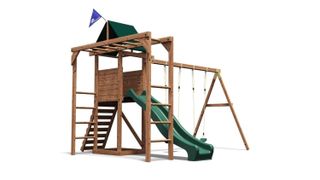 2. Dunster House MonkeyFort Wilderness Climbing Frame
The best climbing frame for lots of children: there's more than enough room for multiple players on this versatile climbing frame with swing
Specifications
Best for: Multiple kids
Material: Timber, steel
Suitable for: 3-14 years
Max. user weight: 50kg
Reasons to buy
+ Great for lots of kids playing together + Covered lookout tower
This climbing frame and swing set can be configured in a number of ways to suit one or two kids, but if your policy is 'the more the merrier', this is a great option. With two single swings that'll ensure there are no fights over whose turn it is to push, as well as separate climbing ladders, they can play all day without getting under each other's feet. The monkey bars and wavy slide add more energetic fun, while the covered hideaway-meets-lookout-tower gives them a spot to catch their breath and plot mischief.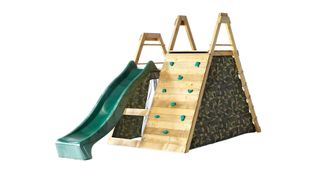 3. Plum Climbing Pyramid Wooden Play Centre
The best climbing frame for small gardens: a well-designed compact climber for daring kids
Specifications
Best for: A hideout
Material: Timber, metal
Suitable for: 3-12 years
Max. user weight: 50kg
Reasons to buy
+ Packs a lot into a small space + Hideaway with pull-together doors
You don't have to have acres of land to fit a climbing frame, nor do you need an enormous climbing frame for fitness and fun in your own back garden. This Plum play centre proves that ably. It's cleverly designed to encompass a stone climbing wall, climbing net, ladder and shelter in one, with a two-part upper layer for sliding or sitting. That's all thanks to the compact pyramid shape, although it still provides enough headspace for growing kids to hide out in, with the thoughtful addition of a camo-printed mesh panel that'll keep meddling grown-ups out while they're playing spy.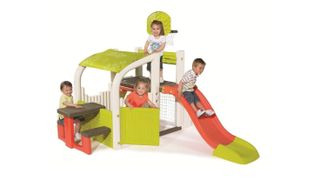 4. Smoby Fun Centre
The best climbing frame for toddlers: scaled-down certainly doesn't mean less fun with this toddler-friendly climbing frame
Specifications
Best for: Toddlers
Material: Plastic
Suitable for: 2+ years
Weight: 28kg
Reasons to buy
+ Playhouse and table for imaginative play + Integrated football and basketball nets
One day they're sure to be fearlessly gallivanting all over the huge wooden climbing frame at the park, but for now, you can give them an adventure in the back garden with this perfectly sized plastic play centre. Despite its compact design, it manages to bring in elements of imaginative and active play, with a small built-on Wendy house and table (perfect for picnics), plus lookout platform, slide, climbing slope, basketball hoop and football net. All this adventure, without being too high off the ground, makes it a great one for toddlers and small children finding their feet.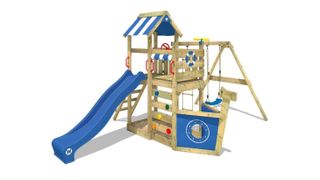 5. Wickey SeaFlyer Climbing Tower
The best climbing frame for imaginative play: All aboard! It's land ho with this nautical-themed climbing tower
Specifications
Best for: Imaginative play
Material: Solid wood
Suitable for: 3+ years
Weight: 600kg
Reasons to buy
+ Imagination-boosting steering wheel, telescope and prow + Swing set included
This sea-themed climbing tower is just the thing to spark their imaginations while they're engaged in active play. With a lookout tower on one side and proud boat prow (complete with porthole) on the other, they can try their hand at being pirates one day and lighthouse-keepers the next. The integrated steering wheel and mounted telescope ensures everyone gets their turn at determining the fate of the vessel, and the climbing wall lets them practise shimmying up the crow's nest. The swing and slide? Well, those are just for fun.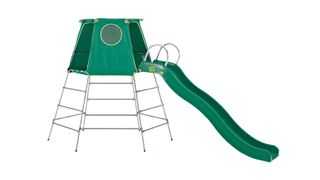 6. TP Toys Explorer Climbing Frame with Crazywavy Slide
The best budget climbing frame: with an expandable height and slim design, this is one for smaller spaces and growing tots
Specifications
Best for: Smaller gardens
Material: Galvanised steel
Suitable for: 3-12 years
Weight: 40kg
Reasons to buy
+ Adjustable height for growing children + Full-coverage den with windows
This minimal design is the best climbing frame for small gardens thanks to its slender, easily moveable design, but its real charm lies in its ability to grow with your child. This model can be set at a lower height of 136cm for use from 18 months upwards, and then when they start to shoot up, to 201cm. It's simple, sure, but if you've only got the space, or the need, for a slide, climbing frame and den, this is a great option. That den, incidentally, is one of the best on our list too, with round viewing windows, roll-up doors and an elevated platform to keep an eye on the whole garden.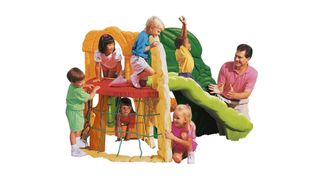 7. Little Tikes Jungle Climber
The best climbing frame for playrooms: send your Little Tikes on an adventure with this colourful climbing centre
Specifications
Best for: Lightweight
Material: Plastic
Suitable for: 3+ years
Weight: 33kg
Reasons to buy
+ Colourful jungle-themed design + Scaled down for smaller users
While it might be another relatively simple option, this Little Tikes Jungle Climber offers tons of play value for younger kids. Low to the ground to help them build their confidence, it still gives the opportunity to climb, slide, tunnel and hide in a relatively small footprint, and the colourful jungle styling will make them feel like they're sitting in the lofty canopy or crawling through mysterious ruins. Reviewers also commended it for its sturdiness, especially for a more lightweight plastic model, and how easy it was to put together, meaning their little explorers could be setting out in no time.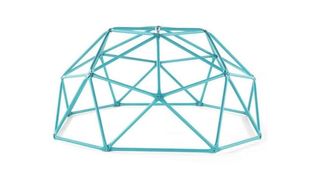 8. Plum Large Climbing Dome
The best climbing frame for climbing: this lightweight geodesic dome is a contemporary climber if we ever saw one
Specifications
Best for: Building skills
Material: Steel
Suitable for: 3+
Weight: 21kg
Reasons to buy
+ Lightweight minimal design + Encourages development of motor skills
Decidedly more space-age than our more traditional wooden frames, but sure to be just as much fun, this geometric climbing dome from Plum is an eye-catcher for sure. Built from durable steel tubing, galvanised and powder coated for maximum protection against the elements, and supplied with ground anchors for firm stability and peace of mind, it's simple but effective. For older kids, it's a great way to build cognitive and motor skills as they navigate their way from A to B in the most creative (and daring) ways possible, and it looks pretty good in the garden too.
Read more about gardens: