These outdoor fire pit sales mean we will be spending even more time in the garden. Yes as we are all staying home, those with outdoor space will be spending much more time in it – but if you find it a bit chilly to stay out when the sun goes down, a fire pit is just what you need.
A great centerpiece to your garden, who doesn't love the idea of cozying up round their fire pit with a few drinks and snacks? So if you have been taking dinnertime outside, instead of heading in to watch more Netflix, stay outside and stay warm with one of these great fire pit deals.
Looking for something to cook on? Some of these fire pits come with a grill, but you might want to check out our best BBQs. First scroll on for the best fire pit sales – they are listed US first, but you can jump straight to the best UK fire pit sales.
Cheap outdoor fire pit deals
Best US fire pit sales
Loads of stores have sales on garden lines right now, including their fire pits. Head straight to shop them using the links below, or scroll down to see our selection of the best deals.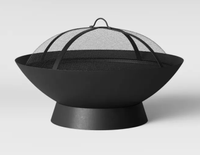 (opens in new tab)
Bangor Woodburning Fire Pit | Was $89, now $80.10 at Target (opens in new tab)
Check out this stylish little number. Super affordable and it will look amazing on any patio – it is 25 inches wide so a good size for most yards.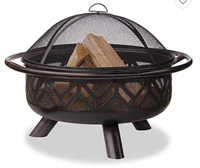 (opens in new tab)
UniFlame® Steel Wood Burning Firebowl in Oil Rubbed Bronze | Was $167.99, now $138.99 on Bed Bath & Beyond (opens in new tab)
We love this rubbed bronze little number with a generous 36-inch fire basket. It has a deep bowl for larger fires, so great for bigger spaces.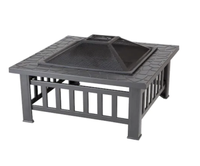 (opens in new tab)
Fire Sense Stonemon Square Outdoor Fire Pit | Was $219.99, now $186.99 on Kohl's (opens in new tab)
This sturdy fire pit is great for both traditional and modern gardens. It includes a mesh screen, screen lift and wood grate. Kohl's have a sale on too, so use the code SPRINGTIME at checkout for an extra 20% off making this just $149.59 today.
Best UK fire pit sales
With the sunny Easter weather, our favourite stores have delivered these great fire pit deals. See all offers from all online stores in the list below, then scroll to shop the best deals.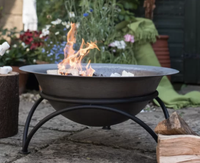 (opens in new tab)
Cast Iron and Steel Woodburning Fire Pit | Was £57.99, now £54.99 (opens in new tab)
This durable fire pit has an industrial feel that lends itself to any garden. Gather the family round to toast some marshmallows over this campfire style pit.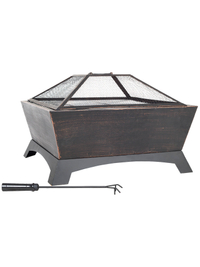 (opens in new tab)
La Hacienda Harleston Fire Pit with Cooking Grill | £169 on John Lewis & Partners (opens in new tab)
Looking for a big fire pit? The Harleston fire pit also doubles as a barbecue as it includes a cooking grill. The cooking surface is 59 inches wide so plenty of room for dinner – then top up the wood and get a roaring fire going to sit around.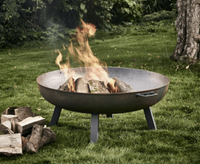 (opens in new tab)
Medium Outdoor Brazier | £175 on Cox & Cox (opens in new tab)
Although it says medium, this brazier is actually 75cm wide. There is a bigger one measuring one metre so this really is a centrepiece buy. The rustic steel bowl will change with time, to gain a rusty oxidised finish.
See more garden buys: