Beginner chefs rejoice, fan-favorite brand Our Place has just released the Better Bowl Set with everything you need for day-to-day cooking. I'll be honest, I've fallen out of love with cooking lately as I've gotten so busy but this set might be enough to get me back in the kitchen.
I really love meal prepping to make weeknights easier and these new mixing bowls will make the process so much better, plus they come with a salad spinner, a grater, and a juicer. Genius!
But is this nine-piece set a little too good to be true? I break down if the Better Bowl Set from Our Place is really worth the spend. After all, it may be the perfect accompaniment to my favorite small kitchen appliances.
Everything you need to know about the Better Bowl Set
Hot off the back of the Dream Cooker release last week, Our Place has hit the market with another foodie product. While I haven't had a chance to test it yet, I took a look at the new Better Bowl Set to see if it's worth the spend.
Prices were correct at the time of publishing.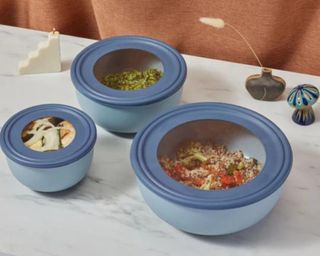 Where to buy the Better Bowl Set
The brand-new Better Bowl Set is available on the Our Place website for $115. Now that might seem like quite a hefty price tag but the nine-piece set is complete with three mixing bowls and lids, a juice, a grater, and a salad spinner. Pretty much everything an amateur chef needs for daily food prep.
The set comes in four colors — steam (a neutral beige), sage green, blue salt, and lavender. Free shipping, a 100-day trial, and free returns are all included with purchase.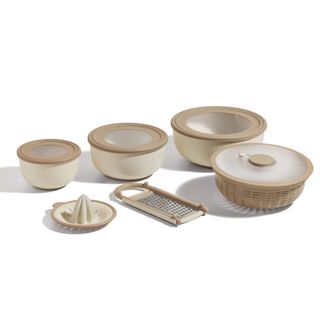 Nine piece set
Our Place Better Bowl Set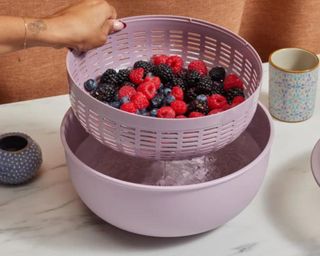 Whats included in the Better Bowl Set
The Better Bowl Set comes with nine components — three mixing bowls and lids, a juicer, a grater, and a salad spinner. The juicer, grater, and salad spinner are all built to sit inside or on top of the mixing bowls so everything fits together. These are some pretty important small kitchen must-haves.
The set is made from 60% certified post-consumer recycled plastic. The mixing bowls are dishwasher and freezer-safe but they cannot be used in the microwave or the oven, which TBH is a major drawback for me.
The storage lids are transparent so you can easily see what's what (a major bonus when I'm rummaging through my fridge for a midnight snack). Plus they're leak-proof so no accidents storing soups or sauces.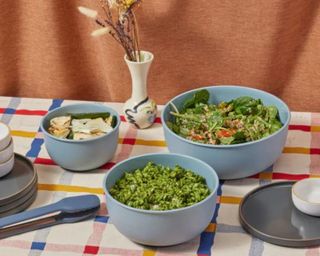 Is the Better Bowl Set worth it?
All in all, $115 is a little pricey for a few mixing bowls and accessories. Our Place has a pretty great reputation though and its fans (me included) tend to write rave reviews about their products.
Personally, I couldn't be happier with my Always Pan from Our Place so I'm considering picking these up. The only downside I'm mulling over is the fact that the mixing bowls are not microwave-safe.
The Better Bowls Set would be the perfect starter kit for someone moving into their first apartment or a freshman in college moving into the dorms.
---
While Our Place started out only known for its viral Always Pan, the brand has launched product after product, creating just about everything you need in the kitchen. We reviewed the Wonder Oven not too long ago which works as a six-in-one appliance if you're looking for more multi-functional but chic kitchen products.