Confesh time: I've been begging my boyf to let us get an Our Place Always Pan for months. Everyone on the Real Homes team loves theirs, and I've been having serious FOMO. But every time he argues that it's way too spendy, and while I know it's because of the quality, he does have a point. So, when I found an Always Pan alternative discounted in the Prime Day sale, I was so thrilled and knew I had to share it with you all ASAP.

Just like the OG Always Pan, the Goodful one offers multi-style cooking options, so whether you want to sizzle some eggs or serve up a whole one-pot meal, it totally has you covered. It can be used as a frying pan, sauté pan, stock pot, and more, thanks to its versatile size and shape. Plus, it's pretty much identical in style to the Our Place pan, so your guests won't notice the difference at a glance.

There are two main reasons that I'm loving this alternative. Firstly, the price. Goodful's copycat pan is only $49.98, while the Always Pan is on sale for $120 during Prime Day. This means that it's a third of the price and an unmissable bargain.

Secondly, the size difference is major. At 4.4 quarts, the alternative has more capacity than the original, which is 2.6 quarts. That gives you way more space to cook up a storm, so you can make meals for friends or batch cook without worrying about running out of space.

Oh, and while there are usually ten Always Pan color options, only four are available with discounts on Amazon. Meanwhile, the alternative has seven options on Prime, including most of the same shades that the original comes in (linen, terracotta, green, lilac, graphite, red, and blue).

If this alternative has won you over (I've got one in my cart RN), I've put all the deets below.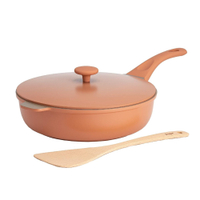 Goodful All-in-One Pan | Was $79.99, now $49.98 (save $30.01) at Amazon

Size (in.): H3 x W20.5 x D11
Volume: 4.4 quarts
Non-stick?: Yes
Comes with: Spatula
Made from: Aluminum

Able to hold more for a cheaper price, this Our Place alternative is an amazing Prime Day kitchen buy. Shoppers say it's the best pan ever, noting that it's a great all-rounder and easy to clean, too.
If you are totally in love with the official Always pan, I don't blame you, it is a TikTok fave after all. As mentioned, it's luckily also part of the Prime Day sale.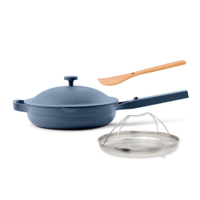 Our Place 2.0 Always Pan | Was $150, now $120 (save $30) at Amazon

Size (in.): H5.7 x W19.9 x D10.7
Volume: 2.6 quarts
Non-stick?: Yes
Comes with: Spatula, steamer basket
Made from: Aluminum, metal

The Real Homes team and Selena Gomez (who's even done an Our Place collab) really love the Always pan. Its durability and non-stick abilities are hard to beat. We've tested the original and the 2.0, and fell in love with both.
Whether you're looking for a bargain or if you've had your heart set on the Always pan for the longest time, both are great steals RN thanks to Prime Day. The event ends tomorrow, so if you do want to grab them at the best price poss, now's the perfect time.

Up next: Shoppers love these 11 air fryers — and they're all under $150 in the Prime Day sale