Black Friday has been and gone but there's still time to grab yourself a Ninja air fryer dupe. Cyber week air fryer deals are now in full swing, so set yourself up for a week of tasty meals, and less of that "blah" feeling we associate with dark winter days.
With around 3 weeks until Christmas (eek), take the hard work out of food prep by shopping for one of the best air fryers on the market, in our humble opinion. These two-drawer lookalikes can lend a culinary hand when it comes to festive fodder, cooking anything from canapes to veg... and even a small Turkey joint! Come the new year, you'll be primed with plenty of new recipes that can all be made in an air fryer. So whether you're bored of your current weekly menu or just want the family to be fed fast, this convection oven is a worthwhile investment (that you won't be taking back).
If you still have your heart set on a Ninja Foodi Dual Zone, we'll show you where to find a brand-new appliance during the extended Black Friday period, plus sites where you can reap the rewards of a refurbished item.
The Ninja air fryer dupes to buy this Cyber Monday
US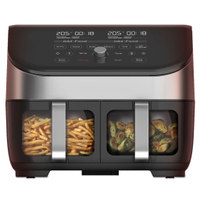 1. Instant Vortex Plus XL 8-qt Dual Basket Air Fryer | Was $219.99, Now $189 (save $30.99) at AmazonSure it may feel harmless, but did you know every time you open the air fryer drawer, you cool the internal temperature down, which can affect the crispiness. There's no need for sneak peeks with this machine as the transparent windows show you how your food is getting on.
We've got more Instant Vortex Plus deals for you to browse.
UK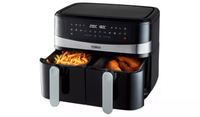 1. Tower T17088 9-litre Dual Basket Vortx Air Fryer - Black | £135 at Argos
Take the work out of dinner parties and different dietary requirements with this techy air fryer from Tower. Like Ninja's nifty appliance, this 1800-watt convection oven has two cooking compartments, which can be operated independently or at the same time. Choose home delivery or click and collect from your local Sainsbury's with an Argos kiosk. *Curly fries not included.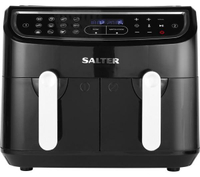 2. Salter EK4548 Dual Cook Pro Air Fryer - Steel & Black | £141 at Currys
Shake up mealtime with this two-compartment convection oven that has a grilling rack for cooking up a scrumptious selection of meat. As well as air frying dinner, this machine can also dehydrate fruit. Perfect for cocktails this party season.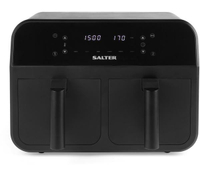 3. Salter EK4750 Air Fryer | £160 from Currys
This air fryer from the British manufacturer plays snap with Ninja's sync and match settings. It has two 3.7-litre frying baskets which are ample enough for a protein and a generous portion of sides. The pause and resume sync functions allow you to cook at your own pace with no stress.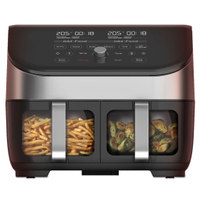 4. Instant Vortex Plus XL 8-qt Dual Basket Air Fryer | £200 at Argos
Whichever side of the pond you live on, it's clear to see that this machine with transparent windows is getting the attention it deserves. Thankfully, this isn't a style-over-substance machine. The EvenCrisp Technology shows the proof is in the pudding — or the fry for that matter.
The Instant Vortex Plus XL is one of Millie Fender's all-time favorite air fryers, and it has the same sync-and-match settings that you'll find in the Ninja dual zone. The one main difference is that the drawers can't go in the dishwasher, which is because they have ClearView to allow you to see your food as it cooks. "Truthfully, I think I'd pick this one over the Ninja anyway," she says.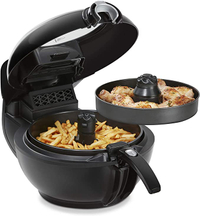 5. Tefal ActiFry Genius XL 2-in-1 YV970840 Air Fryer | Was £284, Now £230 (save £54) from Very
Okay, slightly different from the conventional two-drawer air fryer, but hear us out. With this cylindrical option, you can cook a whole dinner over two levels and at different heat settings. Plus, a massive USP of this machine is that it has a self-stirring option. Over Black Friday, AO is offering this 2-in-1 model for 30% less than the RRP, which is not bad at all.
Where can you still buy a Ninja Dual Zone air fryer?
If you've been after a Ninja Dual Zone air fryer in the last couple of weeks, you've probably noticed the "out of stock" pages popping up left, right, and centre. While they may feel more like unicorns these days, we've crawled the internet to find places that still have the air fryer in stock. Act fast though as they are selling like hotcakes. In the UK, Argos is setting the levels for inventory right now, so we'll be sure to update this page regularly, as and when retailers replenish these sought-after items.
It's also worth shopping around for a refurbished Ninja air fryer. While you might have preconceived notions about going this route, you can sigh relief. Refurbished items are professionally checked, cleaned, and restored. So don't worry — you won't end up with someone else's scraps as a free "gift." Not to mention, you'll typically save a lot more money this way, too.
However, there might be a slight cosmetic blemish (like a scuff or a scratch), but this will always be mentioned in the product info if that's the case. We've got a good spread of information on refurbs and pre-loved appliances below.
Otherwise, look out for less popular colors (that will undoubtedly look great in your kitchen. We've found the Ninja Dual Zone air fryer in navy blue and cinnamon red because who says that all convection ovens have to come in black, gray, or stainless steel — not us, that's for sure!
US Ninja DualZone air fryers (new)
US refurbished and renewed Ninja DualZone air fryers
UK Ninja DualZone air fryers (new)
It's slim pickings in the United Kingdom, but here are the places where you can still get a Ninja Foodi Dual Zone air fryer. As always, we've listed drawer capacity and model number so you can quickly compare (without having a million tabs open on your phone or PC).
UK refurbished and renewed Ninja DualZone air fryers
---
Reviewed by
Reviewed by
Christina is the ecommerce editor for Real Homes and tests all of our small kitchen appliances, including air fryers. As well as reviewing these countertop convection ovens in her home, she also travels frequently to Future's test kitchen in Reading when she needs to compare similar-spec models from different makes. Here, she has loads of room to work and can give the fairest verdict.
Her mom has the Ninja DualZone and thinks it's second to none when it comes to small kitchen appliances. "No matter whether you've called to tell her you're coming, or pop in unannounced, she's always up for fixing a plate for you, using her air fryer to quickly put something special together in a matter of minutes," she says.
Why do you need a two-drawer air fryer?
There are so many reasons to buy an air fryer with drawers. We can certainly see the appeal and why the Ninja Dual Zone is so popular. The sectioned areas mean that you can cook two things at once (sometimes with independently-operated temperatures) and cater to different dietary requirements, too.
Having more than one compartment is perfect for cooking a protein and roast potatoes or other sides. It also means that if your oven is full of food (Christmas, for example), you essentially have another piece of cooking equipment for the rest of the catch-all culinary bits (like canapes and a bottomless portion of pigs in blankets).
The internet is your oyster when looking for air fryer recipes so you don't have to follow the meat and two veg formula. Making brunch and even dessert is totally possible, too. Another route to take is to get yourself an air fryer toaster oven (like the Cuisinart Air Fryer Toaster Oven) as these have different shelves and wired racks.
A two-compartment air fryer is also a great choice for families. Even if you're cooking all the same food, you have plenty of extra space to do so over an appliance that may only have one section.
There is one (tiny) disadvantage when cleaning an air fryer of this type: You have to clean two baskets, but the versatility outweighs this minor inconvenience. Plus, when you weigh up maintaining an air fryer vs. deep fryer, there's no hot smelly oil to deal with when it comes to the former. Saying that there are some drawer-shaped air fryer liners on Amazon for anyone who can't stand any form of untidiness or disorder.
Alternative ways to get a Ninja Foodi air fryer
Aside from buying brand new, there are loads of sites that sell renewed Ninja Foodi air fryers if you've really got your heart set on buying this brand. Amazon and eBay, for example, both sell refurbished appliances that look and perform just like new — so the cost to run an air fryer will remain the same, plus it's eco-friendly.
If you're looking to cut costs even further. Look out for refurbished versions of the Ninja Foodi dupes. For example, eBay has refurbished Tower, Tefal, and Vortx air fryers available.
Be aware that some third-party retailers will have bought the Ninja Foodi Dual Zone air fryer in bulk, only to inflate the price far beyond the brand's RRP. While we're all for supply and demand, don't feel you need to pay in excess. Check prices across numerous sites and the brand's own website to get a better understanding of what you should expect to pay.
If appropriate and you have the means, consider paying by credit card as section 75 of the Consumer Credit Act will give you extra protection and you can claim a refund (or from your provider should the goods not arrive). The Financial Ombudsman has more information on this.