If you have been reading my articles for a while, you'll know, one of my favourite things to do is to make use of space effectively! Whether that be by way of floating furniture to retain floor space, under or over furniture storage boxes, or decorative dual purpose ottomans; I'm all about multi-functional ideas!
So when we bought our 3-bed terraced house and saw the size of the bedrooms, I just knew we would use the third room for two purposes...
Truth be told, the master bedroom actually housed a series of fitted wardrobes and dressing table. But I am not a huge fan of fitted furniture and it only allowed for a double bed so it had to go! We replaced it with some chest of drawers and made use of all under bed storage but we still needed space for all our clothes.
In came the third bedroom! We decided that for at least the first five years, even with a growing family, our children could share a room (max two of them) so the third room would serve as a much needed guest room.
But with the pandemic hitting last spring and as a result, no guests for almost a year, I decided it was time to fully decorate the space and make it useful for both guests and us...
From a virtual dumping ground...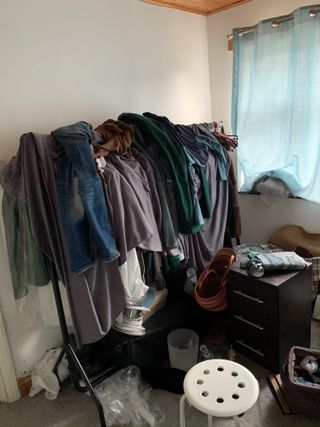 So the room went from a virtual dumping ground, with two rails either side, and a roll out mattress (for when guests came around), with plain white walls and randomly purchased curtains... To a dual-purpose space full of character and function.
The result: a dual-purpose space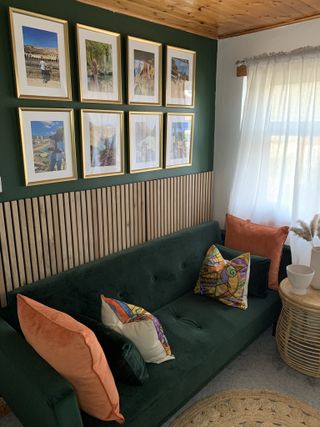 So this is our guest room, come walk in wardrobe! How did I manage it?
Lounging and guest-ready furniture
I decided a bold emerald green velvet sofa bed (from furniture123) would serve both for lounging in the room and to be pulled out into a small double bed for guests. And, it would give me the opportunity to display more cushions, including some colourful handmade cushions I picked up in Qatar six years prior!
Beneath the sofa bed I made use of vacuum bags to store bed linen for the sofa bed for when guests were expected.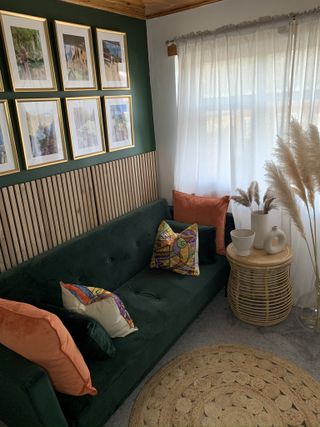 Artistic touches
Above the sofa bed, in the midst of a pretty confined year, I decided to create an ode to travel, with the gallery wall. The wall features printed photographs of my family during travels over the years. The frames are gold of course, because gold just has to come in somewhere and these were purchased from Ikea.
Just below the gallery wall I installed some slat panels from naturewall. They come pre made but I cut them to size to create a half panel wall rather than the single floor to ceiling length it came in. I felt the panels would complement the already shiplap style ceiling of the space.
And how can I forget, I painted the wall green! I colour matched Farrow and Ball Duck Green to create the perfect backdrop for this bold feature wall.
Using the entire space
Opposite the sofa bed is where the walk-in wardrobe style came in. As mentioned, I am not a huge fan of fitted wardrobes (I don't like anything too permanent). So I was on the prowl for a very wide wardrobe that would take up the 455cm width of the wall. I came across various sellers on Facebook Marketplace selling this "Chicago style" sliding door wardrobe. They come in various widths and configurations. It was perfect for housing both my and my husband's clothes and accessories. I paid £450 for the wardrobe including installation which is an absolute steal!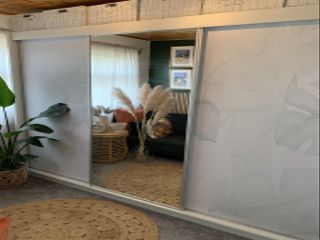 Custom decor additions
I added a subtle banana leaf mural to add a further point of interest and created a hat wall on the remaining wall which I think really honed in on the travel theme of the room.
Clever and decorative storage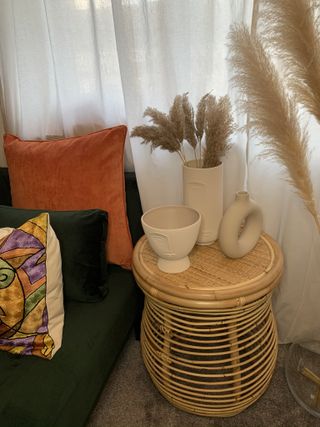 For additional storage I picked up six perfectly sized lidded storage baskets to house our many shoes and accessories.
Finally, a beautiful rattan lamp table from desser.co.uk and plain beige curtains from Ikea and a fun jute rug from LaRedoute finish the space off perfectly.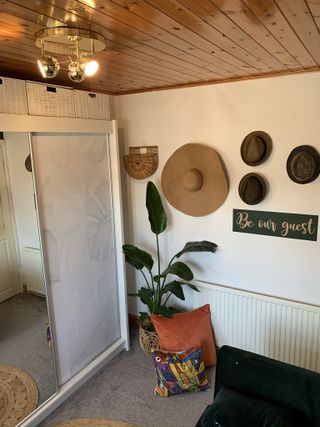 It has actually become the room I spend the most chill time in and makes the perfect space for guests to feel the holiday vibes while being "our guest".