We all know Mrs Hinch is a guru when it comes to home cleaning, but when it comes to clever paperwork storage ideas then you can rely on Mrs Hinch too. Indeed, the Insta sensation has the routines that inspire us – along with the large Hinch army – to keep our rooms, our appliances, and everything else in our homes hygienic and tidy. But of course, it does not stop at that!
What our fellow Sophie Hinchcliffe followers will have noticed is that not only is she a fount of cleaning knowhow, but also a super-organised woman. With her Hinch lists, she makes sure nothing gets missed in her home.
It's usually a cleaning job we enjoy seeing her tick off one of those lists when we're checking in on the social media star, but this week we were intrigued to watch her detailed paperwork, post and document sorting routine...
We're sharing it below to give you a little home organisation inspiration, and we've also found some brilliant dupes if you want to introduce the Mrs Hinch post and document system to your home. And for more ways to keep the entrance to your home free of clutter, take a look at our hallway storage ideas.
Mrs Hinch's home organisation hacks
So, what's the Mrs Hinch routine when it comes to the post and all the important paperwork that comes with it? First, she collects it in a letter basket. This avoids an unsightly pile in the hallway and gathers it together both neatly and discreetly.
Only once the basket is full does the Insta sensation go through the contents; an approach we like because it keeps the job at a worth-doing amount but doesn't let it grow into a huge and therefore tedious task.
Next? Mrs Hinch shreds what she doesn't need to keep. This part of the process is 'a seriously guilty pleasure', she says. Us? On a quick poll, shredding doesn't do it for us but we definitely recommend following Sophie's lead to keep your personal details away from identity thieves.
What needs to be kept then goes into a folder. There's one for each family member, plus a home folder with bills, insurance, car documents, and so on, Mrs Hinch says. Like we said, super organised!
'Do you have a little post system? Surely it's not just me,' the cleanfluencer asked. Our answer: now we do.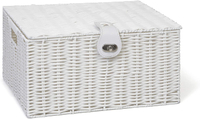 Arpan Large Resin Woven Storage Basket | £12.10
Get the Mrs Hinch look with this chic design. It'll hide the post until you're ready to go through it, and the strap lock will keep it secure. It wipes clean to make life easy.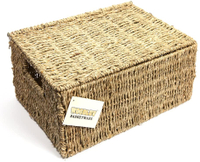 woodluv Seagrass Storage Basket | £12.95
If you want storage with natural colour and texture, check out this seagrass basket. It has built-in handles for easy carrying when you're ready to shred or file the contents.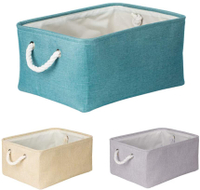 Generies LittleDuck Collapsible Storage Basket | £8.99
Mrs Hinch is a big neutrals fan, but for a little more colour in your home, how about this blue basket for keeping the mail in? It isn't lidded, but seeing the letters might be the visual prompt you need to get sorting.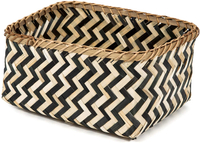 Compactor Bamboo Storage Basket | £15
Bring some pattern to your hallway with this geometric design for the letter pile. It would look great on show on a side table. Despite the name, it's actually made from sea rush – but it's still a natural material.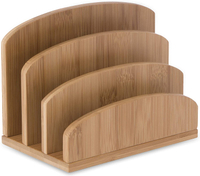 OSCO Bamboo Letter Holder | £11.99
Prefer a place to store the post that's arrived along with the letters that you need to take to the box? This letter rack could fit the bill very nicely, thank you. It's made from eco-friendly bamboo.