We're always on the look out for deals on the best steam cleaner, and this one is a steal! The H20 HD Advanced Mop is on special offer at Argos where you can claim a bundle of free accessories, and get it delivered with same day delivery!
This steam cleaner, usually £114.99, is priced at a relatively affordable £89.99 and, by checking out with it, you'll receive a spring cleaning bundle (worth £25) which includes a pack of microfibre cloths and a water filter to keep your H2O HD steam cleaner working on top form.
Need it today? No problem. Order by 6pm and Argos will deliver your new steam cleaner by 10pm for just £3.95.
It's a current sell-out over at Amazon so with this great offer from Argos, and given the current uncertainties, we don't expect stock of this popular steam cleaner to hang around for long.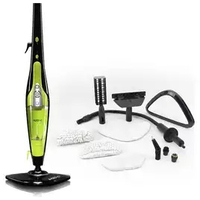 H2O HD steam mop with free accessories | Was £114.99, Now £89.99 at Argos
Banish bacteria in the home with the H20 HD steam mop, and claim £25 worth of free accessories when you check out. Hurry! This steam cleaner is proving super popular and, if you want it delivered by the end of the day, you best be quick!
More cleaning recommendations...