Kailyn Lowry has been showing off her sleek new kitchen lately, and we're pleased to see she is embracing a statement kitchen trend – the bold kitchen island countertop. The podcaster made famous by her appearances on MTV's Teen Mom 2 has opted for a beautiful kitchen island with a marble worktop.
Complimenting her other gray kitchen ideas, this daring design pulls things together and gives her and her family the perfect focal point. It turns out Kailyn's kitchen is bang on-trend, with home design and renovation platform Houzz noticing a 417% increase in searches for 'chunky quartz'.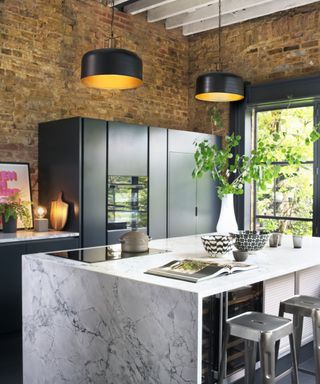 'Literally obsessed with my new house & kitchen, truly so thankful to be here,' Kailyn Lowry says on Instagram. The TV personality's large kitchen island is a waterfall design with pale marble flowing seamlessly down to the ground.
The organic lines of the marble veining bring movement and texture, balancing out the geometric tiles (from Lazer Marble and Granite) and shaker cabinets, which both have lots of hard angles.
'That's a thanksgiving island, damnnnnn,' wrote one of her followers. 'Your kitchen is literally what dreams are made of,' said another.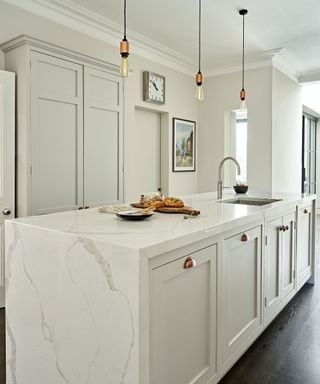 A kitchen island is where people naturally gather round when you have guests over. And bespoke kitchen designer Tom Howley says that whether it's the kitchen island counter, your pantry, or open shelving, it's important to think about your focal point.
'If you decide that your island counter will be the focal point of your kitchen, opt for a dramatic color contrast with the rest of the cabinetry.' If you have a very neutral kitchen like Kailyn's and are planning a kitchen island, Tom suggests a deep blue or green island counter to draw the eye to the center of the space.
We love this idea. While the Teen Mom star's island is a calming neutral rather than anything too vivid, the chunky marble pattern does contrast with the rest of the design with some softness and classic luxury.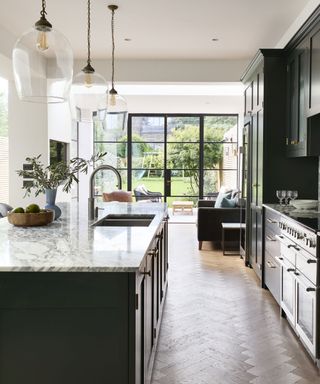 Are you in the midst of the kitchen planning phase and feeling the decision overwhelm? Get some reassurance by reading up on how to design an open plan kitchen to suit your lifestyle.
In the comments on Kailyn's Instagram, fans said the star admitted to having some doubts about the countertops, but once the kitchen took shape with the different elements, she was happy with it. So, hang on in there if you're experiencing design dilemmas, as it will come together.