We can't say Ikea doors are usually something we get too excited about. Yep in the past we have of course sung their praises for being simple, chic and affordable but we've never felt the need to dedicate a whole article to one particular type of Ikea door. Until now...
The IVAR door. The most stylish Ikea door to EVER exist plus it is super cheap and would turn the most boring of cabinets into something gorgeous. Keep scrolling to find out more about this stylish new launch and head to our living room ideas feature for more inspo.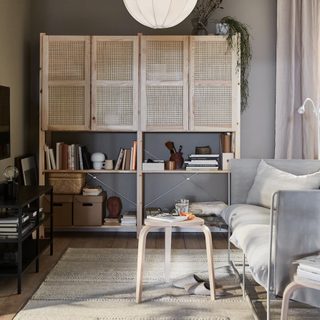 See, we told your the IVAR door was no ordinary door. It's almost like a cane effect, that's so bang on trend at the moment. In fact, we have seen so many DIYs and Ikea hacks using wicker and rattan webbing to upcycle Ikea furniture, but now you don't have to bother! You can just replace your doors and get a really similar effect faff free and for just £25.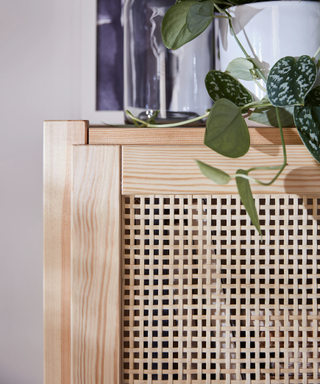 These Ikea doors can be attached to any piece of storage furniture in the IVAR systems so you can mix and match open and closed storage. We think it looks fab in a living room, but if you have the space it could work as some freestanding kitchen storage too. Really it would look great in any room of the house to give it a slight rustic boho edge.
You can order the doors online (yipee! No mad Ikea queues) and they are only £25 for two. If you do still fancy giving Ikea hacks a go – you could definitely paint these doors, oooh they would look so cool in white – then head over to our gallery.
Read more: