DIY disaster? Need to know how to get paint out of carpet? Given the amount of time we're all spending at home, getting on with a bit of DIY or getting creative with your acrylics and chalk paint is a great idea, that is, until you started painting without laying down anything to protect the floor... Now you've got paint in the carpet, have spent the last 45 minutes-1 hour verbally berating yourself and need to know – as a matter of some urgency – how to get the paint out of the carpet before someone else notices or worse, before it dries...
Fear not, friends. We're here with all the tricks of the trade in a bid to help you right this wrong, whether you've been using gloss paint (oil-based), emulsion paint (water-based) on your walls, or if you've been dabbling in a little art with acrylic paints (containing plastic particles) or even chalk paint (containing calcium carbonate powder).
How to get dried paint out of carpet
This is very easily done, especially with acrylics and latex paint as they dry super fast. So, if you let your paint dry into the carpet while you panicked (and furiously googled) how to remove it, or if you only just spotted it (aka someone or the kids spilt paint on the carpet and conveniently forgot to tell you) rest assured, there is hope.
First you want to try and gently scrape as much away as possible with a knife and without damaging the fibres of your carpet.
Then you want to grab your best vacuum cleaner and pull up all the debris you can.
Next, we'd recommend using a steam cleaner to lift as much of the stain as possible from the carpet. If you haven't got one, saturate the paint stain with water and use a wet/dry vacuum (or your cloth and some elbow grease) to pull up more debris.
Next, blot the stain with white spirit. You can use a mixture of white vinegar and water for a more natural alternative (1/4 teaspoon vinegar to 3-4 C. water) or replace the vinegar with dish soap.
This will help loosen the paint from the carpet, so you can then take a stiff brush to scrub the area down with.
Continue applying your solution and scrubbing until the stain starts to lift.
Noticing other discolored areas around? Check out our stain removal guide.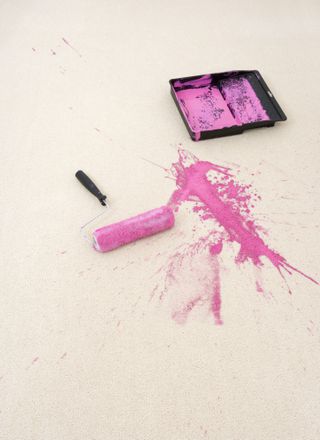 How to get gloss paint out of carpet
The first thing you should do again, is try to manually remove as much of the paint as possible using a scraper, or a similar tool. Between each scoop, remember to wipe your tool completely before repeating the process. Be mindful that you're trying to lift the paint out of the carpet, as opposed to spreading it further.
Next, take a paper towel and gently – again, taking care not to spread the paint further – try to blot away as much of the paint as you can.
When this is done, you'll need to move on to using white spirit in a bid to lift the stain. As gloss is generally oil-based, you'll need to use a solvent like paint thinner (white spirit), acetone, hydrogen peroxide in order to remove it effectively although you can use dishwashing soap also.
Using a solvent to remove gloss paint
Dampen a clean cloth, or piece of kitchen roll, with your white spirit solution, acetone or hydrogen peroxide and gently blot the affected area. This should loosen the paint and make it easier to lift away. You'll likely need a lot of cloth, or kitchen roll, for this as you'll need to take care not to spread the paint further once it becomes saturated with paint.
Once you've removed the paint using white spirit, use a simple soap and water to clean up the carpet. You can also use baking soda to reduce the smell of white spirit.
Using dishwashing soap to remove gloss/oil paint
This will be fine on light patches but embedded paint will better benefit from the above method. Mix a few of drops of dish soap like Dawn or Fairy Liquid (UK equivalent) with cold water and soak a clean cloth. Press this onto the paint traces and blot off excess water and repeat as needed.
How to get emulsion paint out of carpet
As emulsion is water-based, it shouldn't be too difficult to remove it from carpet using a simple soap detergent and plenty of water.
The first thing you should do is try to manually remove as much of the paint as possible using a scraper, or a similar tool (a spoon or kitchen spatula will do). If you don't have this kind of tool to hand, you could use kitchen roll to blot away as much of the paint as possible.
Next, make up your water and detergent solution then apply this using a clean cloth, or kitchen roll. Wait for a few minutes for the stain to soften furthermore and then blot. Remember, your aiming for the cloth to soak up the paint, so it will need regular replacing.
You can also use your knife or pin to keep pulling up the paint stain, adding more solution as you do this.
If you're not getting anywhere but have a steam cleaner to hand, try using this to lift the paint out of the carpet furthermore.
How to get chalk paint out of carpet
A fairly recent DIY favorite, chalk paint in no longer reserved just for the classroom, but that doesn't mean it belongs on your carpet either! Try and get to it while it is still wet and there are a couple of methods you can try to lift it: one with vinegar, the other with dish detergent.
How to get chalk paint out of carpet with vinegar:
Wipe up what you can with a scraper and paper towel.
Blot the stain with white vinegar, working from the outside in.
Use a clean area of cloth to continue to blot until all the stain is removed.
Rinse with warm water and dry thoroughly.
How to get chalk paint out of carpet with dish soap
As above, remove as much of the paint from the carpet's surface as possible.
Then, mix 1/4 cup liquid dish soap with warm water, about one cup, using an electric whisk (if available to you) or a lot of elbow grease as you'll want to create a lot of foam.
Take the foam and apply it to the carpet, leaving it for five minutes or so.
Vacuum the area with a wet/dry vacuum if you have one, or wipe up the loosened paint debris with a clean cotton cloth.
Rinse with cold water, repeat if necessary and then allow to dry completely.
Ask the experts: How do I remove blue paint out of the carpet?
Lynsey Crombie aka Queen of Clean recommends 'If the paint stain is dry, use hot water and a little bit of washing up liquid. and then once the paint is softened, use a knife to scrape the paint out.' And this should work on black or another colored paint also.
More tips for when you've got paint on your carpet
Snip the stain: You could also take to your carpet with a pair of scissors – much less scary than it sounds – and attempt to trim the paint on the tips of the carpet fibres, snipping just below the paint.
Dry completely: After your stain treatment, apply paper towel to the area and lye a book or something heavy down to ensure that any excess moisture is totally absorbed.
Consider a reshuffle: Switch up your room so that a piece of furniture sits on top of the paint stain. If it's in the middle of the room, a coffee table or foot stool could be your new best friend.
Prevention is key: Don't let kids go about arts and crafts hour unattended and cover your carpet when you start your next DIY project, it's as simple as that!
Not that's the last time you'll forget to put newspaper down, right?!