Having a bathroom overflowing with beautiful houseplants would definitely motivate us to get out of bed in the morning. There's just something about a steamy, jungle-like shower filled with luscious foliage that makes you exhale deeply.
Sadly, many of us are stuck with a windowless bathroom with no sunlight - or at least very limited light. Let's be clear, introducing your best indoor plants into such a space is not going to be easy. However, we've asked some houseplant experts for their advice, and it's left us feeling hopeful and planning a trip to the garden center this weekend.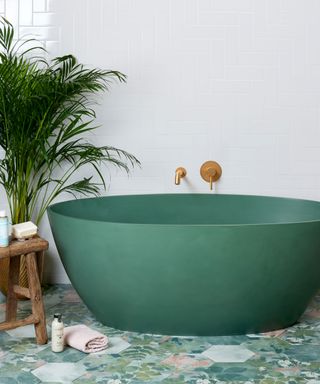 We don't need to tell you that a key part of how to care for houseplants is ensuring they get the right level of light - they can't photosynthesize without any whatsoever. But there are a few plants that can get by with very little, and that love humidity.
lucky bamboo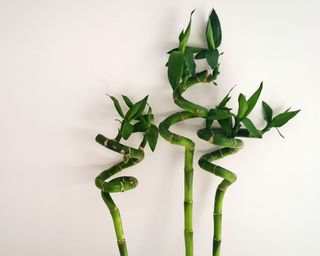 The most frequently recommended house plant was the Lucky Bamboo. Michael Hill, a gardener and indoor plant expert at Garden Guide Post revealed that they don't even need soil to grow happily.
You can simply buy some buds, and put them in a pot with filtered water and some pebbles or marble. It's a good idea to change the water now and then to keep it fresh.

The Lucky Bamboo grows very fast, but you can maintain its size with regular trimming. As for the small issue of the lack of light, Michael says it can grow in 'humid and sunlight absent conditions.'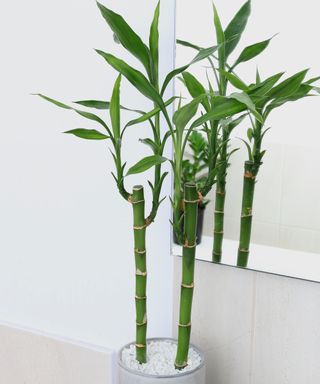 Alternatively, a spider plant or a snake plant are two fantastic options, according to Jeremy Yamaguchi, the CEO of Lawn Love. Pop one of these in a colorful ceramic pot in a corner or on top of a bathroom organizer and bring instant happy vibes.
'They're very easy to take care of, even for first-time growers,' Jeremy reassures us. 'And they get by with very indirect light and lots of moisture.'
We'll be keeping an eye out for one of those, then. Next up, we have the low-maintenance aloe vera plant, but there's a catch. You will definitely need to take it out for a sunny holiday on your balcony or in a light and bright room every week.
We know we won't remember to do this, but if you've got your life together...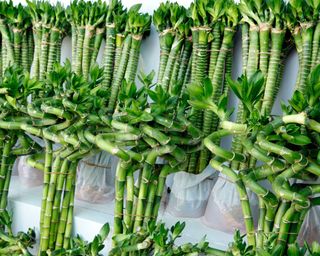 Many also suggested a pothos plant, also known as devil's ivy, for your dark bathroom. It features long vines and cute heart-shaped leaves and thrives in humidity.
Move it to a room with plenty of sunlight once a month, and give the leaves a trim now and then to stop the vines from going limp. Ferns and peace lilies are another good option, but you'll need to move it into a spot that gets sunlight occasionally.
We're not giving up on our jungle bathroom dreams just yet, and as a last resort, we can always check out the best artificial greenery on Amazon. Some people use grow lights, but in a space where there's lots of water splashing around, you'd need to proceed with caution.