It's been over a year since lockdown restrictions were put in place in countries across the globe, with many turning to DIY to pass the time. But did you know many of your new DIY items will eventually need replacing?
If you embraced home improvement projects this year, from wall panelling to upcycling a Facebook Marketplace bargain, some of your tools will need some care before you use them again.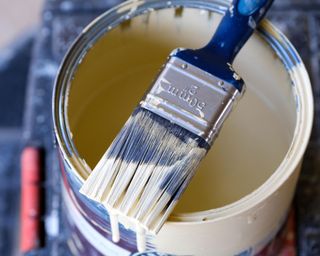 If you made a pretty striped feature wall and you have some paint, brushes, and tape left over, don't be tempted to reuse old bits and pieces. It could simply end up being more bother than it's worth.
Mattress Next Day warns that old paint gives an inconsistent color and finish. So if when digging out half-used pots of paint from your under stairs storage, you find your paint has separated, don't use it.
Lick CEO and co-founder Lucas London says, 'we recommend using our paints within 6 months of opening. When storing, seal unused paint by hammering down cling film over the closed tin lid.
'Store it in a cool and dry place away from direct sunlight. Label with the date of storage and do a thorough check of its condition before using again.'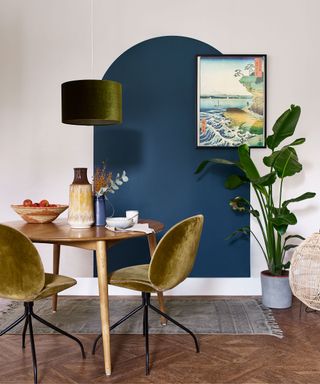 If you need to get rid of the paint, you'll need to take it to a local recycling center as liquid paint is banned from landfills. The paint will also need to be hard.
You can speed up the hardening process, by adding some sawdust, soil or sand, and leaving it to solidify. If you're looking for the best paint for furniture, take a look at our guide.
If your paint brushes have gone hard, you can recover them with a fabric conditioner.
A hardened paintbrush can cause streaks and inconsistent coloring on your walls. But rather than buying brand new ones, you can simply use fabric softener to give your brushes a new lease of life.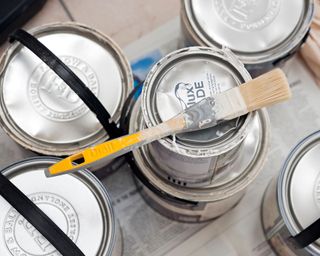 Remove the excess paint from the brush as much as you can. Next, fill a bowl with ¼ fabric softener, and the rest (¾) water. Swirl the paintbrush around in this mixture.
Once clean, rinse and leave the brushes to dry horizontally on a flat surface. If they're left upright, the water seeps into the handle and damages the brush. For more details, look at our guide on how to clean paint brushes.
You also need to be careful of using weakened paint tape. If you've stored tape in a room where the temperature fluctuates between hot and cold, this will have weakened the strength of the seal of the tape.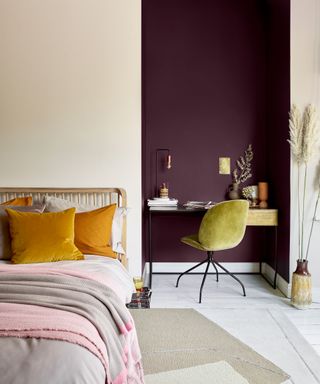 This makes it harder to get those satisfying, crisp painting lines in the future. There's an easy fix, though - just make sure you store tape in an airtight plastic bag.
If you can, keep it in a cupboard in a room where the temperature is fairly consistent, like a cupboard under the stairs. Before you get started on your next upcycle, read our story on the biggest mistake people make when painting furniture, according to the Frenchic founder.
Will you be doing some DIY this weekend?