A DIY fan has revealed how she made the window in her nursery look way bigger, which in turn gave the whole room feel a more spacious feel.
You may have already seen a similar curtain trick on Instagram, but Mariah from @rusticrosehomestead shows how using a longer curtain rail is the key. This clever bedroom curtain idea might be just what you need if you're currently grappling with a particularly awkwardly-shaped guest bedroom.
Here's how to try it out at home.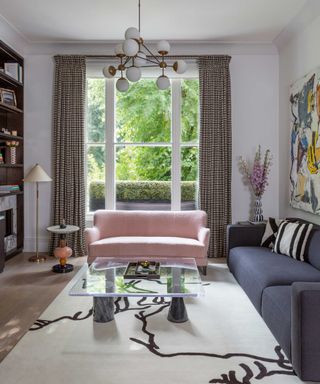 'How to make your small window appear larger using only curtains!' Mariah writes in the caption. In the video, the DIYer removes the old curtain rail, which was black, exactly the same length as the top of the window, and positioned close to the window frame.
She then uses a ladder to hang a larger, golden rail significantly higher up, a mere 3.5 inches from the ceiling. Mariah also attaches the brackets 12 inches away from the edge of the window on either side, high up close to the ceiling.
Once the drilling is done, she hangs beautiful floor-length curtains in sumptuous pink velvet. You can pick up the exact blackout curtains Mariah used at Amazon.
The video went down very well with Mariah's followers on @rusticrosehomestead. 'Yes yes and more yes!' one follower commented.
'Great tip and it truly does make the room seem bigger,' said another. 'Sooo much better!!!' exclaimed a third.
Mariah uses this curtain trick in her baby's nursery, but you could just as well incorporate it into your small living room ideas, or you could try it in your home office. Whatever the room, large swathes of material flowing all the way down the walls helps to achieve a luxurious look, lengthening the walls and accentuating the room's height.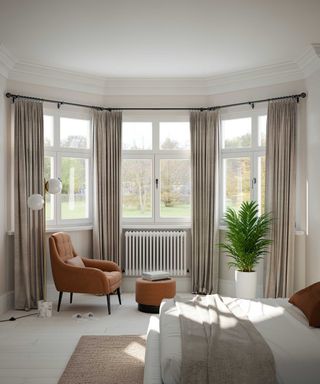 This simple hack draws the eye up and gives a simple window a more dramatic finish. Read up on how to put up a curtain pole before you give this curtain trick go, so you can approach the task with confidence.
Rather than positioning curtain rods close to the window frame, we'll be hanging curtains high and wide from now on.