Deacon Phillippe's West Village digs are all the rage on TikTok as of late. Even if you haven't opened up your FYP recently, chances are you've heard about Reese Witherspoon's son and his trendy college living quarters in New York City.
The 20-year-old NYU student and aspiring musician found a few minutes in between classes to show vlogger Caleb Simpson around his apartment — exposed brick walls, spiral staircase, Fortnite-playing roommates, and all. The clip has earned viral attention and plenty of commentary in between the likes and shares.
One thing that particularly caught our eye? (Aside from the spiral staircase, that is.) His "vinyl wall" — a small living room idea any musician can appreciate. Here's how to recreate the look in your abode.
Take a peek at Deacon Phillippe's digs
What'd we tell you? That spiral staircase is straight out of a Zillow ad and the two-story setup is picture-perfect. (Sharing that small bathroom with roommates? Not as ideal — but we spoke to experts about making it work.) After catching a glimpse of the musician-in-training's wall, we're keen to organize our small living room in a way that also reflects our love of music. (That purple Olivia Rodrigo vinyl's got to go somewhere, right?!)
Tips for creating a vinyl wall in your space
Since 2023 living room trends have been all about sparking conversations and creating cozy vibes, a vinyl wall is the perfect way to embrace that energy. Think of it as a musician's answer to living room bookshelf ideas.
1. Consider your collection to be artwork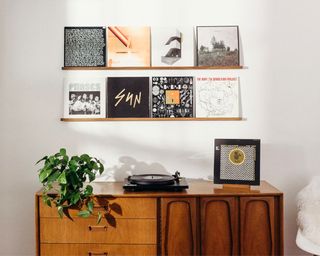 The vinyl wall is giving us gallery wall vibes, but with a twist *and* a purpose. Keep the catchy album covers displayed on shelves. And if you so choose, select the ones that are prominently displayed to complement the color and style of your turntable.
"There is something irresistible about a record collection that draws someone to flip through, which is why I prefer to create a variety of display options," says Lauren Williams, founder of Lauren Jayne Design. "A shelf composition with records and layered objects makes for an interesting conversation piece while making them accessible."
But like any hot commodity, there needs to be an element of protection, which is why Williams suggests record protectors, which you can find on Amazon.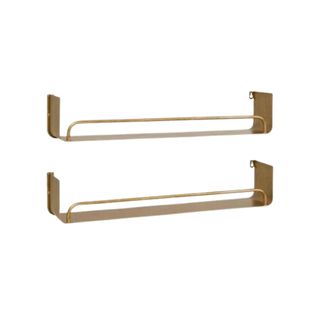 Antique Brass
Jimeny 2 Piece Metal Bracket Shelf
Price: Was $110, now $56.99
Dimensions (in.): H5.5 x W28 x D5.5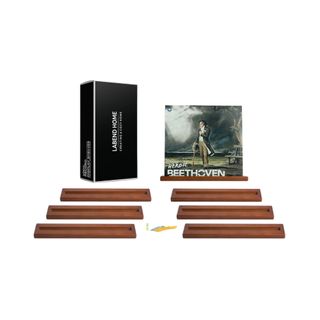 Set of eight
LABEND HOME Record Shelves
Price: $39.97
Dimensions (in.): D2.75 x W13.75 x H0.75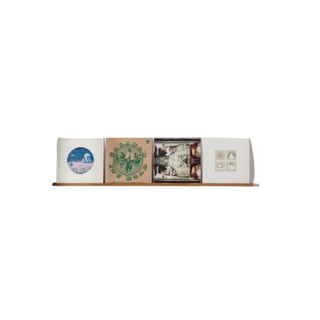 six finishes, five materials
Price: $68-$74
Dimensions (in.): D1.5 x W53 x H0.8125
Lauren Williams is the founder of Lauren Jayne Design, a boutique interior design firm specializing in residential and hospitality. The firm's projects have ranged from Brooklyn brownstones to the 1 Hotel in South Beach, Florida.
2. Keep things organized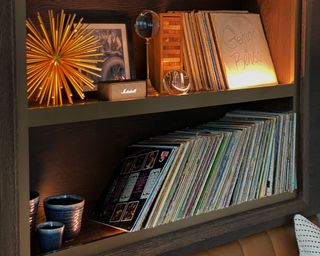 Half of the battle is to be able to snag the record of choice easily, so it's not just about aesthetics. Andy Fraser, owner of Guitar Inside Out, believes floating shelves are the way to go.
"[They] work well for a sleek and modern design that keeps my favorites at eye level, So they're easily accessible," he says. "It makes browsing convenient but also turns your vinyl collection into a real focal point."
Though he admits to sometimes letting rules fall by the wayside, he does try to keep them organized via genre for some order.
Andy Fraser, a guitarist, created Guitar Inside Out in 2021 to share his knowledge with the guitar community and other music enthusiasts. Its reviews, lessons, and setup information is all aimed to help guitarists understand their craft a bit better.
3. Keep chairs nearby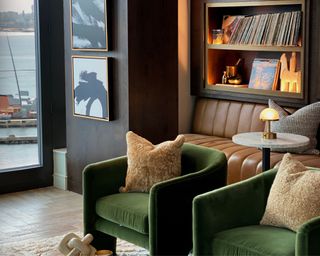 Not just a focal point, but a talking and listening point, these records are meant to be conversation starters.
"Have a lounge just next to it so that [guests] can listen to the music and interact with each other," says Artem Kropovinsky.
Isn't that the whole point of music, after all?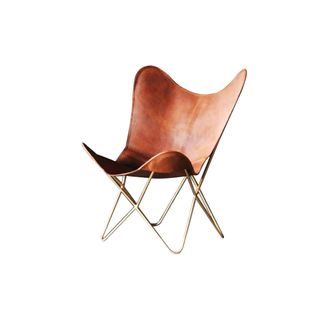 modern
Price: $159.99
Dimensions (in.): W29.1 x D26 x H35.4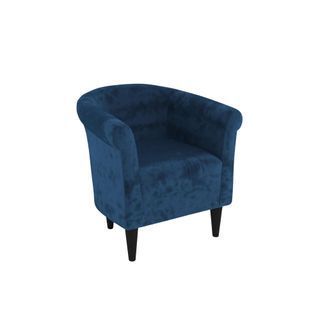 37 colors
Liam Upholstered Barrel Chair
Price: $199.99
Dimensions (in.): H32 x W31.50 x D27.5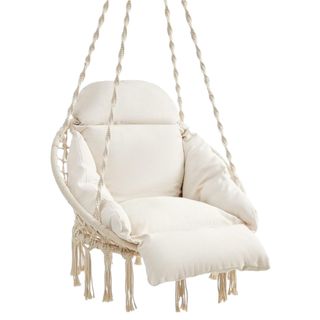 Boho
Price: Was $86.99, now $82.99
Dimensions (in.): L31.5 x W31.5
Artem Kropovinsky is an interior design expert and founder of Arsight, an award-winning interior design studio based in New York.
4. Switch things up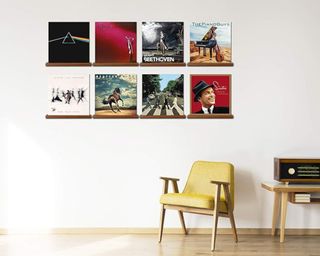 Just as you'd switch up seasonal decor and other trinkets, do the same for your vinyl wall.
"I enjoy the fluidity of changing up the display every few months, depending on what I'm enjoying at the moment," says Peter Fealey, the founder of A2D2. "It's like curating a rotating gallery, each record is a reminder of my musical journey over the years."
Peter is the man behind A2D2, a device that you connect your analogue audio devices to and will stream the audio to your smart speaker network, phone, or computer. He's an audiophile who knows sound quality and actively toured as a sound engineer and crew for artists such as Declan McKenna, Louis Dunford, and The Hoosiers, to name a few.
FAQs
How do you display old vinyl records on the wall?
When displaying old vinyl records on the wall, think of them like other wall art, in a sense. They look great on floating shelves, and though some people do fasten their record collections to the walls, we'd recommend sticking to floating shelves; your album is displayed and there's no need to worry about damage from an adhesive.
How heavy is a vinyl record?
Depending on the size of your vinyl record, it could weigh anywhere from roughly two, four, or six ounces. They're fairly light pieces to display on a floating shelf, but always look at the weight and dimensions of the floating shelf, particularly if you're planning to add other decorative items.
---
Now that you've tackled the musical component, it's time to switch gears. If you are curious about what size TV is best for a small living room, design experts explain how to find the proper fit for your space. Movie night and listening session, anyone?