Coffee lovers, take note: Le Creuset make a cafetière from their signature enamelled stoneware. 'What's wrong with the glass one I've already got?', you may ask. Well, nothing, really – but, what if getting a stoneware press could give you nicer, hotter coffee – and perhaps even save you money on buying a coffee machine altogether (something you might think twice about if you've got a small kitchen).
We were interested enough to put the stoneware cafetiere to the test against a glass one. The benefits of the Le Creuset, we'd heard, are this: stoneware is great at 1) concentrating flavours without absorbing them; 2) retaining heat.
And these, of course, are basically the two things you really need from your morning coffee. Our big gripe with traditional glass cafetières is that they lose heat so quickly: if you take a shower between starting your brew and drinking it, you'll get lukewarm coffee at best.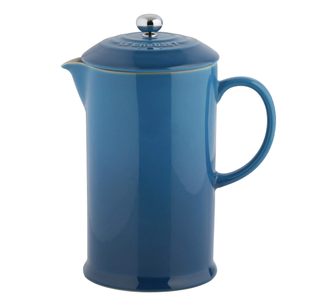 With Le Creuset's Stoneware Coffee Press, heat retention was much better, so we didn't have to have our coffee as soon as we'd made it – useful for those of us who like to give the brew a bit of time to really infuse.
It's true that you won't be able to see your coffee as it brews, but given how pretty this press is – the vibrant colours on offer are gorgeous – it's a small price to pay for warmer, more concentrated morning cup. The 750ml stoneware press is £57.
Finally – this is the bit all morning coffee drinkers hate – comes the cleaning. Does it get on your nerves when you rinse your coffee press only to find that a few used coffee grains still remain stuck to the inside? There's a lot less of that going on with a stoneware press thanks to its smoother surface. You might even find you only need to rinse your press once. Have we convinced you?
For more coffee related tips, read our advice on how to make good coffee.