The humble cooker hood is a part of the kitchen that all too often goes unnoticed. But can you imagine life without one? It would be steamy, that's for sure, and not in a good way.
There are so many creative designs around at the moment, from ultra modern flat wall-hung models, to pendant lamp-like domes and even invisible designs that pop up from your countertop.
It's no secret that we, as a nation, are becoming bolder with colour in our homes, and hurrah(!) the cooker hood is no exception. So don't let it be a wallflower, give power to your cooker hood by choosing a vibrant colour or metallic and clean your air the stylish way.
Check out our edit of the best six designs below – you are welcome.
For more kitchen ideas, go to our hub page – you'll be spoilt for choice with inspiration.
1. Copper cooker hoods that look like kitchen lighting
These island cooker hoods are so elegant, you can be forgiven for thinking they're pendant lights. The warm copper shade brings warmth to the kitchen, whilst the metallic finish helps to bounce light around the room.
Zalto island hood (opens in new tab), £1,362, Caple.
2. A cooker hood that looks like cabinetry
Consider your cooker hood right from the start of the design process, so you can incorporate it into the rest of your scheme. Here the cooker hood matches perfectly with the vibrant spearmint cabinets for a cohesive, modern scheme.
Milano Contour Ermine kitchen in spearmint (opens in new tab), £3,663 for all these built-in units, Wren.
3. A gorgeously glamorous gold cooker hood
Go for modern luxe with a simple gold metallic design. Choose gold accents throughout your space, such as cabinet detailing, taps and lighting for a kitchen than oozes grown-up glamour.
RorosHetta brushed brass hood (opens in new tab), £1,189, Magnet.
4. A sleek cooker that echoes a contemporary kitchen's style
This wall-hung design is perfect for smaller kitchens, and it's soft green shade will sit back just nicely in most schemes.
Smart Deco cooker hood (opens in new tab), £495, Franke.
5. A metallic lantern that's an extractor fan too
Now this is a cooker hood that won't be put in the corner. An architectural masterpiece in itself, it's shape is reminiscent of flower petals and this dark gold finish screams sophistication.
Belle Plus island hood (opens in new tab), £2,395, Faber.
6. A pop of pink to create contrast
A cooker hood any millennial would be proud to own, this pretty and playful design is at the top of our wishlist. Seriously though, who knew a cooker hood could be this cute?
Thalia cooker hood (opens in new tab) in Cameo pink, from £1,065, Faber. Contour Ermine kitchen in Jelly Bean Matt (opens in new tab), £2,469 for all built-in units shown, Wren.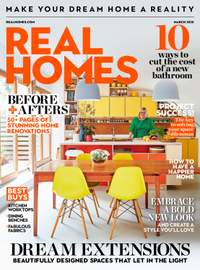 (opens in new tab)
Subscribe to Real Homes magazine (opens in new tab)
Want even more great ideas for your home from the expert team at Real Homes magazine? Subscribe to Real Homes magazine and get great content delivered straight to your door. From inspiring completed projects to the latest decorating trends and expert advice, you'll find everything you need to create your dream home inside each issue.

Read more