Chloé Lukasiak doesn't miss a step. The former Dance Mom star grew up before our eyes, mastering some of Abby Lee Miller's most complex dance routines in a matter of days, with both grace and precision, giving a compelling case that practice makes perfect.
Now, nearly a decade later, the breakout star is still dancing circles around us all, only this time, it's not on center stage. Proving that you don't need the practice to curate the perfect apartment, Chloé Lukasiak exclusively reveals to the Real Homes team how she found her signature style and what's to come in the future.
The key to successfully decorating your apartment? Like her age-old dance numbers, It's best to start at the top with the location — so pull up one of the best armchairs as she takes us step-by-step through her process.
How Chloé Lukasiak found her signature style
"I didn't look at a ton of options and wasn't very picky. I found the place and decided very quickly that I would move in."
Impulsive? Sure, but with pool access and great location, it's hard-pressed to think anything could be better than days off on the best outdoor furniture catching some sunshine — or it was until we remembered we still haven't seen inside her space.
"The only thing that mattered to me was that I loved every piece, and it all flowed together in a satisfying way. There were certain things I knew I wanted to use as soon as I saw them, so we did a lot of decorating around accent pieces, like paintings or mirrors or the bookshelves," she adds.
While this was a solo mission, for the most part, she does reveal that her mother Christi (and her interior design degree) did play a key role in making some of the tough decisions.
"My mom actually helped me pick out a lot for my apartment [...], and I trust her judgment a lot." And, seemingly, this sound move paid off.
From larger-sized mirrors to intricately decorated butterfly versions (opens in new tab), "every time guests walk in, they usually say that it's very French, which I'm not opposed to at all," and neither are we.
There's nothing chicer than a Parisian-inspired space, and if you are using Chloé's blueprint to redesign your own space, she has some pointers.
Chloés Choice: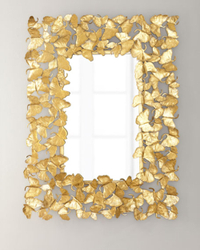 (opens in new tab)
Jamie Young Ginkgo Leaf Mirror (opens in new tab) l Was $650, Now $487.50, at Horchow
Originality reigns supreme with this gold hand-crusted leaf mirror (opens in new tab), as no two mirrors are the same.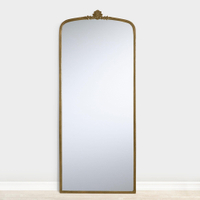 (opens in new tab)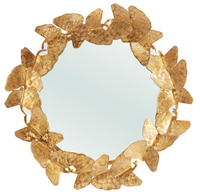 (opens in new tab)
"The most important thing is simply making sure you love every piece of your home. You want to go home to a beautiful space that makes you feel safe each night. I have come to learn that you should splurge on the accent pieces and buy affordable items for the things you use daily, the ones that will wear quickly," she explains.
Meaning, instead of wastefully spending money, she was wise and opted for blue "dining" chairs as her most coveted investment, calling them the first "big girl" purchase that she made.
Adding longevity into the mix, Chloé also points out they're transitional too in the event your style "changes [s] in a few years."
While blue is a fantastic alternative to brown or black, it's just as receptive in a room as opposed to a brighter hue such as orange or yellow. It can easily mix and match with a handful of new pieces (if your interested changes), protecting your investment.
Chloé's Choice: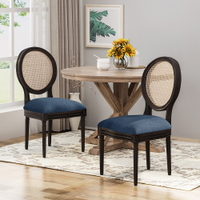 (opens in new tab)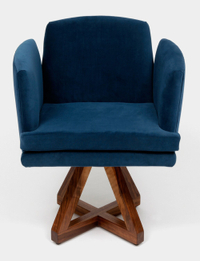 (opens in new tab)
Allison Upholstered Dining Chair (opens in new tab)for $700, at Perigold
Designed to solve every world problem, this option (opens in new tab) provides the utmost comfort in mind and consequently the ability to prolong those world-saving conversations at the end of any meal with friends.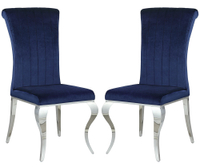 (opens in new tab)
Cabriole Tufted Velvet Upholstered Parsons Chair (Set of 4) (opens in new tab)l Was $2,450.99, Now $2,200, at Perigold
Old Hollywood Glam meets timeless charm with these stunning dining chairs (opens in new tab), with impressive cabriole-shaped front legs that give a dramatic statement, while the elegantly shaped design keeps things grounded.
Now, while she is "appreciating the space while she has it," decorating her first apartment, that doesn't mean she isn't looking to her future. "Living in an apartment has absolutely inspired me to start planning my dream homes," and we're sure whenever that reveal happens, her precision will amount to pure perfection.
Love Chloé's Choices? Check out more here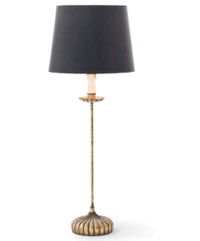 (opens in new tab)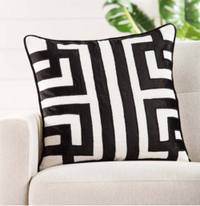 (opens in new tab)
Ordella White & Black Geometric Throw Pillow (opens in new tab) for $104, at Burke Decor
Designer Nikki Chu has envisioned the perfect pillow (opens in new tab) to punch up spaces with a sense of style. This go-to glam black-and-white choice will elevate spaces in seconds.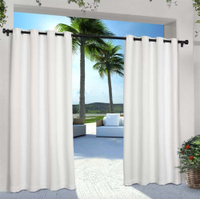 (opens in new tab)