The entryway to Gwyneth Paltrow's Montecito home is a stunning mix of old and new, with a stone fireplace and classic black and white tiles juxtaposed with contemporary furniture.
Thoughtful entryway ideas that blend vintage with modern really set the tone for the rest of your home, and make it feel really welcoming. Luckily for us, Gwyneth's flooring as seen on Architectural Digest is something you can totally recreate on a tight budget with this checkered tiles trick.
DIY checkerboard entryway flooring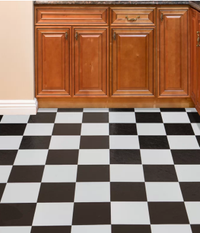 Nexus Self Adhesive 12" x 12" x 1mm Vinyl Tile, $1.19/sq. ft at Wayfair
Update your entryway with these purse-friendly 'peel and stick' tiles from Wayfair. The tiles are waterproof and easy to cut around corners, with no glue or adhesives necessary. They cost $1.19 per square foot or $23.80 per box of 20 pieces.
We think checkered patterns are always a timeless and striking feature, and we've definitely noticed more and more people using them in their homes lately, on flooring and decorative pieces. Check out this kitchen makeover by @the_pengite on Instagram with lovely a checkered floor, and the many stylish checkerboard rugs available at Etsy.
Monochrome, checked flooring in an entryway or kitchen feels traditional (and makes us think of the Stuart Little house, just us?). It could even work as part of a modern farmhouse interior.
But Pinterest's annual trend report shows that 'Checkered tile floor' has had a significant spike in search over the last couple of years. 'Checkers are having their moment in all areas of people's lives—from nails and rugs to funky flooring,' says Pinterest. 'Millennials and Boomers, in particular, are driving this checkered trend.'
Speaking during a house tour video on Architectural Digest, Gwyneth Paltrow says, 'The tiles remind me of my time living in London and just a detail that's classic and traditional.' The American actress comments that she wanted the entryway in her house to feel like its own special room rather than a place you just pass through.
Whatever types of flooring you go for, checkered tiles could be the perfect way to bring impact to your space. If it's good enough for Gwyneth, it's good enough for us.