Mopping wooden flooring or tiles can be a real chore, particularly if it's not been done in a while. But cleaning fans are raving about a TikTok mop hack that uses a standard bucket to make the task a whole lot easier.
It goes without saying that investing in one of the best floor mops on the market will make the ordeal less strenuous. In the meantime, this cleaning hack will stop you from spreading any dirty water around by dividing the dirty mop water from the fresh water.
'Just buy a bucket from the dollar store and place it on the side where the water goes so you get clean water, and when you spin the dirty water stays under,' writes @momthatlovestoclean. 'This is a great alternative to buying the rinse clean.'
She demonstrates the TikTok mop hack by putting the mop into the bucket of fresh water and wringing out the mop, before cleaning hardwood floors. Given that you can easily pick up a cheap bucket for $1 from hardware stores, this trick is super affordable.
The clip has got a lot of attention in the world of cleantock, with thousands of likes and hundreds of comments. 'Omg WHY have I never thought of this?' wrote one.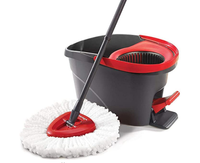 'Seems like a great idea to me, just might need to do this,' said another. Some questioned how it works, arguing that the clean water will still get dirty after the mop has touched the floor.
But as long as you wring the mop thoroughly using the pedal, the majority of the used water will come off the mop head. The latest model of this mop from Vileda, the Vileda Turbo Spin Mop and Bucket Set removes 99.9% of germs with just water.
Of course, the best steam cleaner will also do a fantastic job of cleaning your flooring, even if buying one feels like a splurge.
Would you try this TikTok mop bucket hack at home?