Microwaves are handy things for heating up a quick lunch or dinner, or bringing leftovers pack to life. However, experts warn that simply popping a plastic food container in the microwave could be posing a danger to your health.
The confusion over how safe plastic containers are to use in the microwave stems from the fact that many brands now produce 'microwave-safe' plastic containers. However, not all plastic containers were created equal.
Experts at Panasonic have revealed that certain plastics combined with certain foods can cause a serious mess in your best microwaves. 'Many plastics are designed for microwave use, but we would not recommend cooking foods high in sugar or fat in them,' says a Panasonic spokesperson says.
Why is it not safe to put plastic containers in the microwave?
The reason it is not safe to put plastic containers in the microwave with these types of food is that they get very hot and cause the plastic to melt - hello, potential burn risk.
Alicia Harper, an NYC-based nutritionist from Probiotic Review Girl says she learned this the hard way. She re-used a larger yogurt container for some soup recently and decided to heat it up in the microwave.
'I was left with what can only be described as a melted mess of soup and plastics mixed together,' says Alicia. 'Do not put re-used yogurt, butter, and other similar containers in the microwave. They will melt!'
Beyond the danger of potential burns from a melted plastic mess, many health experts warn that is that using plastic in the microwave could have an impact on our health. Melissa Bunkers from Revive Functional Medicine is a Certified Nurse Practitioner who helps women to create a healing environment to balance their hormones and boost energy.
Having had extensive training on the effects of xenoestrogens (hormone-mimicking chemicals) on the body, she teaches her clients to never heat food in plastic in the microwave. 'This causes leaching of chemicals into the food,' says Melissa.
Most plastic containers are composed of 'endocrine disruptors' Bisphenol A or BPA, which can be released into food at high heat. However, while plenty of studies have been done into the impact of these chemicals, there is still no definitive answer on whether microwave-safe plastic containers pose the same danger.
How to know if a plastic container is safe in the microwave
However, before you swear off plastic containers altogether, some of the best food storage is made for microwave use. To find out if your plastic containers are safe to pop in the microwave check the bottom of the container for a microwave-safe symbol (a little box with wavy lines).
If there's no symbol, don't put it in the microwave. To be on the extra-safe side you can also invest in microwave-safe glass containers with lids, at Amazon, ceramic containers will also be fine.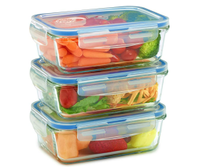 3 Pack Glass Meal Prep Containers for Food Storage and Prep w/Snap Locking Lids Airtight & Leak Proof - Oven, Dishwasher, Microwave, Freezer Safe - Odor and Stain Resistant, $19.99 at Amazon
Just whatever you do, don't heat up your soup in a leftover plastic yoghurt pot.