If you're looking for a sweet coffee machine deal this Black Friday then we're here with some brilliant news. Before my husband bought this Breville One-Touch coffee machine last year, I used to hate coffee. Now I'm obsessed. What's more, there is currently £70 off this very same model for Black Friday, making it just £149...
I have always been an herbal tea girl, and I'm not afraid to admit that this is due to sheer laziness. I love having a drink that's ready ASAP and that requires minimal prep. While it does take a little bit longer than boiling the kettle, I've found the results of this one-touch coffee machine are so worth it. With just a scoop of coffee and the press of a button, you can have a cup of joe made to your preferences, without having to leave the house.
So, if you're in the market for a new coffee machine — perhaps yours is broken or if you want to be converted like me — this is a deal to jump on. We don't say lightly that this might be one of the best Black Friday discounts we've seen so far.
Breville One-Touch CoffeeHouse Black Friday deals
Take a look at the steaming hot deals on the internet this Black Friday. We've found 'mug-nificient' offers on the old and current models, as well as a toaster bundle so you can make breakfast and lazy brunches in style. Priced low to high for your convenience.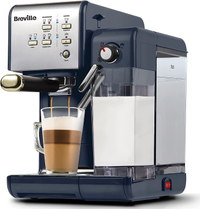 1. Breville One-Touch CoffeeHouse Coffee Machine, Navy | Was £219.99 now £148.36 (save £71.63) at Amazon
At £71.63 off this Black Friday, you're saving over 30% on this one-touch coffee machine. It's compact, easy to use, and the colors available are all neutral and versatile, meaning it'll fit in with any kitchen scheme. If you want it in black, you can still nab a cool £70 off.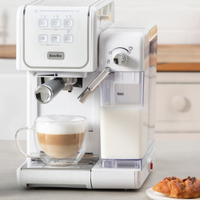 2. Breville One-Touch CoffeeHouse II VCF147 Coffee Machine, White | Was £339 now £169 (save £170) at Currys
Be the cat that's got the 'crema', with this cool white-colored coffee machine. This is the newer version of mine and was £339 last month. The illuminated bar is super chic and shows you just how long you have until your cup is up!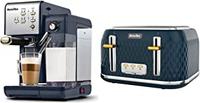 3. Breville One-Touch CoffeeHouse coffee machine, navy [VCF145] with navy Curve 4-Slice toaster [VTT965] | Was £264.98 now £188.99 (save £75.99) at Amazon
If you're someone that likes their appliances to match (and happen to be in the market for a new toaster too), this discounted bundle needs to go in your Black Friday basket. It's possibly the most stylish way to make your toasted bagel and brew. The navy/gold combo is great for introducing some jewel tones into your kitchen space.
It has blown my mind how you can taste the notes in different blends of coffee, and with the machine being at home and quicker to make than a trip out to Starbucks, I've definitely climbed on board the coffee bandwagon.
My husband's go-to at a coffee shop is a flat white, which we can now make at home by pressing the latte button twice to perfectly fill our mugs. I like my drinks on the sweeter side, so he stirs a splash of maple syrup into my cup.
The autumnal vibes are immaculate.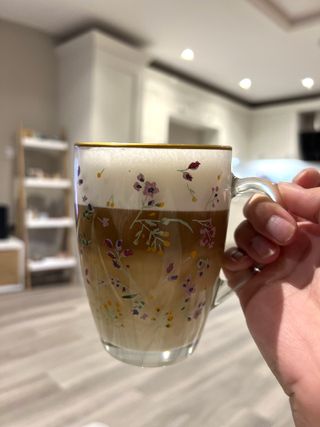 It's really important to me that everything in my home feels like it belongs there and fits in with the neutral decor. That includes my appliances, and this machine's grey and rose gold tones definitely fit the bill. It really draws the eye into what is our otherwise white and beige kitchen, so it will definitely make a great focal piece for our upcoming coffee nook too.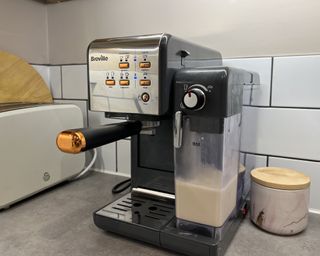 Plus, you can pick up a bag of ground coffee from most of your fave shops for about the price of a cup in-store. Each bag can make about 15 double-shot cups, so we end up saving about £40 on the exact same blends. Staying in and using the machine is also planet-friendly as we can avoid single-use coffee cups, which is always a win.
And coffee isn't the only thing this machine has turned me into a fan of — I also now swear by oat milk.
Dairy milk and I do not get along well, so what I really appreciate about the Breville One-Touch is that it froths this milk amazingly (we're talking much more foam than most coffee shops). You can also adjust the level of foam, which is why I love to use just the milk warming and frothing feature to make cafe-quality, tummy-ache-free matcha, and hot chocolate. So, if you're in the market for an easy-to-use coffee machine with the lazy girl stamp of approval, hop to it!