Typically, I put a product to the test for around two weeks to a month before writing a review, but this Sage Barista Express coffee machine review has been over a year in the making. I bought this coffee machine in November of 2019 during a particularly good Black Friday sale, and one year of working from home later it's fair to say I've experienced everything you need to know about the Sage Barista Express coffee machine.
In my opinion, this is one of the best bean-to-cup coffee machines you can buy. It's a high-tech piece of gear though, which means it's best suited to those who want to be involved in the whole process from start to finish. As a former barista who once served coffee all day long, this is my kind of coffee machine. For those who want a more hands-off approach though, there are easier machines out there.
Wondering what else is on our roundup of best coffee machines this year? Take a look at our guide.
Specifications
Coffee type: Beans
Pressure: 15 Bar
Water tank capacity: 2L
Cups: 1 or 2
Filters: Single or double shot
Dimensions: H40 x W33 x D31cm
Using the Sage Barista Express coffee machine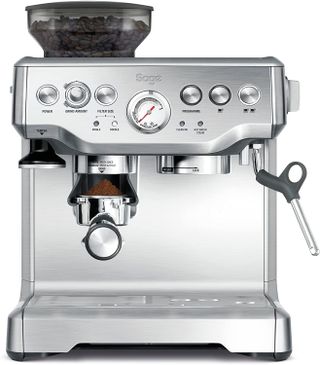 If you like to get hands-on with your coffee and you fancy yourself a bit of a barista, the Sage Barista Express coffee machine is a great option. It's got a precision dosing tool and a side dial that determines how coarsely your coffee is ground. This then impacts the speed of your extraction. Some machines handle all of this with no adjustment options, but if you want to experiment these are handy features.
A larger volume of coffee will always cause an increase in pressure - maybe too much. The coarseness influences the speed of extraction and how easily water flows through your filter.
When you fill your espresso portafilter you can compress the grounds with the tamper. This can be removed and it's easy to slot back into place because it attaches magnetically.
Then it's a case of twisting the handle into place and selecting either the single or double shot button. The pressure gauge indicates the ideal amount of pressure you need for that perfect extraction, so you can watch as your coffee pours and try and figure out of if you got the right grind volume and coarseness for your beans. This can be a little fiddly, but it is nice that you have the option of determining your specific preferences.
What we like about the Sage Barista Express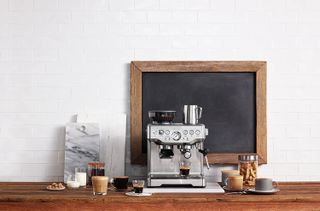 The Sage Barista Express isn't cheap, but it hits the right price for a bean-to-cup coffee machine. The custom features are a fun way to make sure you get the most out of your coffee bean, but even if you don't want to experiment with the grind coarseness and volume it's easily overlooked for a more simple process.
Grinding is easy. You simply slot the filter into the holders and then press forwards to create a flow of coffee beans. When this is full you just use the tamper to compress your coffee, which can be done by removing the tamper or pressing the filter up and into its magnetic slot.
Included in the Sage Barista Express is a Temperature Control Milk Mug. This is brilliant for making frothy milk for lattes or cappuccinos, because it lights up to indicate the temperature of the milk as it heats and foams. I suggest around 65 degrees for most coffees, but this can vary depending on your own preferences.
The water tank contains two litres at a time, and can be removed and refilled easily. There's a marker on the side that indicates the amount of water and the maximum mark. You can also pre-heat cups on the top of the Sage Barista Express, or using the hot water wand.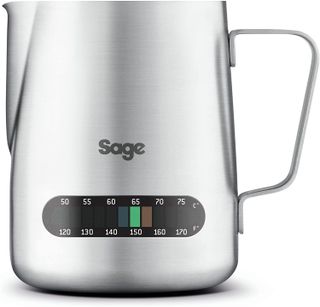 The milk wand on the Sage Barista Express is really easy to use. You simply switch the side dial forward towards you and allow it to heat until there's steam coming out. Then insert into your milk jug and hold it below the surface to create micro-bubbles.
As I used to work at a coffee shop I have a lot of experience in making different types of coffee, but it's a skill you'll pick up as you go. For example, creating a cappuccino requires a firmer froth, so you'll hold the wand very close to the top of the milk line.
After use I'd recommend you allow the steam wand to run for a few seconds and then wipe clean immediately once the wand is switched off to prevent milk from drying onto it.
What we don't like about the Sage Barista Express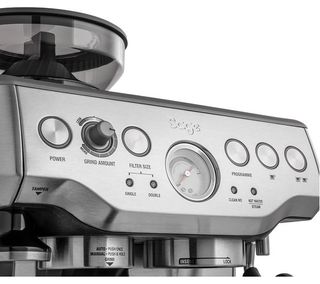 As much as I love the Sage Barista Express, it's not perfect. For a start, it's a loud machine from start to finish. Grinding fresh coffee is never quiet, but it does require me to close the door to the dining room when my family is working in there. The machine makes a loud humming noise as it extracts coffee, and then the milk frothing process makes an inevitable screeching noise.
My main complaint with this coffee machine is that it's best suited to making espresso shots. As a lover of lattes and mochas, this suits me just fine, but my parents love a long americano in the morning. To do this they have to press down continuously on the double shot button, which makes the process a lot less hands-free.
What you can do to make a long coffee is brew a shot of espresso and top it up using the hot water wand, but it's not ideal for those who prefer to brew a long coffee instead of just topping up their espresso with hot water.
Removing the filter in order to switch from a double to single can be fiddly. I tend to use a spoon to lever it out, because it gets very wedged in. It's a shame there's not an easier way to do it, but most of my family stick to double shots so we don't switch it out very often anyway. If you do switch from single to double a lot, it could prove a little annoying.
Cleaning the Sage Barista Express
The Sage Barista Express comes with everything you need to clean it, but the process takes about five minutes from start to finish. I tend to follow a YouTube tutorial every time I clean my coffee machine, which is about every three months. There's an indicator that flashes on the front of the machine when it's time to clean, so you won't need to set any reminders.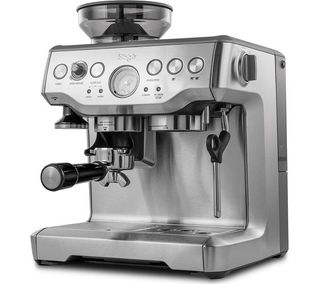 To clean the Sage Barista Express you need to turn the machine off and make sure the water tank is full. Use the single filter and a plastic insert that holds cleaning tablets before screwing into place.
Then press down on the single and double buttons at the same time before pressing the power on button for five seconds. The clean button will begin to flash and the coffee machine will run on and off for about five minutes. This is a good task to set aside for a Saturday morning, as you'll need to empty and clean the water tray when it's done.
The exterior of the Sage Barista Express coffee machine is stainless steel, and it wipes clean. You will need to do this on a somewhat regular basis as it smudges easily. You should also clean the water tray frequently, because coffee grounds can spill out of the filter before tamping and create a mess.
One nice feature is that the water tray has a slot that shows a "Clean Me" label. This rises with the waste water level, so when it shows you know it's time to empty. I recommend doing this before the water tray gets too full or it will spill when you remove it and sip into the sink.
Should you buy the Sage Barista Express coffee machine?
If you're a coffee enthusiast who wants complete control of every step of the coffee making process, the Sage Barista Express coffee machine is the one for you. It's got everything you need to adjust the grind volume and coarseness. You can also froth your own milk to make barista-quality coffees at home.
For people who prefer a long coffee and aren't so concerned with milky coffees, I'd suggest another coffee machine. This one is designed to deliver one or two shots of espresso and doesn't have an option to pour a larger quantity hands-free.
About this review, and the reviewer
Millie Fender is an editor at Real Homes, specializing in small appliances and all things cooking. She loves putting new products to the test, whether they're air fryers, blenders, or even pizza ovens, and her family and friends love eating the results.
Millie has a constant stream of new products waiting to be reviewed in her kitchen. It's a little snug, so if she thinks anything deserves to stay there, you know it's something special.
Millie bought the Sage Barista Express with her own money, and used it for well over a year before writing this Sage Barista Express coffee machine review.