If you're thinking of renovating, the bathroom is the place to start. As far as Breegan Jane is concerned, it should be our number one priority.
See also: bathroom ideas - 51 stylish looks, trends and tips to inspire a makeover
We sat down with the Extreme Makeover: Home Edition star and interiors expert to ask for her pearls of design wisdom. Often, we give the most sociable spaces in the home the most attention when decorating - giving the kitchen or living room a revamp.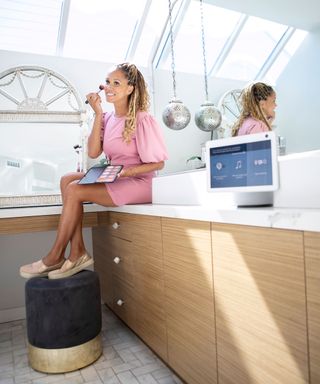 But Breegan emphasized how important it is not to neglect our bathrooms. After all, they're the place we spend time taking care of ourselves, and where we start and end our day.
'For me, bathroom design has always been really important, even in commercial spaces. Because walking into the bathroom of a restaurant is what sets your mind on whether the restaurant is clean,' Breegan begins.
'If you walk in and it's a beautiful bathroom - even if it's a small space - that sense of serene cleanliness helps you mentally. You sit back down and say "this is a nice place!"'
So true. We also love looking in restaurant and hotel bathrooms for inspiration on ways to make an impact in a small space. For more tips from the HGTV star, check out Breegan Jane's coffee table tip for small living rooms.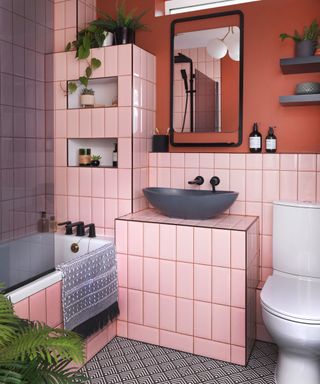 She goes on to say that we forget to recreate the restaurant bathroom effect in our own homes. 'Bathroom spaces are spaces that guests visit when they come over,' she says.
'Having a clean bathroom and taking that extra time to curate the space, anyone can do. And we always forget to do it.'
Additionally, she makes the point that having shampoo bottles and products all over the counter clutters our minds, making it harder for us to relax. Our guide on how to clean a bathroom will help you make a huge difference without spending anything.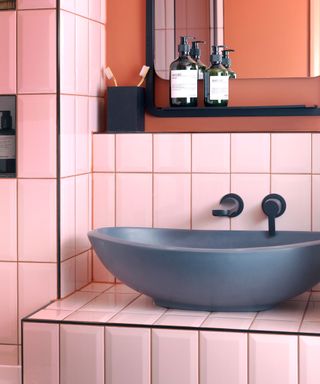 'I recharge by taking a shower, and I love music in the bath,' she continues. 'These are things that have helped me keep my spirit healthy and clean so the bathroom to me this year has mattered more.'
She shared a couple of simple, practical ways to up your bathroom game. 'White towels in a basket, always clean and ready to go, will change your life.
'I'm always telling my clients, just get white towels. It will just give you this crisp refresh.'
'Every single dad I know, I'm like "what kind of towels do you have? Throw them all away and get fresh white towels. Trust me, your future girlfriend will thank me."'
We'll just leave our roundup of the best towels here...
Breegan is a huge fan of Amazon devices and has incorporated them into her home to make life as a busy mom easier. From checking if a package for her client has arrived from her phone thanks to the Ring doorbell camera, to telling Alexa to add an item to her to-do list.
She even uses Echo devices in the bathroom, specifically the Echo Show 10 and Echo Dot. 'From the bathtub, I also Drop In on my kids' room to make sure they're doing their homework,' she says.
'I'm just on my phone in the bathtub, trying to get five more minutes of relaxation.'
See also: Towel storage - 18 ideas to keep your bathroom clutter free
'It really reminds me of a very modern intercom system that only mansions used to have. It connects the whole house and we can all communicate.
'Also, it's the security part, you're a mom, you wanna make sure everybody's safe at night.'