Ripping out a battered old bath and replacing it with a shower built for two is our idea of bathroom heaven.
No more queueing up to get your turn under the shower head. You can pass the shampoo or soap without fear of banging elbows or knees. And with no waiting for your partner to finish, there're no excuses for being late again (probably).
Ali and Neil Gunn have done it in style, with walk-in showers so big they had to have Crittall-effect shower doors made bespoke to fit – and we just love them!
Are you inspired to transform your bathroom? Check out our favourite bathroom ideas.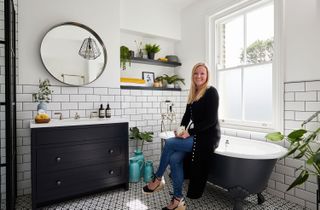 The before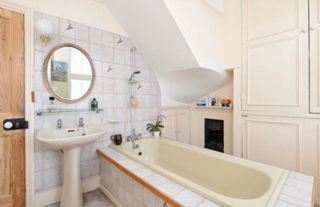 The bathroom design revamp was part of a major renovation project that Ali and Neil embarked on when they bought their Victorian terrace in south-east London, moving there to be close to family.
'We knew this house would be a project when we bought it,' says Ali. 'The bathroom was awful – think 1970s-style carpentry, really old carpet, a huge airing cupboard with a water tank and a slanted ceiling thanks to a set of stairs leading up to the loft at the side of the house.
'The bath was in the centre of the room with no shower screen. We knew we absolutely had to start again – we needed more space, light and modernisation.'
The process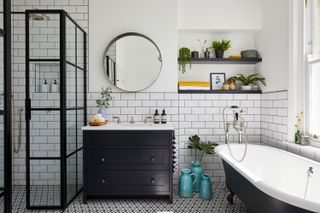 The tiled and tired old tub sticking out into in the middle of the room might have seemed luxurious when it was first installed decades ago. But it, along with the large cupboards, were awkward and obtrusive.
Once they were ripped and the layout reconfigured, the couple could make much better use of the space – which meant moving the new Victorian-style bath so it sat tidily beneath the window, leaving more room for the focal point twin showers.
'We used a local company, Create, for the build work, and they recommended WC One for the bathroom,' says Ali .'We had a chat about what we wanted from the space – a big double shower and a roll-top bath.

'My sister-in-law and I were doing our houses up at the same time, so we swapped research to draw as much inspiration as we could. That, along with Pinterest, meant I was able to bring together an idea of what I was after. I wanted a timeless scheme – a black and white base with grey accents on the sink and bath, accessorised with pops of colour.'
The details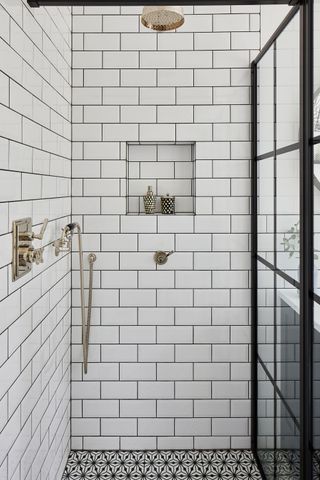 'WC One worked with us on the smaller details, as well as the bigger decisions, like what types of metal we should include. We chose nickel. They helped us source the right taps and mixers to fit in with the era of the house but bring a modern twist. I went with Fired Earth's black and white geometric tiles, and paired them with simple metro brick on the walls.
'I'm all about clean lines and no clutter. We introduced shelving to display accessories. The shelves behind the toilet hold our toilet rolls. We use Who Gives A Crap, who produce eco-friendly toilet rolls packaged in trendy black, white and gold patterns. They've become a bit of a feature.

'My favourite part of the room is probably the shower. The Crittall-style doors add a boutique feel to the space. Friends who come round say it's like being in a hotel! Anyone who goes through a project like this shouldn't be under the illusion that it's quick and painless, but we've come out of it with something we love.'