Updating any room on a budget is a daunting task, but your living room is perhaps one of the easiest places to save cash when you're renovating your home, thanks to refurbishable statement features like fireplaces, and – if you're lucky – real wood floors to uncover.
Beth Jamison and her fiancé Tom Marsden, who work for a cladding materials manufacturer and a precast concrete company respectively, were able to use their industry knowledge to save some serious cash when they bought their first home. But their modest yet stylish living room makeover has ideas to inspire anyone who's looking to switch up their space for less – even without those specialist skills.
The before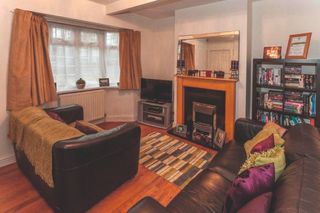 When Beth and Tom bought their 1930s semi, they were impressed by the size of the rooms, but knew they'd have to take on some work. 'It needed a bit of TLC; there was nothing wrong with it, but it wasn't to our tastes,' says Beth. 'The big kitchen-diner with an island was what drew us to it, but the lounge is the perfect size for the two of us, and the garden was decent – it ticked all the boxes.'
Luckily for the couple, the front room was in good shape, with a simple, easy-to-update mantlepiece and original wood floors. All the room needed was a lick of paint and a few style updates.
The process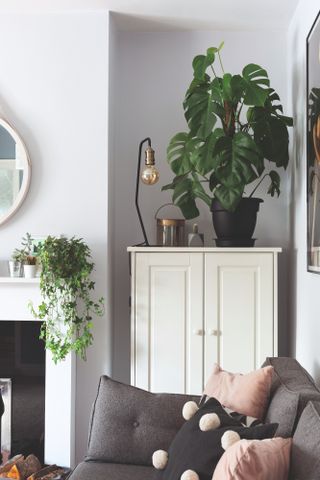 The couple wanted a brighter, more airy front room, so bringing in light-enhancing elements was top of the list.
'I wanted to keep the living room cosy, but still light,' Beth says. 'I went for a Scandi vibe, which came from the sofas – we saw those first and they influenced the rest of the scheme.'
Painting the mantlepiece white instantly brightened the space, as did redoing the walls in a pale grey paint from Homebase. The original wood floors didn't need touching, but add natural texture and an earthy feel that grounds the space.
The after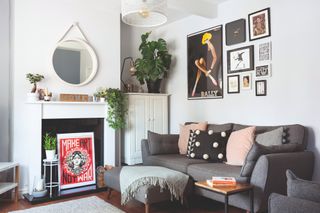 By keeping the foundations of the room neutral, Beth and Tom created a classic base that they can switch up using accessories – a great way to ensure the longevity of a room without spending lots on expensive fixtures and furniture.
A gallery wall above the French Connection x DFS sofa adds interest to one wall, while a round mirror from Swoon Editions over the fireplace helps bounce light around the room. In place of a fire, the couple opted for an art print propped up against the fireplace, adding a splash of red to an otherwise monochrome scheme. Plenty of houseplants add lush greenery that completes the look.
The key to Beth and Tom's low-cost makeover – their entire home renovation, including a new bathroom, cost less than £9,000 – was in budgeting, and being savvy with sourcing. 'Everything we've done has been as and when; each month, part of our pay cheques go towards the house,' says Beth. 'We've saved with a lot of mix-and-matching. We didn't do the house up with a view to sell – we just did it for our own tastes.'