When you are looking for an excuse to finally invest in your dream piece of furniture, nothing helps like payday, combined with free delivery. So we are seeing Made offering free delivery from today until 1st September as a sign that we should all treat ourselves since technically we are saving money.
If you need any shopping inspiration, don't you worry, because of course we have rounded up all our fave picks from across the site right here. There are also loads of Made sofas over in our best sofas buying guide so if you are thinking of investing in a sofa check that out too.
1. Invest in a classic new Made sofa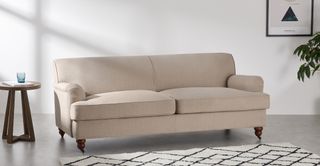 Orson 3 Seater Sofa | £699
Sofas are usually a high ticket item that we buy only when absolutely essential – like when your old one is weeping stuffing and is a totally different colour to when you bought it ten years ago. So now there is the best time to get replacing while there is free delivery! There are loads to suit all styles over on Made but we love the classic Orson sofa – looks great in traditional or contemporary spaces.
2. Treat yourself to a stylish new bed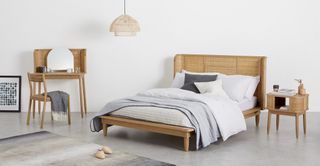 Liana Double Bed | £749
We are obsessed with this bed. In fact, it's probably our fave Made.com bed on the site right now. This would be perfect for adding a relaxed, boho vibe to your bedroom.
3. Switch up your bedding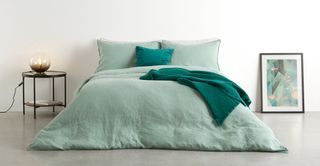 Brisa Linen Duvet Cover + 2 Pillowcases | £109
Changing your bedding can totally transform the feel of your bedroom, so treat yourself to a new set while there is free delivery. We love this dusty, sage green too, looks gorgeous with a pop of brighter teal.
4. Declutter with stylish storage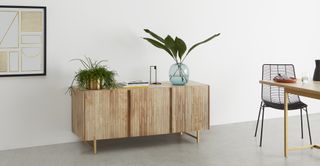 Aphra Sideboard | £499
A lot of us have spent lockdown organising our homes and having big sort outs, so why not invest in some new storage furniture? There's plenty to choose from, but this chest of drawers caught our eye. The light ashy wood with the gold details is just dreamy!
5. Update any room with a stylish rug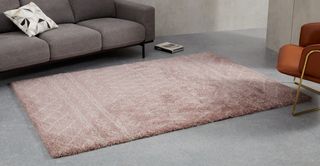 Freda Rug | £199
The colours in this are just so divine and bang on-trend right now, the pinks are just a nice twist on the tradition black and cream Berber rug. This rug would be perfect adding a really subtle hint of colour and pattern to a living room or bedroom.
Read more: