Do you think it's possible to will spring to start by staring at pictures of bright, light-filled interiors all day? Well, we can't help but think that this will – eventually – work and we now have all eyes on the new Argos Home furniture range, fresh out for spring...
You read that correctly, today's dose of spring vibes comes from Argos, since the launch of its oh so gorgeous new collection called Country Living. It's very soft and rustic and relaxing, oh and because it's Argos it's also really affordable! So whether you choose to pick up a new sofa, some bedroom furniture or new accessories for your living room from Argos, you've got many beautiful options to choose from, and your upgrade won't run you into debt either! Bonus.
For loads more affordable homeware, make sure you check out our deals hub page – you'll find all the sales currently happening at our fave brands.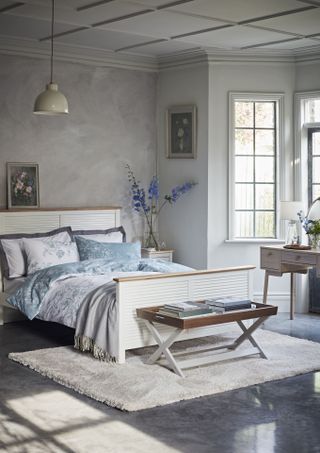 Oh, we can just smell the fresh spring air wafting through those windows! The soft blues and creams in this room are just so dreamy. If you're looking for a cheap way to give your bedroom a quick seasonal update, the lovely floral bedding set is just £12. And it's reversible, so we are seeing that as two lots of bedding for the price of one.
If you're looking to replace your bedroom furniture, the Foxlands bed frame is a classic looking number in the new Argos home collection for spring. Its simple shape won't date, but the paneling gives it a slight country, coastal feel that we can't get enough of. Plus, it's only £299. Pair it with a tray table and small bedside table to complete the look.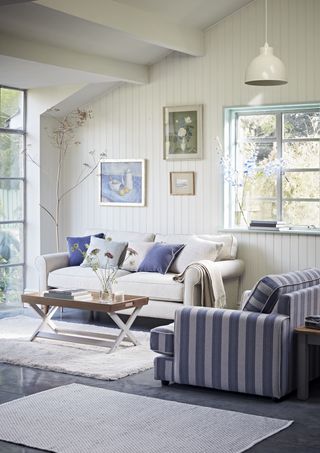 If it's a new sofa you are after for the spring, Argos has some lovely ones in the new collection. The William Sofa , pictured above, is a classic, traditional shape that can be styled to suit any vibe. We love how it looks here with the blues, creams and greys.
If you don't have the budget, or need, for a new sofa, you could always give your living room a freshen up with some new cushions. Prices for these Argos cushions start from just a tenner.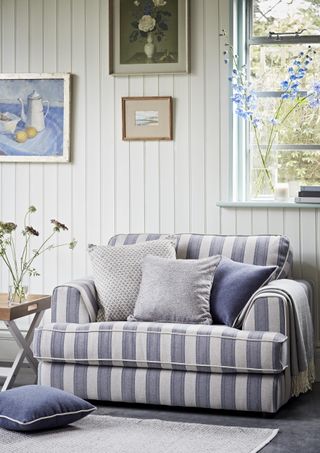 This Argos sofa is called the Cuddle Chair! And who wouldn't want a cuddle chair in their home? It's the perfect size for a small living room, or maybe to pop in the corner of an open plan kitchen to create a cosy nook. The shape is lovely and traditional and you know a stripe is never going to go out of style.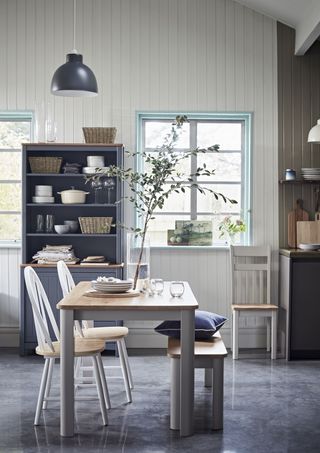 If it's your kitchen/dining area that needs an update, there are plenty of lovely Argos chairs and tables to add to your dining space. If it's just a quick, cheap buy you are after, we think replacing crockery can actually make a huge difference. This grey stoneware dinner set is only £20 and looks lovely paired with wooden chopping boards and storage baskets – very trendy, very rustic.
Where is that dresser from we hear you shout? Okay, okay, well no surprises it's from Argos too. The Bournemouth dresser is just £350 – an absolute bargain.
Read more: