Ohhhh wow... a faux fur heated throw blanket! Even looking at the picture of this gorgeous luxury throw makes us want to kick off our shoes and snuggle up on the sofa until winter is over! Just imagine the loveliness of coming in from the cold and getting under that cosy, toasty blanket... (not to mention that it might allow you to turn the heating down a notch).
Better looking than an electric blanket, it measures 120cm by 160cm, big enough not just for the sofa, but the bed, too. Get ready to wrap yourself up in a cocoon of faux fur plushness...
Shop Argos' Relaxwell By Dreamland Intelliheat Faux Fur Heated Throw, £119.99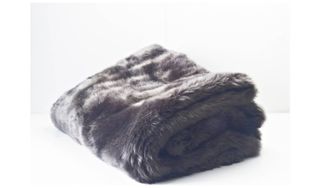 The Intelliheat Faux Fur Heated Throw has five star reviews from everyone and their cat (seriously, one review says, 'Very warm and our cats love it as well'). An all round crowd pleaser with fab intelliheat technology, meaning it can heat up to 37ºC in just five minutes, it can easily be controlled at the touch of the digital detachable control – you can choose between six different temperature settings.
Plus, you don't need to worry about overheating as it comes with overheating protection and has an auto adjusting temperature sensor which monitors the living room or bedroom temperature and adjusts itself accordingly. Also, it automatically turns itself off when necessary.
Another plus? It's totally machine washable and can be put into its reusable storage bag when the weather warms up again, finally.
Read more: