Looking to buy an outdoor projector for movie nights in the garden this year? Smart idea. You can also set up and use an outdoor projector indoors, for movie nights on a bigger screen. Luckily for you, we actually bought ourselves a great outdoor projector – the APEMAN Projector Mini – a few years ago from Amazon. And, to say we are impressed would be the understatement of the year. Keep scrolling for our verdict.
Not only is this outdoor projector easy to use, but you can watch Netflix on it and you can set it up pretty much anywhere, providing you have a plug socket handy. We use ours on our terrace, pointing towards a plain wall with a white sheet sprawled over. We've also used it inside a few times, pointed at a plain white wall. It even has built-in speakers and it comes with a remote for controlling. All you need for the best movie night ever (at home) is this projector and a Fire TV Stick. Trust us on this one...
See our best outdoor projectors guide for more recommendations.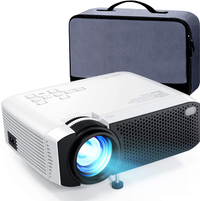 APEMAN Projector Mini | £79.99 at Amazon
This mini projector is very easy to use and store, with a carry bag included in the price. Take it everywhere including on staycation or to a friend's house. It has built-in speakers so you needn't worry about sound issues, while it boasts a projection size of 34" to 180". It boasts 5,500 lumens of brightness to make sure you can see the photo clearly, too. The kids will love it, as will your bank balance...
Where can you use the Apeman Projector Mini?
You can use the Apeman Projector Mini pretty much anywhere as long as there is a plug socket nearby, and you will need to place the projector to face a white wall or a white background of some sort. Alternatively, you could buy a projector screen if you will be using it frequently.
Where to place your projector? We pop ours on a mini side table but it can be quite difficult to get it at the perfect height. With this in mind, you might want to buy a projector tripod so that you can point it wherever suits your space.
Click to shop projector stands at Amazon.
How to use the Apeman Projector?
It's really quite simple to use. Plug it all in, wait for it to power on and point it at a wall so you can see what's on the screen. You'll need to remove the lens cover to see. You might want to focus it now, after placing it in the position it will stay in while using.
Here's the time to connect your Fire TV Stick. We prefer using this outdoor projector with a Fire TV Stick than connecting it to a laptop using HDMI, but you can do either (there are other methods too). Once you have connected your Fire TV Stick, you will see it come up in the projection. Then, simply control it as you would your TV if the Fire TV Stick were connected to that. Use the projector remote to control volume.