Whether you're still WFH (like me) or you need a better place to study for finals, having the right desk is essential. Your desk actually plays a crucial role in how efficiently you're able to complete tasks. Trust me on this — and on the fact that standing desks are elite. With a solid foundation, you'll be able to create a good study space and power through any task.
After working at my kitchen table (or sometimes on my bed) for years, I recently decided to upgrade and overhaul my work setup. I treated myself to a really cute desk that offers plenty of space and, oh boy, am I glad I did. Listen up besties, the right desk (even if it is a small desk for your bedroom) is a total game-changer. Honestly, you won't look back.
If there's one item worth treating yourself to in the Prime Day sale, it's a new desk. And, ICYWW I've found the perfect standing desk on sale. It has over 6,500 five-star ratings and currently has a hefty 40% off in the Amazon Prime Day sale.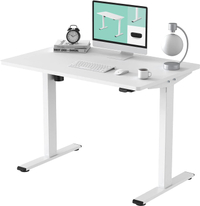 Flexispot Electric Standing Desk | Was $299.99, now $179.99 (save $120)
Sizes: 5 options
Made from: Wood and steel
Colors: Black, white, rustic, mahogany, and maple
This electric standing desk — that can be used seated or standing — is highly rated by Amazon shoppers, thanks to its ergonomic and spacious design. With an industrial-grade steel frame and wooden top, it's also durable and sturdy, making it ideal for daily use.
Designed with flexibility in mind, this versatile desk — that can be used sitting or standing — is ideal for those of us who are a little more fidgety. If you're someone who can't sit still while they work (like me), then a standing desk can be a real godsend. It gives you the flexibility to move around as you type away and allows you to change work positions.
Thanks to its electric design, it's totally seamless to take this desk from sitting to standing in just a matter of seconds. You can easily set the height from 28 inches to 47.6 inches. There's no strain or stress. You simply press a button, and voila, your desk adjusts. Honestly, it couldn't be easier.
Made with a high-grade steel frame and a solid wooden top, this desk is super sturdy. It's also effortlessly spacious and has plenty of room for two monitors if you prefer to work with a split screen.