Working from home? Check out these Amazon home office buys, all of which have been designed to make your life easier, your productivity levels higher and your desk tidier. It's time to get out of the working from home rut, especially as for some of us this may become the new normal – whether that's five days a week or only three. Apparently, 23 per cent of people have been looking to buy some home office tech recently – and we are hardly surprised. Because working from our dining tables just isn't doing it for us anymore. Simple buys from an Amazon Smart Plug to a desk organizer and a desk-friendly smartphone holder, all have the power to motivate you to tick off your to-do list every day.
We've heard from Alexa Smart Home Manager, Toni Radzihovska, for some recommendations on how to get the most out of your (makeshift or not) home office with Amazon – using smart tech, too. "It's more important than ever to create a working from home environment that fulfils your individual needs – whether that's gearing up for the working day or winding down at the end of it."
Check out these home office buys below, all of which you can buy from Amazon today. Prime member? You'll probably be using your new buys from tomorrow.
Creating a new home office? See our dedicated home office design page for inspiration.
1. An Amazon Echo to play music, remind you when you have a meeting and control your lighting
"We're in a time that has thrown our usual routines out of sync. With Alexa, users can create their own routines and edge closer to a normal that suits their daily lives" – Toni Radzihovska, Alexa Smart Home Manager
All-New Echo | £89.99 at Amazon UK
If there's one thing we've learnt from working from home it's that it gets quite lonely sometimes. Buy one of the new Echo devices to play music (or the radio) or you could even play office sounds through it to simulate being back at your desk. That and you can create a 'Working From Home' routine – listen to the news whilst making a cuppa, turn up the lights before you open your laptop, play your fave playlist while writing your to-do list for the day. Should you have more smart home tech – a smart thermostat, perhaps? You can control your heating through your Alexa. Own a Ring Doorbell? say "Alexa, go on stealth mode" to turn on do not disturb if you are in an important meeting – all without even leaving your desk chair. Another thing to try: "Alexa, remind me to take a break at 11.30" – you get the jist...
2. A pretty pen holder for your large collection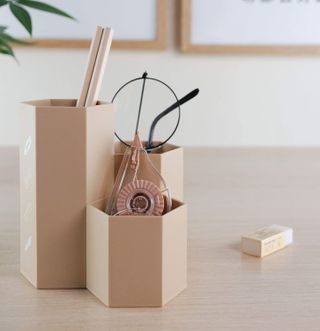 AhfuLife Creative Multifunction Hexagon Makeup Brush Vase Brush Pot Pen Holder | £7.99 at Amazon
A pen pot, stationery holder or somewhere to put your glasses, this seriously stylish storage solution comes in seven colours.
3. A lovely mouse pad for easy searching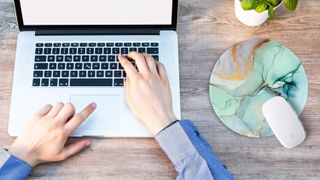 ITNRSIIET Mouse Pad | £5.99 at Amazon
Don't ruin your lovely desk by using your mouse directly on it and buy one of these stylish pads to soften the blow. Choose from a range of patterns, not just marble.
4. A smart plug to turn on your kettle from your desk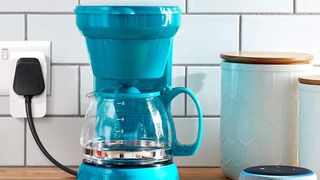 Amazon Smart Plug | £24.99 at Amazon
This Amazon smart plug does what it says on the tin – use it to control non-smart tech from lamps to appliances. This plug is also unobtrusive and hardly noticeable, too. Turn your Christmas lights on using your Alexa this year and wow those guests of yours.
5. A desk organiser to keep everything in its place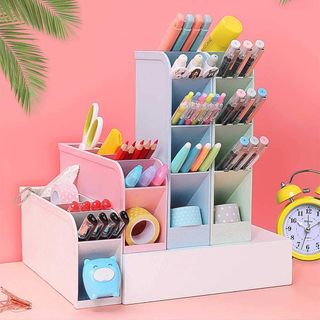 LUCY WEI 4 Pcs Desk Pencil Organizer | £7.42 at Amazon
For the seriously organised among us, this space-savvy invention is great. Perfect for storing and displaying your most-used stationery bits, it's multicoloured, too, so will add a pop of colour to your home office.
6. A handy phone holder to keep distractions at bay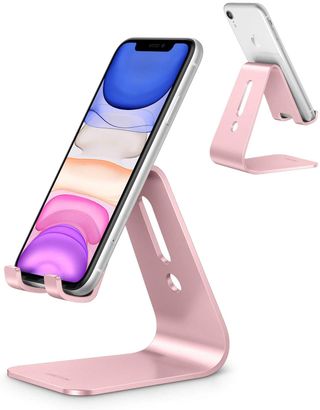 OMOTON Phone Holder | £9.49 at Amazon
Because we all need somewhere to keep our smartphones while working from home, and this stand keeps them off our desks but in sight, and you can charge it while you work.
7. An eco-friendly desk mat to protect your surface from scratches and pen marks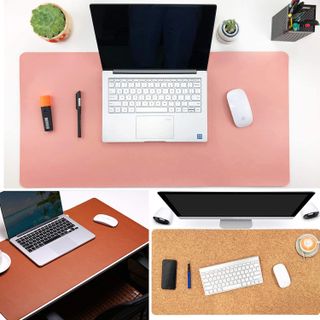 Aothia Eco-Friendly Natural Cork & Leather Double-Sided Office Desk Pad | £48.82 at Amazon
Eco-friendly and made from cork, this double-sided desk pad will protect your desk from scratches, spills and wear and tear. It comes in lots of colours and two sizes.
8. You need some cable tidies to keep your wires untangled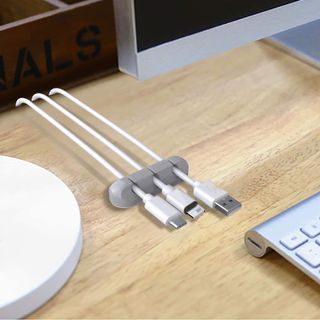 SOULWIT® Cable Holder Clips | £5.95 at Amazon
An easy way to keep your desk wire-free and your wires tangle-free, this cable holder is great for your phone charger, a mouse cable, your headphone (and mic) lead and much more. So small yet so helpful.
9. This cute mini vacuum for cleaning up crumbs from your lunch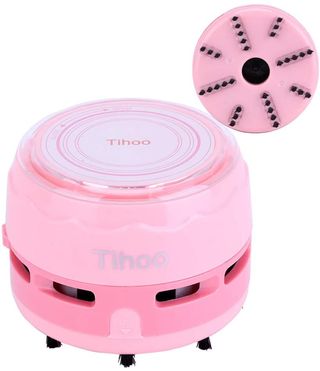 TC Mini Portable Desktop Dust Handheld Cordless Vacuum Cleaner | £9.99 at Amazon
When was the last time you cleaned your keyboard? Use this cute little vacuum to do so and clean up those crumbs from munching your lunch over your laptop.
10. Buy a Philips Hue starter set to control your home office lighting with your voice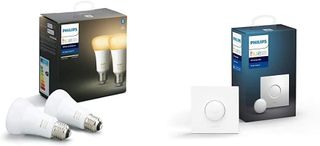 Philips Hue White Ambiance Smart Bulb Twin Pack with Bluetooth + Smart Button Bundle | £57.98 £54.95 (save £3.03) at Amazon
Okay, so these smart bulbs are seriously great. Use the two E27 Edison Screw bulbs in your home office – or wherever you work – and connect them to your smartphone. From here you can control them with your voice via Alexa, the Bluetooth smart button (our preference) or through the app. You can also change their brightness levels based on the time of day – you can programme them so that if they are switched on just as it's getting dark, they will dim so as not to be too harsh on your eyes. An actual lifesaver during wintertime – or if you tend to work late.
11. Buy some hexagonal wall tiles to stick notes on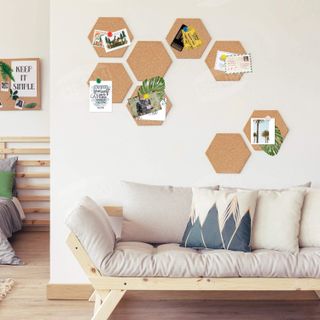 HENMI 8 Pack Cork Board | £19.99 at Amazon
Peel and stick these hexagonal cork tiles on the wall above your desks and use them to pin up photos, meeting notes, invitations and more. They look good, and they're practical – what else do you need?
12. You'll need some stylish highlighters for ticking off your to-do list...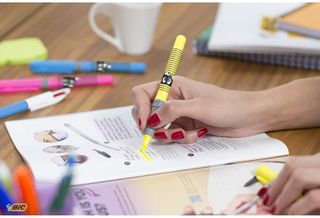 Bic Highlighter Grip Pens | £3.96 at Amazon
Helllooooo cute highlighters! Say goodbye to bright boring pens and hello to pastel coloured highlighters – these certainly make ticking things off your to do list a little more fun.
13. Invest in a laptop stand to reduce neck strain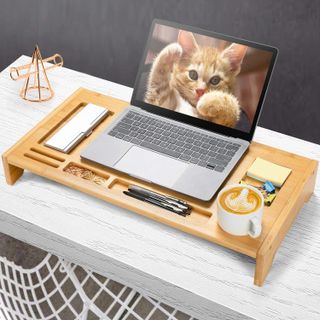 Amada Bamboo Monitor Stand | £22.99 at Amazon
This bamboo stand can be used for monitors or laptops, and it features grooves for your pens, phone, coffee (and much more) to sit. It's eco-friendly, too.
14. By a Fire TV Stick to watch This Morning with your voice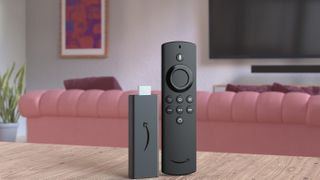 Fire TV Stick Lite | £29.99 at Amazon UK
This new Fire TV Stick is the most affordable one of the lot. Alexa is built inside so you can control your TV with your voice. Yes, that means you can turn on This Morning without leaving your desk chair. You can also enjoy streaming in full HD across multiple apps from Disney+ to Netflix, ITV and more.
Building a home office?