We're expert slow cooker testers (see our top picks in our best slow cooker 2020 buyer's guide for evidence). We've tried and tested everything from complicated sous vide slow cookers to pressure cooker/slow cooker combos to the most basic of models. And there's no denying that while we love a slow cooker with tons of functions, sometimes all you need is a basic one that you switch on, leave it to work its magic, and come back to hours later, ready to dig into a healthy meal.
And that's what Aldi's got on its shelves, ready for pre-order today. Yup, the Ambiano chalkboard slow cooker has hit the shelves and it's got a crazy-low price point. Is it a rip off of the Russell Hobbs Chalkboard slow cooker (see our review – we really love it, and it is also only £18)? We couldn't possibly say (having not yet got our hands on one). What we do know is that it will sell out fast, so if you're an Aldi-shopping, slow-cooker wanna-have, get your order in fast. More details of this – and our other best buys, below.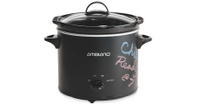 Aldi Ambiano Chalkboard Slow Cooker, £14.99
The slow cooker, including removable ceramic cooking pot, glass lid (both dishwasher-safe) and three chalk sticks are what you'll find in the box. There's are three adjustable temperatures: low, high and keep warm. The handles are cool to touch and it has non-slip feet.
Read more: