Guess what?! You can now pre-order a robot vacuum cleaner when you shop at Aldi online. The good news is that you're amongst the first to hear about this – so you should be able to nab one before stocks run out.
Let's drill down: the Easy Home Robotic Vacuum Cleaner is an Aldi online exclusive, which means that it is not available in store – no biggie really because it beats the queues and you can check out with it quicker. It's available to pre-order today for just £129.99 – one of the cheapest prices we've seen around for a vac of this sort. Estimated dispatch date for orders today is Wednesday 6 August, so you won't be waiting long.
But wait up: just what do you get for your money here? This robot vac is a slim, programmable machine that can work automatically or by remote control, cleaning up to corners and underneath hard-to-reach furniture. It also comes equipped with anti-collision sensors and anti-fall sensors so there's no need to worry about it toppling down the stairs. With four cleaning modes, a HEPA filter and a run time of approximately 90 minutes, this self-charging, robotic vacuum cleaner will [very] easily keep on top of any dust and dirt. All sound good? Awesome. Scroll to pre-order now!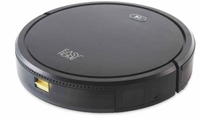 Easy Home Robotic Vacuum Cleaner | £129.99 at Aldi
Be one of the first to get your hands on this latest robot vac from Aldi. It's features everything you need so you can keep the home looking spick and span, without needing to lift a finger. Pre-order today, get it dispatched on Wednesday.
More on vacuum cleaners...