Aldi fans, we have an important update. The discount store is about to launch a colorful set of pans that are the perfect dupes for the fan-favorite Always Pan.
The best cookware set is an essential for food lovers who do lots of cooking at home, and the $25 Aldi Crofton Awesome Pan is a particularly pretty addition you'll want to have on display 24/7.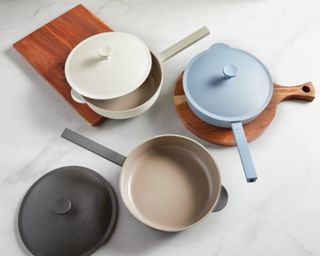 The coveted Aldi Crofton Awesome Pan will be hitting the shelves on Wednesday, January 19 for just $24.99. It looks just like the Always Pan from Our Place, which has something of a cult following.
But, this pan costs a fraction of the price. The non-toxic, non-stick pan from Aldi is available in matte black, beige, and a lovely dusty blue. We're loving the look of the matte black version, which will look chic on any hob or dining table.
Not only does it look fabulous, but it is also compatible with multiple cooktops including gas, electric, glass-ceramic, halogen, and induction. The pan's 10.25-inch diameter also means there is plenty of room for cooking risotto, frying eggs or flipping pancakes.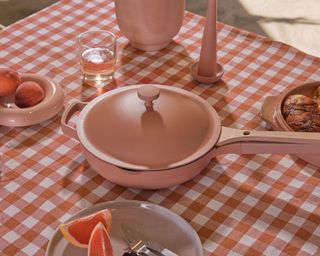 We previously reviewed the hugely popular Always Pan from Our Place, loved by Oprah Winfrey, Cameron Diaz, and food lovers worldwide. The Always Pan claims to do the job of eight kitchen tools in one, which might be a bit of a stretch.
Although it is a beautifully designed product that looks like it'd be lovely to use. But at $145, it's a real investment.
Aldi's offering is a great budget alternative for those of us trying to save our pennies this month. It's worth noting that as it's an Aldi Finds product, the Aldi Crofton Awesome Pan will not be available for long.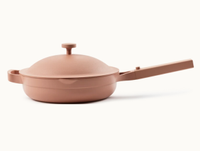 Always Pan |$145 at Our Place
Cook a vast range of meals, snacks and bakes with a single pan with the Always Pan, available at Our Place.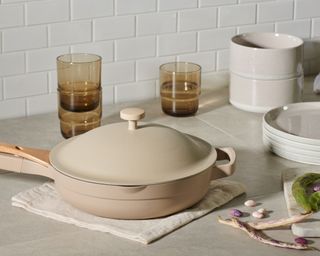 For the best chance of snagging one, be sure to head to your local Aldi store on January 19th. If your cookware set has seen better days with scratches on the non-stick surface, it's well worth taking a look at the best non-stick frying pans on the market.
Multitasking pans like this one definitely help us to feel excited about cooking again. Will you be picking one up?