The Aldi churro maker is back! And it's been relaunched in a festive red just in time for Chrismas! Joy to the world!
Sure, a churro maker may seem like a bit of an extra purchase, but you will not regret having this luxury bit of kit in your arsenal on the lead up to the holiday seasons. Breakfast churros? Sure, it's basically Christmas. Lunch time churros? Ah, way not. Midnight snack churros? Bring them on. And actually, not that we are too concerned about health at this time of year, but this churro make doesn't actually fry them or use any fat. Bake your churros on the non-stick, easy to clean cooking surface and knock up a batch of four at a time.
If you need a churro recipe, we have you covered, just check out our easy step by step.
Ambiano Red Churro Maker | £14.99
So, what do you get for, ahem: £14.99?!? Well, a space-efficient little gadget that can stand upright for compact storage packed with a fab range of features. Enjoy a churro maker with a locking latch, non-stick plates, automatic temperature control and a 180 degree rotary system. It comes with a piping bag and is quick and efficient, creating these family favourite treats in minutes!
Shop more churro makers
As we said, we reckon the Aldi churro maker is going to sell out fast! But don't worry, if you miss the deal check out all these other great options too. And be sure to check out our round up of the best waffle makers too if you want even more sweet treat appliances in your set up.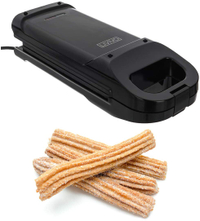 FiNeWaY Electric Churro Maker Churros Machine | £26.95 at Amazon
Order this brill churro maker from Amazon and receive it within the week with free delivery. It's nifty and quick to use - the indicator light will let you know when it's good to go and then should take minutes.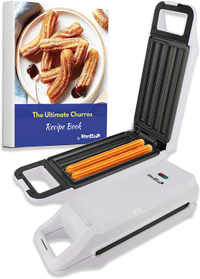 StarBlue Churro Maker with FREE Recipe e-Book | £33.99 at Amazon
We're loving this model from Amazon, not only because it's easy to clean and store, but also because it comes decked out with a recipe e-book. This should certainly keep you (and any little ones) occupied and out of trouble!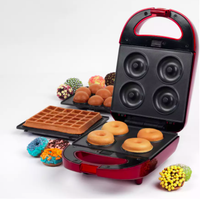 American Originals 3 in 1 Treat Maker | £24.99 at Argos
If you ask us, this is the winning ticket! A multi-functional machine that will quell each and every one of your sweet-toothed cravings, this treat maker features fittings to make nine cake pops, four doughnuts or a waffle.