We have all seen the power of paint. How it can turn old yellowing walls into brilliant white backdrops, transform a patio into a staycation retreat and of course, magically change old furniture into something beautiful.
So to get you inspired to start using leftover paint to give your old furniture a new lease of life, we have come up with five really quick and easy hacks you can copy. You don't need much paint for any of these projects, like we said just use what is leftover in the shed, and you don't need many materials either so you can crack on with them this weekend.
If you are after a guide to how to paint furniture before you get started with anything more fancy, check out our step by step too.
1. Use stencils for an impressive finish
'Wait a sec, we thought you said these paint ideas were easy? That looks like a project you need an art degree to complete!'. Ah, let us introduce you to the magic of stencils! You can order them online (check out Etsy and Annie Sloan for some gorgeous patterns) and just pop them on your furniture, paint over with a small brush, remove and voila! An easy, and very impressive update.
2. Paint your bath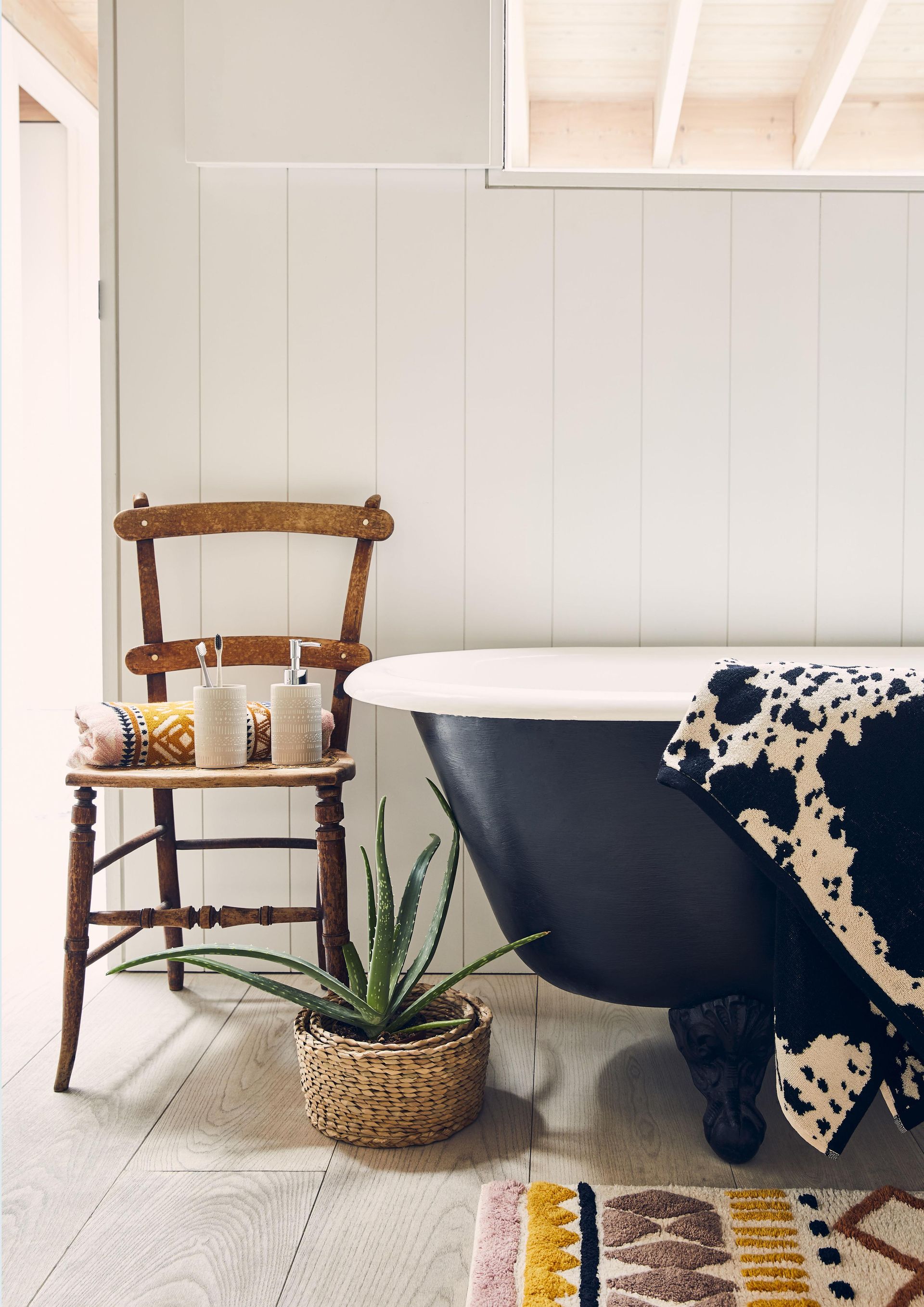 A bath counts as furniture right? If you have a seen better days roll top bath or even a bath with a panel, painting it can completely change the look of your bathroom. We are big fans of this dark paint (Farrow & Ball's Railings would look fab) but you can pick whatever colour would suit your scheme – just follow our guide to how to paint a bath.
3. Go for a bang on trend sage green paint
We can't get enough of sage green at the moment, and it's a colour that works so well on furniture because it can be quite neutral. This piece is painted with Dulux's Gooseberry Fool 2 and it looks fab with gold so be sure to replace any handles too for a proper glow up.
4. Choose chalk paint for a rustic finish
If you love that rustic, slightly unfinished, but in a good way look, then chalk paint is for you. You can tell this piece of furniture was one of those lovely classic dark wood pieces, that has a gorgeous simple shape but the finish isn't the most stylish. Strip it down and give it a coat of chalk paint – Annie Sloan is our favourite – and then replace the handles for a newer, chicer look.
5. Copy this paint hack with just masking tape
We have had our eyes opened to the potential of masking tape and it's abilities to create the coolest patterns really easily. For this cool paint idea just cover your furniture in masking tape 'stripes' paint between the gaps, let it dry and remove the tape. Such cool results and such a small amount of effort!
6. Add a rainbow to your kid's furniture
So cute and so easy. Again, for this paint idea all you need is masking tape and a few different colours of paint. Use the tape to create the rainbow shape (you can go across two pieces of furniture as seen above) and then get painting in between the tape, changing your colour with each arch of the rainbow. Remove the tape once the paint is dry.
Read more: