If you need gardening tips for planting during hot weather conditions, then look no further. Planting up a garden during a heatwave can be challenging, as young plants that are being transplanted are particularly vulnerable and need extra care until established, whatever the weather – hot weather just means that they'll need even more attention.
Read on to find out how to give your new plants the best possible start during a hot spell. If you have an established garden, see our advice on how to prepare your garden for a heatwave.
1. Plant drought-tolerant plants
Some plants are more tolerant of dry conditions than others and won't mind if you forget to water them. As a rule of thumb, if you've seen this plant while on holiday in the Med – or thriving in a meadow in mid summer – then this plant will be drought tolerant. Lavender and native geraniums are just two examples; see more drought-tolerant plants in our guide.
2. Layer your planting scheme to create shade
This might seem obvious, but if you want to grow a plant species that doesn't like too much scorching sun (say, a hydrangea), then it makes sense to create some shade for it with a tree or shrub that will love the sunlight, such as a rose bush.
3. Water correctly
Avoid watering plants during lunchtime, as the sun will scorch wet foliage and blooms. Instead, water early in the morning or just before sunset. Also, only use your garden hose to water your lawn and large trees and shrubs – and always water the base of the plant only. For smaller or container plants, use a watering can.
4. Install a sprinkler
If you do want plants in your garden that require a lot of water, and especially if you tend to be away for long periods of time (or simply don't have the energy to water plants every day), install a sprinkler. You can get one for under £20 at Amazon.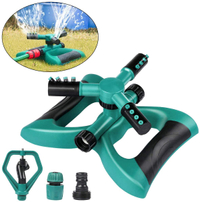 (opens in new tab)
Amlion Lawn Sprinkler | £19.99 at Amazon (opens in new tab)
This high-quality sprinkler is made from ABS plastic and it comes with two nozzles for different types of water spraying. Each jet has three different angles to ensure the water covers a wide irrigation area. How to use it? Simply connect the water joint to the connector and faucet. Turn on your tap and the sprinkler will begin to spray. Not only will this sprinkler do the job of watering your grass, but it'll provide the kids with some entertainment while the sun's out, too. You won't be able to stop them from running through it.
5. Mulch
Mulching is a long-term solution for keeping moisture in and is particularly important for exposed garden beds and borders that dry out very quickly. Bark chips are probably the best mulching material, but you can use pine needles and leaf mould.