Wondering how to prepare a garden for a heatwave this summer? While it seems unlikely at the moment, this summer is being touted as possibly as hot as last. And, if it happens, will wreak havoc in our gardens. So, best to over prepare than under prepare with these tips for keeping your plants healthy during extreme weather.
Find more gardening tips in our dedicated garden section.
1. Best time to water plants in hot weather
The best time to water your plants in hot weather – and especially during a heatwave – is early morning or evening, when all risk of burning tender growth is gone. Watering during lunchtime is a big no-no, as water droplets will act as tiny magnifying glasses, making the heat damage much worse. The best time to water potted plants in hot weather is the same, but you'll need to make sure you water your container garden both in the morning and evening, as the soil dries out much quicker in containers. Read our guide to container gardening for more tips.
If you have the budget, consider installing a water irrigation system, which is a water-efficient way to ensure your plants get watered, even when you're away on holiday.
2. Tips on watering plants in extreme heat
It may seem logical to flood your plants with as much water as possible, but this will actually do more harm than good during extreme weather. By over-watering, you are adding to the stress the plant is already under in needing to acclimatise to higher temperatures. Plants that have access to good soil are able to adjust to hot weather, provided the soil at root level doesn't dry out completely.
So, every morning during the heatwave, perform this test: stick your index finger into the soil around the root; if the soil is still wet below the surface, there's no need to water. If it's just damp, it's time to water again.
If you don't think you'll have much time to water plants regularly during a heatwave, consider choosing from our list of best drought tolerant plants.
3. Protect plants from direct sun
Lunchtime is by far the most dangerous time of day for plants during very hot weather. There are several things you can do to prepare your garden for a heatwave and alleviate the pressure on your plants:
Mulch: mulching is one of the most effective ways to prevent moisture loss from around the root area. Make sure the mulch layer is at least a couple of inches deep;
Use a shade cloth: if you're worried about young plants or soft fruit, putting up a shade cloth might be a temporary solution. You will need a structure to mount it onto, such as a frame or pergola;
Row covers: if you're planning a kitchen garden, these are very useful for protecting tender growth and the soil. You'll need hoop supports and shade netting to build your row covers.
4. Use a watering can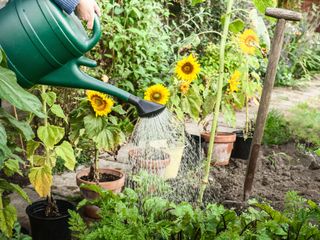 Even if there isn't a hosepipe ban, it's a good idea to stop watering your plants with a hose during very hot weather, as the spray from the hose will inevitably get on to leaves, potentially worsening the effects of the sun. A watering can allows you to water the root area only. It's more work, but worth it to protect your garden. Use our watering tips for more plantcare tips.
5. Vermiculite: the must-add for container plants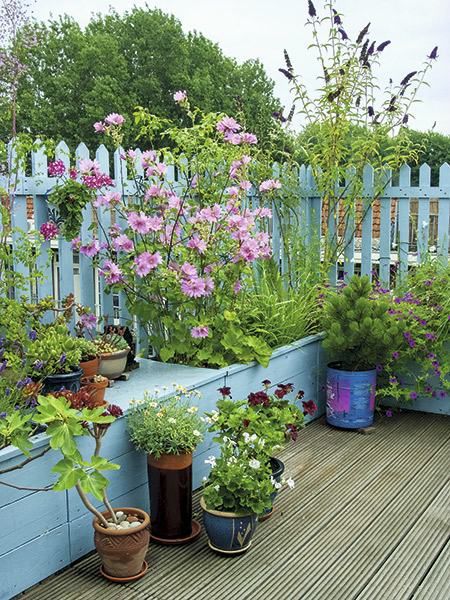 Those with container gardens will know how difficult it can be to keep the soil moist, particularly in terracotta pots. One way to prepare your garden for a heatwave is to add vermiculite to your soil mix. It is a great way to increase water retention in the soil, preventing the water from evaporating too quickly. Vermiculite also improves the absorption of nutrients and fertilisers, making your container plants healthier and therefore more resilient during a heatwave.
6. Drought-resistant plants: what to plant
One way to prepare a garden for a heatwave is to choose the right plants in the first place. Some garden plants need less watering than others; choosing to plant these, whether in borders or in containers, will help you save water and ensure they thrive, even in extreme hot weather.
Drought-resistant plants include lavender, rosemary, sage, vervain and artemisia. Don't miss our pick of the best low maintenance garden plants before you head to the garden centre this weekend.
7. Order a water butt now
While the weather is still up and down, get a water butt installed in your garden. That way, hosepipe ban or not, you'll have water on tap in the garden whenever you need it. Find the best water butts: these can be quickly delivered to catch those rain showers.
8. Planting in hot weather
Planting at the right time of day in hot weather can ensure your plants' survival. If you're planting in full sun, plant in the evening, and water well. Ideally, plant on a cloudy day and water well if the weather's still warm. Then mulch with a 50/50 organic mix and organic compost.
9. Buy the best bbq
During a heatwave, what are you going to do? Get out and enjoy your garden as much as possible, that's what – and if yummy grilled food is involved, even better. For those who tend to neglect their gardens, using it more for parties and BBQs may well provide the incentive to give your plants a bit more love.
To make the absolute most of summer in your garden, choose from our best barbecues.
More gardening advice: