Who doesn't love freestanding baths? They are just so luxurious and feel like a proper upgrade from a built-in tub. Not only are they are a dream to have a soak in, they also create the perfect focal point in your bathroom – something to design your whole space around. And while they are often associated with more traditional bathrooms, you can now get some gorgeous, really modern baths too that would suit a more contemporary style. Just have a look below at these freestanding baths and try not to want one...
If you are redesigning or even just sprucing up your bathroom, make sure you check out our bathroom ideas page too. And we have more freestanding baths in our full gallery.
1. Mix a traditional freestanding bath into a contemporary bathroom
We love this bathroom by Dunelm, the marble wall and chrome accessories certainly create a luxury feel. For a similar bath you can try Bathstore's Evesham roll top bath with silver feet. Made from acrylic, so it will be lightweight compared to an authentic cast iron roll top, so you will be able to place it anywhere within your bathroom. Be inspired by this bathroom style and add finishing touches of an orchid and candles.
2. Pick a sculptural freestanding bath for a modern vibe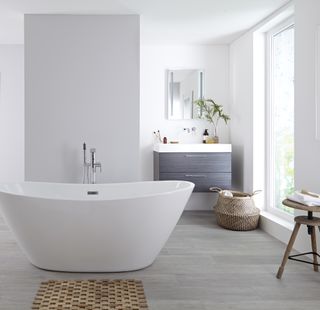 The Milano Irwell from the Big Bathroom Shop has a beautiful oval shape and is double ended, it is perfect for a modern bathroom with its sleek lines and crisp white finish. Crafted from Lucite acrylic, it is exceptionally durable and rigid, this means it's resistant to stains and scuffs so it will last for years. Keep the rest of the bathroom scheme simple and keep your clutter tucked away.
3. Go simple for a seamless look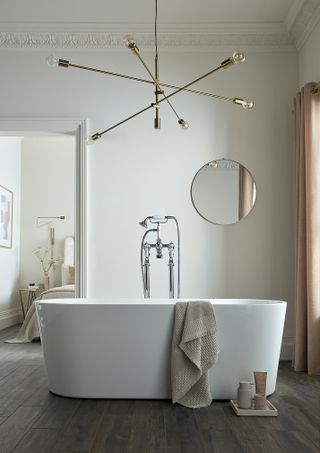 Wow, how beautiful is this bathroom? This stunner from BC Designs is called the Viado. It comes in three sizes so there's something for any sized bathroom and is crafted from their unique Acrymite system that gives it a gorgeous seamless, glossy finish. The rim is slim, and the bathing area is generous, one thing to remember is that the U-bend must go below the floor level with this design so factor that into your plans if you love this model.
4. Be extra a get a huge freestanding bath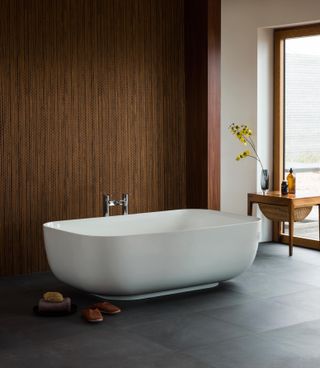 Well, what can we say about this gorgeous Duo bath? It's low yet wide, and we believe there's enough room for two easily! To create this lustrous, glossy interior and exterior finish, the bath is made from ClearStone, a sedimentary stone composite with Gibbsite mineral filler. This allows baths to be crafted with delicate rims and softer profiles, hence a more slimline structure.
5. Pick a square roll top for an elegant look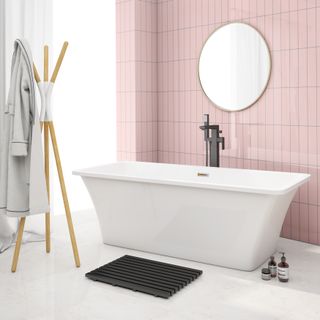 If curvy isn't your thing, then check out the Arezzo modern square roll top from Victorian Plumbing. Elegant and edgy, this freestanding bath would look great in a modern home. It has the roll-top element, yet the angular design gives it a fresh look. Made from white gloss acrylic, it has been designed for use with wall-mounted or floor mounted freestanding taps – which will you choose?
Read more: