The kitchen colors to avoid when selling your home are in. A couple are the usual suspects, one may surprise you, but all make the advice to stick with neutral, elegant kitchen color schemes truer than ever. While not many people are up for painting their kitchen purple in the first place, at least one of the colors on this least may not be what you'd expect.
1. Red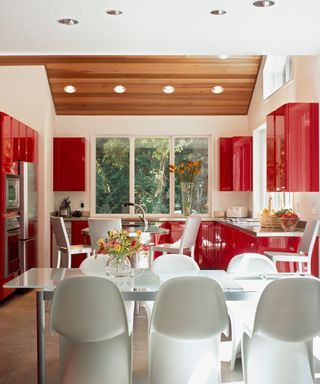 Red remain the worst possible color to paint your kitchen if you're planning on selling. It's just too irritating to too many people – and will reduce the value of your home by a shocking $2,310, according to the Zillow Paint Colors Analysis, which compared sold prices of homes with different color walls against those with plain white walls. Brick red was found to be worst possible shade, although the analysis did not say anything specifically negative about pink. So, if you are fond of reds, try pink kitchen ideas rather than a full-on red.
2. Bright yellow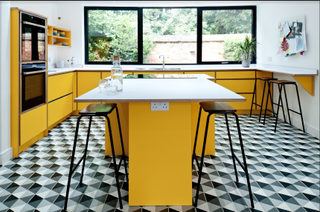 Yellow kitchens can look great, but for many people, it's too fine a line choosing the correct shade, so it's best to steer clear from yellow before selling. Yellow kitchens were found by Zillow to reduce a home's value by an average of $820, with bright, canary-yellow tones found to be the worst offenders. Instead of yellow, try cream kitchen ideas. Cream can have yellow undertones without being off-putting.
3. Warm beige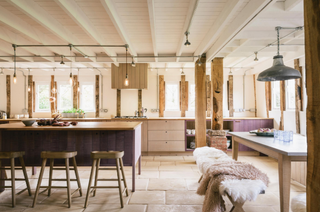 Warm beige and taupe tones are, sadly, kryptonite to your home value – surprising, as to some people these colors don't seem that far off the failsafe white option. However, going too warm can result in a kitchen that looks and feels dated, which nobody wants, with modern kitchen ideas much more popular these days than anything that suggests a retro look. What's worse, Jennifer Lozada, owner of Fresh Start Interiors, says that this mistake can be 'hard to correct', putting you further out of pocket to fix the overly warm paint color.
If going off-white or beige, stick to cool toned paint colors only, or go grey. Also, warm taupe is not always a bad color choice: according to Zillow, if used in the living room, it can add 1.3 percent value.