Landscape designer Fernando Wong made his TV debut last month alongside Martha Stewart on Clipped, a new HGTV gardening show on Discovery+. He is one of the judges who will determine which of the seven topiary contestants will win the $50,000 prize in the season finale.
While the show will introduce him to a larger audience, Wong has been receiving accolades for his landscape designs since he founded his award-winning firm (along with his partner, Tim Johnson) in 2005, which has offices in Miami, Palm Beach, Hamptons, New Orleans, and London. He has designed commercial outdoor spaces for the Four Seasons Surf Club, Four Seasons Palm Beach, Four Seasons Fort Lauderdale, Perry Lane Hotel in Savannah GA, and The Retreat in Nassau, Bahamas. Wong has also designed breathtaking designs for residential clients.

We asked him to share some tips for creating the ultimate outdoor oasis, whether it's for a balcony or a backyard. We also wanted to know the biggest mistakes most people make when designing outdoor spaces. Keep reading to find out what he had to say...
Tips For Creating an Outdoor Oasis on a Balcony
The key to success in creating the perfect outdoor living space is being deliberate and purposeful. "Be intentional about how you want to use the space -- whether it's outdoor areas for yoga and meditation, or dedicated areas to dine and spaces for conversation -- and design accordingly," Wong advises. Even in small spaces, he recommends creating vignettes. "They actually make the space appear and feel larger when they include designated design moments."
Wong also recommends incorporating natural elements at every opportunity. "Surround yourself with greenery, such as vines on a trellis, potted plants of varying sizes that can move inside when seasons change, wall-mounted pots, etc." In addition, he says adding flowers is an opportunity to include seasonal color to your outdoor space.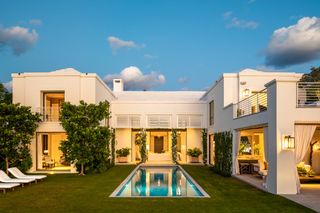 Even if the space is small, you can add furnishings. Wong says you don't have to shy away from them – just scale accordingly. "Pieces too large for a space visually dominate and can make the space feel even smaller than it is," he warns. "But that doesn't mean you have to sacrifice on comfort, and settle for small-scale pieces like folding chairs." Instead, Wong recommends that you find a right-sized piece that is also comfortable, which will allow you to enjoy the space more often. "Bring in textiles like rugs, curtains, pillows, and table linens to add flexible style, and finishes to make spaces feel complete and an extension of your interior."

Tips for Creating an Outdoor Oasis in a Backyard
Fortunately, many of Wong's tips from also apply to backyards, and can be scaled to fit a variety of yard sizes. But he provided some additional tips for creating an outdoor oasis in a backyard.
"When space allows, integrate sculptures, fountains, or outdoor artwork -- this creates an elevated state of design and helps break up spaces to create moments of zen."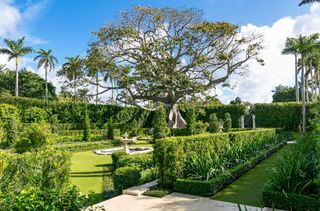 Wong also suggests that you design your backyard to include different 'rooms' or 'experiences' and then hone in on how you're going to routinely use the space. "We see many clients design spaces around 'what-ifs,' and the here and now leads to intentional design."
Another tip is to plan your outdoor living spaces to be multifunctional. For example, he says you can set up spaces that work well for remote work. "Shaded areas are great for outdoor working and it's easy to add greenery, hedges and topiaries to establish natural privacy."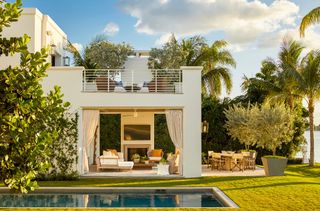 And there's no reason why you can't design your backyard space to be used year-round. Wong recommends a design that can flex with the season. "This includes fire tables or heat lamps to create comfortable spaces," he explains. And during summer months, you can add fans to your covered spaces, which will create natural airflow. "Also, consider adding lighting fixtures to create ambiance and to address hours of available daylight - it's important to make spaces usable in the evening hours."
The Most Common Mistakes That People Make When Trying to Design an Outdoor Space
Wong sees three reoccurring mistakes that people tend to make when designing outdoor spaces. "They don't engage a landscape designer for a master plan -- transforming your backyard is not the same as creating a floral arrangement; it takes time and intention to create unique spaces that are timeless and deliver on everyday needs," he says.
Another mistake is failing to recognize the space's potential. "Many people can't let go of the idea of an open floor plan for their yards, and keep landscaping to the property's periphery -- this is a missed opportunity to create stunning visuals or experiences in the space."
And what's the third most common mistake people make? "They narrow in on the backyard and neglect to consider the potential that exists elsewhere on the property, such as green space on the sides of the home and the front yard."