The search for the perfect slow cooker is on. An Autumn must-have, there's no denying the delight that a slow cooker can bring. Just chuck in your ingredients there and come back to the gorgeous aroma of home-cooked food. Mmmmm. Everything from casseroles, curries, pasta and cake (yes, really) is possible in a slow cooker...
With price slashes here, there and everywhere, Amazon is the place to look right now if you want to get your hands on a slow cooker – and fast. With a range of models, there's something for everyone. One thing's for sure: once you've bagged a slow cooker, the wholesome meals you can knock up with very little work will soon become family favorites.
Oh, and if you're looking to make a super informed decision about this kitchen staple, you should check out our best slow cooker buyer's guide.
Keep scrolling to check out our top picks of Amazon slow cookers, divided into US deals and UK deals to make things super simple for you!
Slow cookers deals from Amazon US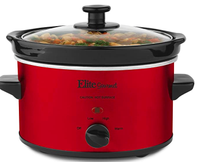 Elite Cuisine MST-275XR Electric Slow Cooker | Was $39.99, Now $19.99
For that price, this is an amazing buy and one you should take full advantage of, now. This stoneware pot features an oval inner ceramic pot and clear tempered glass - both of which are dishwasher safe. Plus, it has cool-touch handles and knobs so your hands are protected and safe from the heat. Low, high and keep warm settings.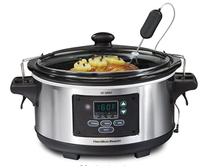 Hamilton Beach 7-Quart Programmable Slow Cooker | Was $66.99, Now $44.99
We love this model for family dinners and potlucks with a generous capacity. Super low maintenance with high, low and warm settings and the option to set the time to two, four six, eight or ten jours. Plus, the removable stoneware crock and glass lid are dishwasher safe.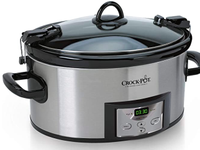 Crock-Pot SCCPVL610-S-A 6-Quart Cook & Carry Programmable Slow Cooker with Digital Timer | Was $59.99, Now $49.99
This model that can serve more than seven people - an ideal buy for a family home. The digital countdown control lets you program cook times anywhere from 30 minutes up to 20 hours and once your time is up, don't worry about rushing to eat as it'll automatically switch to a keep warm setting. The removable stone inserts (without lid) is microwave and oven safe up to 400 degrees Fahrenheit.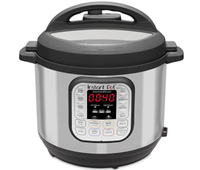 Instant Pot Duo 7-in-1 Electric Pressure Cooker | Was $99.95, Now $79
This is a bestseller with over 100,000 fabulous reviews and it's no surprise because it's a multi-functional lifesaver! Enjoy seven appliances in one: Pressure cooker, slow cooker, rice cooker, steamer, saute pan, yogurt maker and warmer. Plus, the one touch 14 smart programs put cooking on autopilot. What's more, this model is incredibly safe with ten+ built-in safety features, including overheat protection, safety Lock and more to ensure safe pressure cooking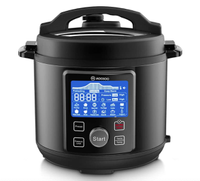 MOOSOO 12-in-1 Electric Pressure Cooker | Was $138.99, Now $89.24
Although the most expensive of our US slow cooker round up, this is great value for money. This electric pressure cooker has twelve presets and comes with eleven accessories and ten safety features. It also has a three layer bottom meaning that it's durable and promises even heat distribution. The large LCD display has automatic altitude adjustment, a visual cooking progress and a visual cooking temperature.
Slow cookers deals from Amazon UK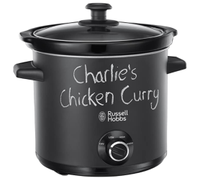 Russell Hobbs 24180 Chalkboard Slow Cooker | £24.99 at Amazon
This slow cooker is a personal favourite of ours because we just love the chalkboard feature. This is an ideal buy for a family home to scribble down recipes, shopping lists or "load the dishwasher!!" instructions. The capacity is generous at 3.5 litres and this slow cooker comes with three heat settings: low, high and keep warm. Plus, due to the glass lid it's easy to keep an eye on the progress!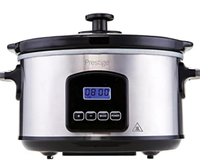 Prestige 46877 PRE-46877 Digital Slow Cooker | £30.99 at Amazon
This slow cooker has an LCD display screen for easy operation and a removable ceramic container for an easy clean up. However, beyond being super convenient it's also well equipped to cook up some lovely meals. There are three operational levels, low, high and keep warm. Plus, the keep warm function is activated automatically when your time is up! Choose digitally any time from 30 minutes to 20 hours.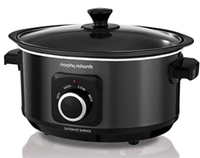 Morphy Richards Slow Cooker Sear and Stew 460012 3.5L Black Slowcooker | Was £34.99, Now £24.99
We love this slow cooker because it also features a hob proof cooking pot so you can sear and slow cook from start to finish without switching up your equipment. The transparent toughened glass lid allows you to easily keep an eye on your food and you can choose between three setting: low, high and keep warm. What's more, this piece of kit makes washing up simple as the cooking pot can go straight in the dishwasher. What's not to love?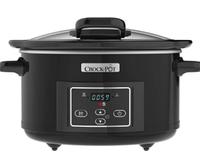 Crock-Pot Lift and Serve Digital Slow Cooker | Was £59.99, Now £49.96
You can't go wrong with a crock-pot: a super reliable, reputable brand that we keep coming back to. The adjustable timer allows you to set your cooking duration for any time between 30 minutes and 20 hours and the digital display will show remaining cooking time for ease. The keep warm function will activate automatically when your time is up and this pot comes with a selection of slow cooker recipes. Lovely.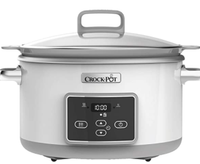 Crock-Pot DuraCeramic Digital Saute Slow Cooker | Was £104.99, Now £94.99
This crock pot is the perfect choice for entertaining, with 5 litres worth of space inside to make a host of delicious meals. The LED countdown display and built in 20 hour timer makes this slow cooker a great one for easy meal planning. The multi-use bowl with DuraCeramic coating is suitable for all hob and oven types including induction. Plus, this crock-pot has four times the durability of standard non-stick.
Read more: