I am obsessed with organization TikToks, but probably spend waaay more time watching satisfying Sunday reset videos than I do actually cleaning my apartment. Realistically, my space is far from camera-worthy most of the time, and as a homes and interiors writer, that's a little embarrassing to admit.
Needless to say, I am currently on a journey to make my apartment a consistently clean and clutter-free space, and my FYP knows it. I'm constantly seeing amazing storage and organization products, and a lot of them are actually super cute and subtle and would blend into my neutral apartment decor, too.
So after scrolling through countless Amazon hauls, these are the three organization products from my feed that I can't stop thinking about.
1. Shower saviors
Display your prettiest bottles of shampoo, conditioner, and body wash in an aesthetically pleasing way with these clear acrylic shelves that will keep your shower and bathtub sides completely scum-free. The original (and most popular) version of these diagonally stacked shelves is called the ShowerGem and comes in a set of two, but there are similar variations available for a single shelf, too.
2. Cute corner shelves
Small-space dwellers, this one's for you. When you're trying to maximize room for storage and have limited countertops available, every corner counts. These shelves are designed exactly with that in mind. The product seen in this TikTok is stackable, so you can adapt it to multiple rooms in your home. We also love the pre-attached versions to store anything from skincare to spices.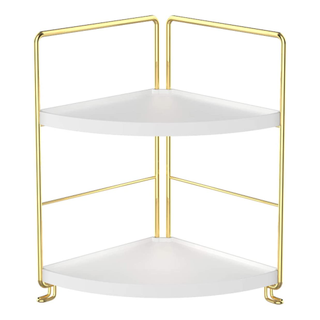 $17.99
2-Tier Triangle Storage Rack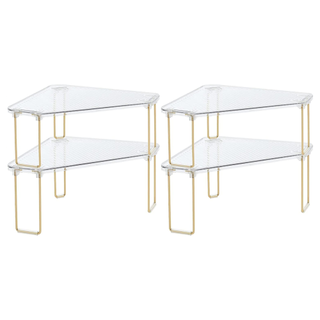 $30.49
4 Stackable Corner Shelves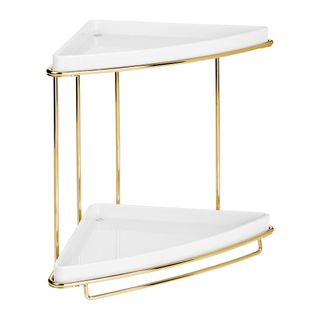 $20.49
2-Tier Corner Storage Shelf
3. Cable concealers
If looking at your tangled-up mess of chargers, lamp cords, and everything you need to keep plugged in by your desk or bedside is seriously stressing you out, you're not alone. These cable concealers are available in a range of colors, designs, and finishes to either completely hide or blend into your decor. Add some cord hooks to direct cables behind your furniture for an even more polished look.