Working from home has its perks: dreamy lunches, comfy clothes, cuddles with your dog... buuut it's not all fun and games, especially if the makeshift home office area you're working from is making it hard for you to concentrate. Keep getting distracted? Uncomfortable? Bet you regret buying those pretty dining chairs now... whoops
Whether you're positioned nowhere near a plug socket, you're getting neck ache from looking down at your laptop from the lack of a height adjustable chair orrrr there's the worry that if you're working from your lovely dining table, you'll ruin it with all of that vigorous note taking from e-meetings. Whatever the reason you're here, we've sussed out all of the problems you may face if working from home for the next few weeks and are here to help conquer them before they even arise. All with help from Amazon, too, which means some of these items will arrive at your doorstep tomorrow.
Head over to our dedicated home office page for more product recommendations and helpful advice to help you stay focused while working in a different environment.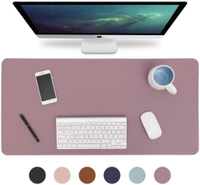 Knodel Desk Pad | £15.99 at Amazon
Don't fancy getting ink or scratches on your lovely dining table while working from home? We don't blame you. Buy this desk pad to a) jazz up your makeshift home office and b) protect your table. It comes in six different colours and two different sizes! Oh, and it's double-sided, waterproof and easy to clean.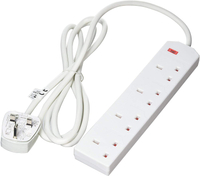 Eurosonic 4 Way Extension with 2 Metre Cable | Was £9.99, now £4.15 at Amazon
Whether the place you've set up camp isn't nearby a plug socket or there are several of you working from one table and having to share one outlet, this four way extension cable is a bargain. It has a two meter long cable and is under a fiver with free delivery.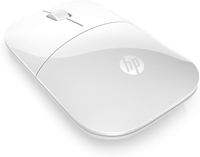 HP Z3700 White 2.4 GHz USB Slim Wireless Mouse | Was £14.99, now £12.96 at Amazon
Left your mouse at work? Whoops! Buy this wireless one to help you speed things up on your laptop. It's slim, requires one AA battery to work and it's compatible with Windows seven, eight and 10, as well as Mac OS 10.3 or later and Chrome OS devices. Sorted.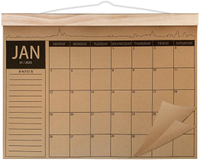 2020-2021 Calendar - 18 Monthly Academic Desk or Wall Calendar Planner | £11.99 at Amazon
Bring some normality back to your working day with help from a desk planner. Write down what's on your to do list for the day, week or month and refer to it whenever you like. It's also an easy way to remember to call into meetings.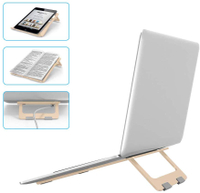 FAPPEN Laptop Stand | From £8.25 at Amazon
Used to sitting on a height adjustable chair while working? Or usually use a monitor that sits at eye level? Don't wait until neck ache kicks in! Buy a laptop stand from Amazon now, before everyone else does, to ensure you're as comfortable as can be while working in a different environment. It can also be used for tablets and books, too.
More home office buys...