If you live in a space that's short on square footage, one of the many questions you might be wondering is where to put your TV in a small living room. It can take up a lot of space, but it is a key part of living area lounging, so it's important to put it somewhere functional yet stylish.
When I moved into my rental, it took me and my partner forever to figure out where to put our TV. With an awkwardly shaped room, we spent months flipping between different furniture arrangements. We eventually found the perfect spot, but it was a lot of hassle to get there.
If you're reading this and would much rather get things right first time, I'm here for you. I've spoken to experts to find out where you should put your TV, so you can bring your small living room idea to life perfectly.
Everything you need to know about putting a TV in a small living room
Ready to find where to put your TV in your small living room layout? From prime placement to what furniture to use, this is all the important info.
Where to put a TV in a small living room
While there are a few places that you can put your TV in your small living room, there are just two key places. "The best way to incorporate a TV into a small living room is by utilizing your living room wall space and multi-functional furniture," says Raf Michalowski, interior designer and founder of Meble Furniture.
Raf Michalowski is an interior designer. He is also the founder of Meble Furniture, which is one of the largest leading furniture retailers within North America.
One of the most common and efficient ways to place a TV in a small living room is by mounting it on the wall. "If your rental agreement allows it, this saves space and also offers a neat appearance," explains interior designer and home expert Mohammad Ahmed. "Just ensure that you patch and paint holes when moving out."
Mohammad Ahmed is an interior designer and home expert. He did his bachelors degree in interior design at the University of Minnesota in 2013 and since then has worked as an interior designer in various companies, designing functional and beautiful spaces for clients.
If you are able to do this in your rental, Michalowski says that this is optimal, as it frees up floor space and allows for more seating options. "Just make sure to choose a TV mount that can tilt and swivel, so you can adjust the viewing angle accordingly."
For renters that can't drill into walls or for those that don't want to do that, you could also opt for a TV stand or console with storage. "This way, you can have a dedicated spot for your TV while also utilizing the storage space for other items. Look for slim and sleek designs that won't take up too much space," Michalowski tells me.
Wherever you choose to put your TV, it's also key to make sure that you can view it with ease. "Position the TV at eye level for comfortable viewing and to balance it with the room's layout," adds Daniella Menachemson, interior designer and CEO of StyleNations.
Daniella Menachemson is a interior designer, supplier and manufacturer of custom furniture at StyleNations. She specializes in designing, sourcing and manufacturing furniture for hospitality venues.
Other places to put a TV in a small living room
I know how random some rental room shapes can be — but you can actually use these to your advantage. "If you have a small alcove or nook in your living room, consider converting it into a TV viewing area," says Michalowski. "This can be done by adding floating shelves or creating built-in shelving to house the TV and other media devices." This not only saves space, but also adds visual interest to the room.
Whether you're renting or not, you can still get super creative with placement, too. "You can hang a TV above a fireplace, or install it on a pull-out stand that can be hidden when not in use," adds Michalowski. When doing this, make sure to consider the viewing distance and angle for optimal comfort.
Where not to put a TV in a small living room
When deciding where to put your TV stand, be mindful of lighting in your room. "Try not to place the TV opposite large windows to prevent glare," Ahmed adds. "If unavoidable, invest in some good quality blinds or curtains." I definitely recommend this — my TV placement works well at all times of day except 3pm, and my blackout curtains always save me from squinting.
What to consider when choosing a TV for a small living room
If you haven't yet bought your TV for your small living room, keep your small space in mind when purchasing one. "Opt for a slim, compact TV to reduce visual bulk," says Menachemson.
3 useful buys for putting a TV in a small living room
Want to get started on positioning your TV? These buys will help you follow our experts' advice.
The prices below were correct at the time of publishing this article.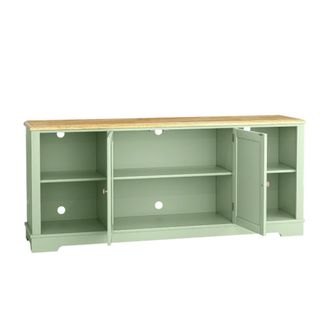 Spacious
Price: $269.99
This pretty stand has art-deco detailing on the front, as well as gorgeous gold knobs that add a chic contrast. The green is my fave, but it does also come in navy, gray shades, and off-white.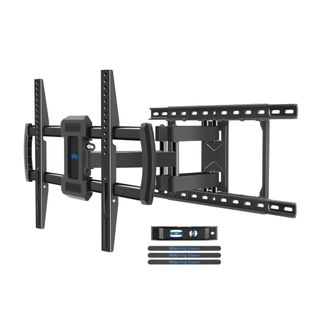 Adjustable
2. Mounting Dream TV Wall
Price: $69.99
If your landlord allows or if you have free reign of your walls, hanging up your TV is a great way to save space. This mount has universal TV compatibility, a heavy duty design, and can angle your TV in different directions.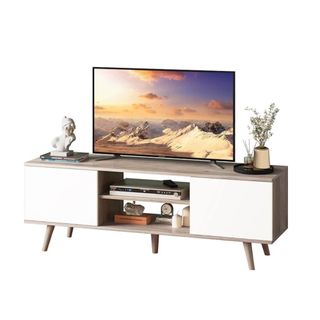 Versatile
Price: $99.99
If you're looking for a TV stand that will work with every home decor style, this is a really smart buy. It's also Amazon's Choice, with over 1,700 five-star ratings. Shoppers say it comes with easy-to-follow instructions and looks fab when finished.
---
Now you know where to put your TV in your living room, you can move all your other furniture and decor to match up where it is. Organizing a small living room can be a tricky task, but once it's all done properly, the result is well worth the effort.