This time of year is SO exciting for interior design enthusiasts, but if you live in a rental, you might be wondering how to use the colors of the year without paint. While I'm on the edge of my seat waiting for every new shade to be announced, it's difficult to incorporate these colors when you live in a rental or just aren't up for retaining.
While the major paint brands are some of the biggest color authorities when it comes to letting us know what's up for next year, it doesn't mean you have to whip out the paintbrush.
From earthy tones that feel super relaxing to vivid pops of color that'll update any space, we're looking to the top color experts for ideas on keeping our rentals fresh when painting the walls just ain't an option. Or if you just don't feel like painting again after copying 2023's color trends. Nuh uh, honey. Instead, I've found some super cute home accessories to shop and give your spot a nod to the trends. You're welcome!
How to use the colors of the year without painting
Leave the roller hiding under the utility sink and keep those paintbrushes packed up. Here are all the colors of the year that have been announced and how to bring them in without a lick of laquer.
Renew Blue, Valspar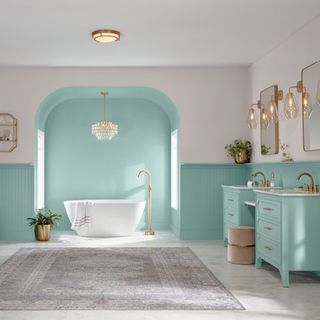 Blue has long been a color that represents serenity, and Valspar reckons it has the answer to your Sunday Scaries with this ultra-chill shade. It describes Renew Blue as a "nourishing: color with green influences, and it genuinely looks like the water you'd find on a tropical island.
I don't know about you, but a vacation would definitely help my zen right now. So, if this color gives me a little bit of that feeling, I'm in! When it comes to styling Renew Blue, it's all about going with the flow, baby, and finding accessories that match the calm vibe, whether you want to go all-out coastal grandmother or just add a few pops. Think organic and rounded shapes, soft lines, and nothing angular.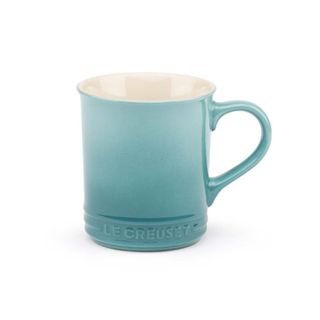 Blue brew
Price: $24
Size (in.): 14 fl oz
Get a little dose of next year's trend every time you have your morning coffee. Le Creuset's classic shape never gets old, so you've got yourself a timeless buy.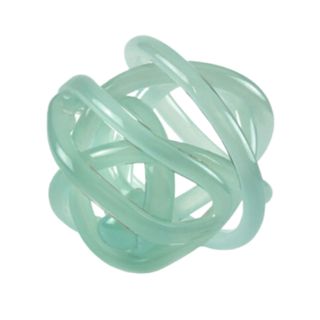 Hand blown
Maison and Tavola Glass Ornament
Price: $53.75
Size (in.): D7
This one's kinda funky, right? Speaking of organic shapes, I love the way this piece flows around in a circle, reminding me of a body of water. Pop this on a shelf and it will add zen to your place.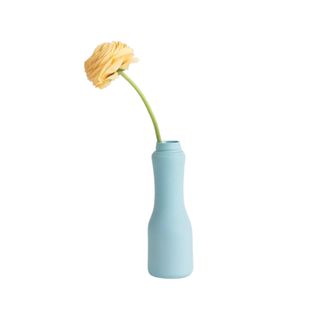 For petite bouquets
Middle Kingdom x Foekje Fleur Porcelain Yoghurt Vase
Price: $22
Size (in.): H6.25 x W2.25
This unique vase is modeled on a yogurt bottle and finished with a chic, matte glaze. It's an absolute must-buy. Use just a few stems of delicate flowers — there's no need to overfill this one.
Bauwerk by Charlottenburg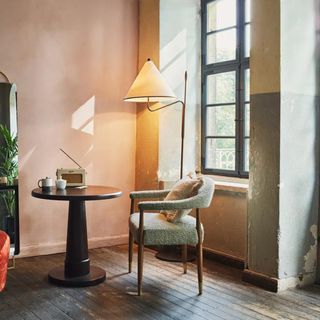 Bauwerk's effortlessly cool limewash paints are everywhere right now — coffee shops, hotels, and your most stylish friend's place. If you're wondering what the color of the moment is, the brand's founders have picked out a newly-launched shade from the collection with an on-trend hotel chain The Hoxton.
Charlottenburg is named after an area in Berlin known — not for its edgy aesthetic like you might think — but, actually, for the neighborhood's Art Deco buildings in pastel colors. This earthy take on shell pink is basically the perfect color because it's flatteringly warm, has a playful twist, and still maintains a grounded vibe. It'll go with everything. As well as incorporating pink home decor and accessories, you could even paint something small, like a plinth, and position a lamp or vase on it.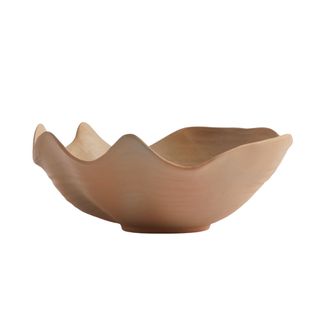 Coastal cowgirl
Price: Was $79 Now $38.99 (save $40.01)
Size: H10.25 x W12.5 x L21.75
Clam and shell bowls are everywhere right now and, put simply, I want one! This Pottery Barn version has a unique edge because of its textured look which nods to the natural finish of limewash paints.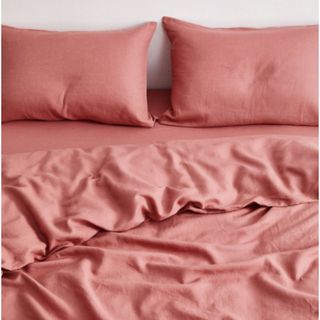 Eco-friendly material
Price: From $220
Size (in.): Twin/Twin XL, Full/Queen and King/Cali King
I've had my eye on Bed Threads for so long thanks to its on-point colors and cool marketing. It would be so hard to pick one shade, but I think these clay sheets are where it's at.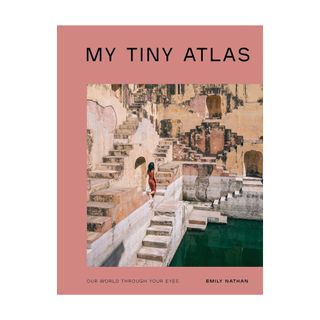 Coffee table decor
Price: $30
Size (in.): H10.02 x W7.59
Coffee table books are the best kind of decor. Even the name of this one is cute. I'm obsessed with the soft clay pink shade on the cover and genuinely thinking about getting this one for my home.
Cracked Pepper, Behr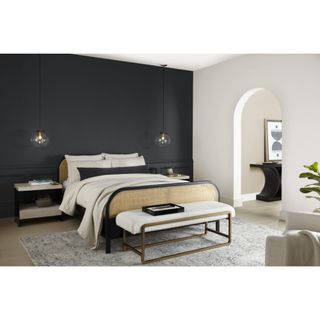 To be honest, I didn't see this one coming. The moody, charcoal gray that Behr has crowned its colors of the year packs a punch. Those who would consider putting Cracked Pepper on their walls would have to be confident in their interior prowess. B
Behr knows that black is a hard color to do well, so it has created this particular hue with a soft finish and tons of depth to make it not only apply better but feel more versatile in the space. Nevertheless, a great way to incorporate this into your apartment or rental would be through black decor and accessories, especially if you think this dark shade could be a little much for your space.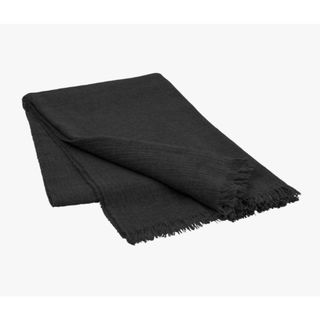 Merino wool and Cashmere
Blomus Merino Wool Throw Blanket
Price: $179
Size (in.): L78.75 x W51
What could be more perfect for fall than a Merino wool and Cashmere blanket to snuggle up in? This piece is seriously soft and I won't judge you if it doesn't stay decorative for long.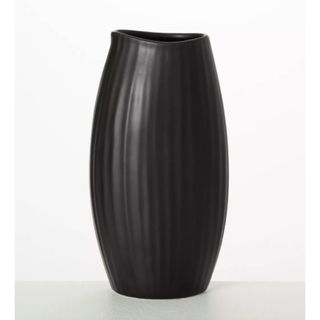 Contemporary
Sullivans Modern Ribbed Black Vase
Price: $28.99
Size (in.): H9 x W3.25 x L5
Simple, chic, classic. I love this sculptural vase that oozes effortless, art-world cool. I think that this piece of black decor would look amazing on a sideboard or in the middle of a dining table, all on its own.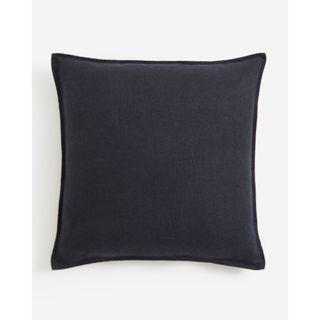 100% Linen
Charcoal Gray Cushion Cover
Price: $21.99
Size (in.): H9.4 x W9.4
Throw pillows are always the best way to nod to trends that come and go because they can be moved, mixed up, and changed so easily. Buy a few covers from H&M's home section, and just refresh next season.
Persimmon, HGTV Home by Sherwin-Williams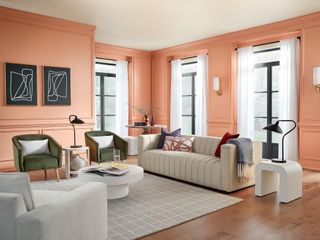 Earthy, terracotta hues are going to be huge in 2024, so it's really fun to see a different twist on this color family from HGTV Home by Sherwin-Williams. The brand has touted this warmed-up peach as its top color recommendation for next year.
Thanks to its warmth, this is an ideal color to use across accessories. I'm picturing modern designs that can really carry this jolt of color, like pillows, lamps, and even storage units.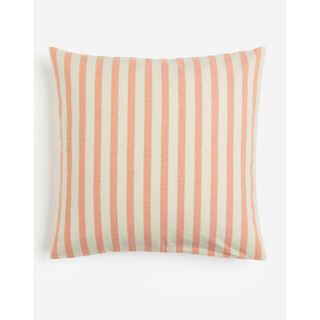 Classic pattern
Striped Cushion Cover, Light Orange
Price: $12.99
The easy, swap-in, swap-out throw pillow strikes again. Position these stripes next to some busier, tighter patterns on your sofa for a layered look.
Anchoring kit included
Crea Metal Accent Cabinet
Price: $152.42
Storage lockers in bright colors have been going wild for the last few years and are a fun way to introduce a different texture to your space.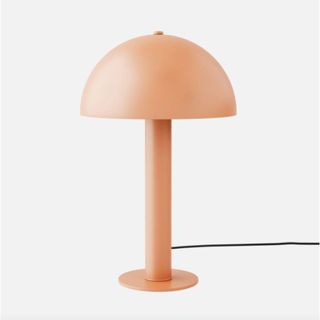 Hand-spun steel shade
Price: $399
Size (in.):
Lighting is basically the most important thing to get right in your home, so you can never, ever go wrong with investing in a cute lamp. This modernist mushroom lamp design is so cool, made even more so by the playful color.
Prediction: Lemon Drop, Pantone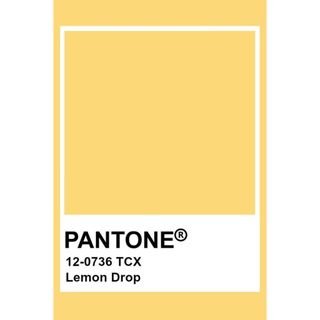 Now, obviously, Pantone's Color of the Year announcement is a big deal. While this news hasn't yet escaped the color authority just yet, it has given a list of tones to watch out for in spring 2024 in accordance with New York Fashion Week, darling.
There are several shades in the palette for early next year, but Lemon Drop is a perfect happy yellow that will make any space feel more positive. Use this bright hue as an accent in your space to give it a really fresh, fun feel.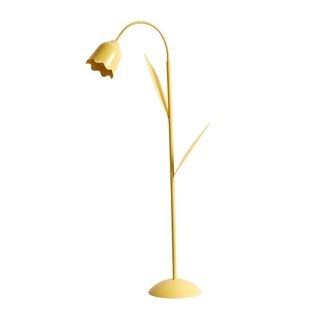 Bulb not included
Price: $199
Size (in.): H63 x W16
Urban Outfitters touts this adorable lamp as one of its best-rated designs, and I'm not surprised. It ticks all the boxes with color, cuteness, and a really reasonable price.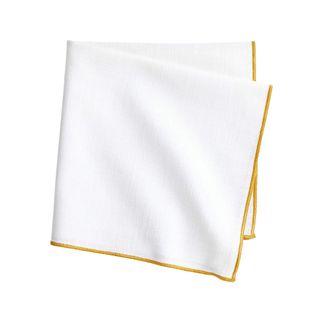 Organic cotton
Mercer Merrow Stitch Napkin
Price: $9.95
Size (in.): W22 x D22
Add a touch of positivity to your table with this organic cotton napkin that features a sweet yellow seam around the perimeter. Pair it with matching yellow plates for double the color.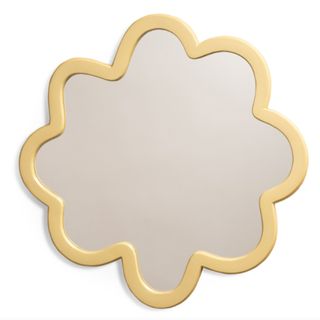 Hook onto wall
Price: $131
Size (in.): D17.52 x W0.59
Of course, you can leave it to the Europeans to come up with the best design, and this wavy mirror from the Dutch brand &KLEVERING is hard to leave on the shelf. My advice? Put it in the bathroom and it will make you smile every time you get ready.
---
After perusing through all of these colors, you might be excited about giving your home's palette a refresh. If you haven't figured out how to choose a color scheme for your apartment, there are plenty of pointers. And you won't need paint in these instances either!