"As a designer and maker myself, I feel a real connection to other makers," offers Sarah Sherman Samuel. That's why the celeb designer (notable clients include Mandy Moore and Garance Doré) turned to Etsy to refresh her Michigan home's guest room.
Previously, the space lived many lives as a home office, children's play room, classroom, and guest bedroom. For its latest makeover, the room needed to serve as both a welcoming bedroom for visitors and a secondary office space for Sherman Samuel's husband Rupert. The designer chose a neutral, airy color palette with an array of soft textures.
"I like to mix vintage and new," she says. "Layering in all of those kinds of pieces really makes for an interesting space." She combined unique, handmade items with artful moments to create a serene atmosphere that doesn't try too hard. The result? "It's bright and inspiring, and I know I'm going to get some great ideas in here," Sherman Samuel adds.
To inspire your own transformation, tour the room and its expertly curated Etsy finds.
Keep reading: 51 bedroom ideas, trends and tips to create the perfect space
An unfussy bed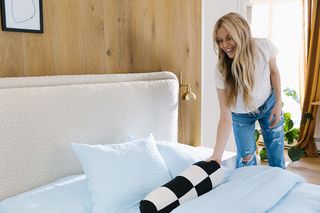 "I don't like things on the bed to look too fussy," Sherman Samuel notes, adding, "I like a bed to look relaxed and lived in." To create that laid-back vibe, she layered a blue linen duvet cover set (she prefers to eschew the top sheet in favor of a fluffy duvet) with a graphic checkered throw pillow.
The duvet brings a soft pop of color to the room, and the cheeky pillow enhances the easygoing, inviting vibe. Wall-mounted brass sconces preserve nightstand real estate.
Whimsical blooms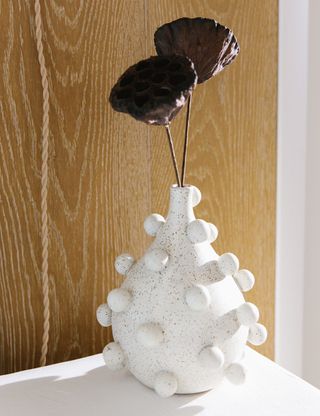 A lighthearted "blob vase" adds sculptural interest to the side table, and dried lotus pod flowers finish the look. Plus, there's no need to replace fresh flowers or worry about allergy concerns for overnight guests.
A monochromatic nightstand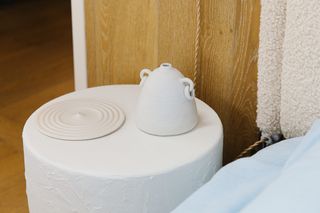 To keep the space from looking one note in a neutral color palette, Sarah Sherman Samuel focused on tactile interests. For the nightstand, she opted for white on white with a textural organic plaster nightstand, rippled ceramic incense holder, and matte porcelain vase.
An inspiring workspace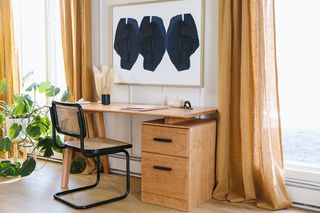 When guests aren't in town, Sherman Samuel's husband uses the room as an office space, so the designer created an airy work nook. The solid wood desk is one of her favorite pieces into the room, thanks to its vintage look. A '60s rattan Cesca chair offers style and comfort for everyday desk duty.
"Home offices can have hard materials, but bringing in layered textures like the linen curtains help to make the space feel warm and inviting," she notes, opting for extra-long amber curtains to flank the desk.
Artful touches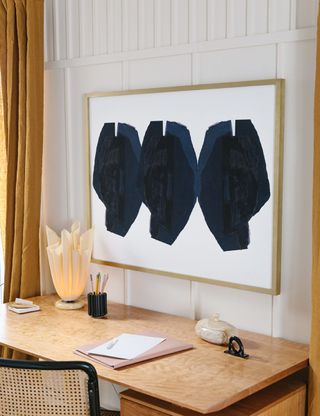 A bold print anchors the office nook. "It is both graphic and organic in shape," Sherman Samuel says. "The layers of ink on the textured paper drew me in." Unique desk accessories finish the artisanal vibe with a mix of old and new. A stoneware ceramic pencil cup and black swirl ceramic figurine add contrast to the pale-colored vintage onyx dish and lamp.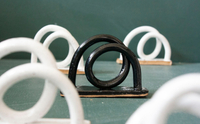 Modern Ceramic Decor figurine | $40 at Etsy
This pint-sized contemporary sculpture would be perfect on top of a stack of books on a shelf or coffee table, or doubles as a cute paperweight.
A cozy coffee nook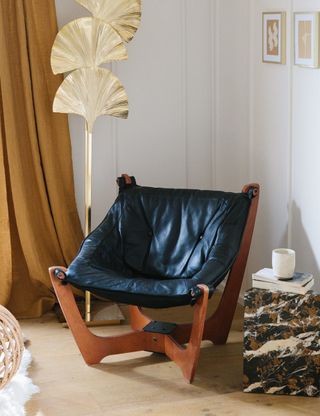 A vintage leather sling chair offers the perfect place to enjoy a cup of Joe to start the day, while a sophisticated ceramic coffee pour-over set doubles as decor. A gallery wall featuring earthy blush and terra cotta tones hangs nearby. Finally, a Gingko leaf floor lamp boasts Art Deco style and a warm glow to finish the look.
An entry vignette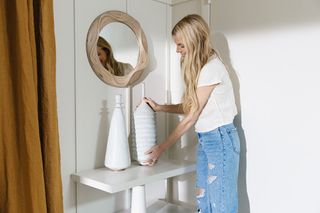 Every guest room needs a mirror for primping, so Sherman Samuel chose a solid birch design for its soft curves to make the room feel welcoming.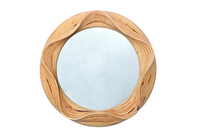 Round wooden mirror | $244.57 at Etsy
This round wood mirror is both simple and statement-making at the same time, thanks to its unfinished texture and waving design.
The final touch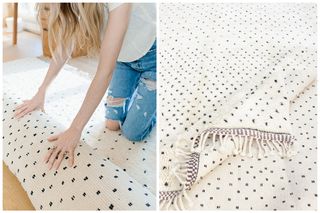 An incredibly soft, tactile rug ties it all together, thanks to a whimsical polka dot pattern, braided tassels, and a boho border.
Shop more of Sarah Sherman Samuel's Etsy favorites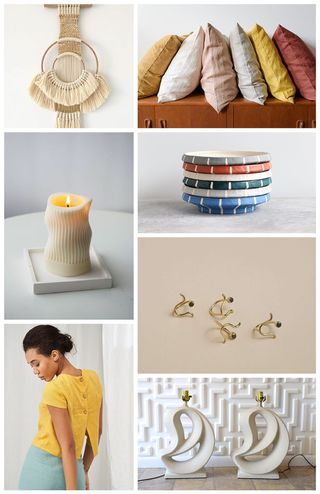 Clockwise from top Left: Fiber art wall hanging from Studionom, $130; linen pillow covers from Linen Handmade Studio, $39; pinstripe dinner plates from Elizabeth Benotti, $88; gold rings from Aleishla Lopez, $66; vintage lamps from Vintage Happy Home, $995 for set of two; shirt from Linen Handmade Studio, $59; wavy candle from CaiCai Handmade, $25.