Wondering what the one thing all small entryways should have is? When you don't have much square footage, it's important to make every piece count. That's why it's a good idea to make sure you have the most useful decor in there.
I have a tiny entryway and can confirm that it's a nightmare to try and decorate. I never know what works, and the few items I have in there seem to clutter up the space unnecessarily. If I can condense it all down to one key item, I will.
If you're looking for small entryway ideas and want to know what one thing you should have in yours, I'm here for you. I've spoken to design experts to find out what this is — and spoiler alert, you're in for a real surprise.
The one thing design experts all say small entryways should have
Ready to find out the one thing small entryways should have? If you're organizing your small entryway, this is definitely useful info to keep in kind.
Why having a mirror is useful in a small entryway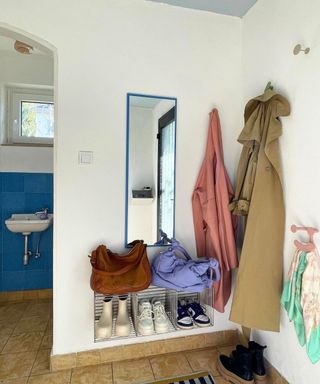 In smaller entryways, mirrors are a designer-approved must-have. "A mirror adds depth to the space, which is especially important in smaller spaces where natural light may be limited," says Zev Freidus, interior specialist and the founder of real estate company ZFC.
Zev Freidus is a house interior specialist and the founder of ZFC, who has 10+ years of experience within real estate, home improvement, and interior design
As well as this, they can even make a space feel bigger. "You can incorporate a mirror in a small entryway, to help create the illusion of more space," explains Jonathan Faccone, design expert and founder of real estate company HALO Homebuyers. He adds that a mirror can also reflect natural light, making the space look brighter and more inviting.
Jonathan Faccone is a design expert, real estate investor and developer. He is the managing member of Halo Homebuyers, a real estate home-buying company based in Bridgewater, New Jersey.
They can also make a real impact in terms of your entryway's decor and functionality. "There are so many interesting statement mirrors out there, which can show your personality and style with their frames and shapes," says Hanna Shiplett, interior designer at Eden and Gray. "They also provide that practical one last check as you head out the door." Here at Real Homes, we absolutely love using blob mirrors to make a stylish statement.
Hanna Shiplett is a professionally trained and licensed interior designer located in Des Moines, Iowa. For the past decade, her interior design and build studio Eden and Gray has served the market specializing in high-end new builds, full home remodels, furnishings, and styling.
No matter what your home's style is, it's easy to find one that works for you. "With the wide variety of shapes, sizes, and styles available in the market, there is always a mirror that will fit perfectly in any small entryway," Faccone tells me.
What other things are useful for small entryways?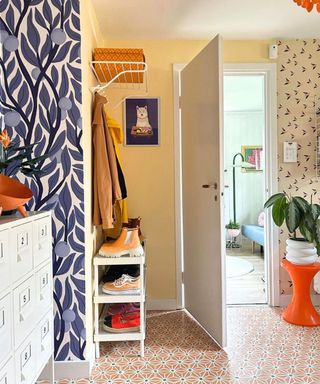 As entryways are often the first point of contact when entering a home, it's important to keep them clutter-free and organized. "Adding small hallway storage solutions such as shelves, hooks, or baskets can help keep items off the floor and out of sight," explains Faccone. This not only creates a cleaner and more spacious look. but also makes it easier for individuals to find and grab what they need when leaving the house.
Friefus agrees that organization is crucial in a small entryway where space is limited. "Having designated areas for items such as shoes, coats, and bags can help keep the space tidy and functional," he says. "This can be achieved through storage solutions like coat racks, shoe shelves or cabinets, and hooks for hanging bags or keys."
Shiplett recommends using a wall-hung statement piece that doubles as storage. "For example, a long piece of reclaimed wood from a home from your past with new hooks attached could tell a story of the home you grew up in, but also invite those to stay a while in your current space," she says. Making something as simple as coat storage into a conversation piece can make your guest feel welcome and keep that small space tidy.
3 mirrors that will elevate your small entryway
Want to add a statement mirror to your small entryway? Here are three beautiful buys that I absolutely love.
The prices below were correct at the time of publishing this article.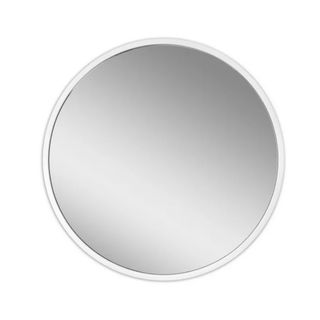 Full circle
1. Mainstays Round Wall Mount Mirror
Price: $14.98
On a budget, but want to add a mirror to your small entryway? This round mirror is a great option, with its versatile shape and small space friendly size. It comes in black or white, which are both simple yet stylish colors.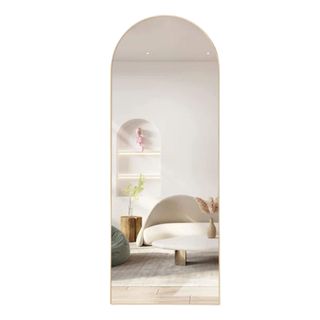 Tall
2. Mercer41 Lilliemai Arch Metal Mirror
Price: $126.99
This chic full-length mirror can either be hung up or propped up — whatever you have space for in your entryway. It's also super slimline, so if you do place it on the ground, you won't risk knocking into it.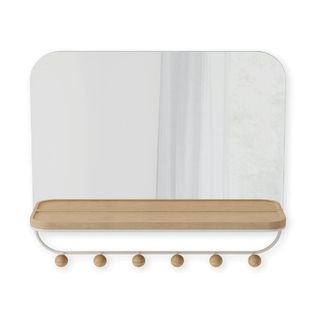 So useful
3. Umbra Estique Over-The-Door Organizer
Price: $74.24
I'm loving the triple functionality of this mirror, as not only does it have a reflective surface, but it also has a shelf for keys and trinkets and hooks for coats and scarves. Basically, it's all your small entryway essentials, wrapped into one.
FAQs
What one thing should a small entryway have?
All small entryways should have a mirror, as not only does the reflection create the illusion of more space, but it also provides a practical place to check your appearance before leaving the house.
What should a small entryway have in it?
Shoe storage, wall-mounted shelves, and mirrors are all useful pieces for small entryways, as they won't take up too much space and will have a functional impact.
---
You now know that a mirror is a must-have for a hallway, but did you also know that it can be used for small entryway Feng Shui? I sought out expert advice on how to use the practice.