Ready to experiment with house plants? If you are, we're eager to share our favourite house plant display ideas and design inspiration with you. With options for every size and species, you're guaranteed to find something that suits, whether you're looking to inject life into a living room or boost productivity in a home office (yes, plants really can help with that).
Need more practical advice? We have everything you need to know about house plants.
1. Use trailing plants to create a living wall
Adding some living, breathing greenery instantly gives a fresh feeling to a space. We love this look for a great alternative to the more traditional gallery wall.
This Betty Armchair from Sofa.com is the perfect addition to a green inspired living room.
Check out more info on how to create a living wall.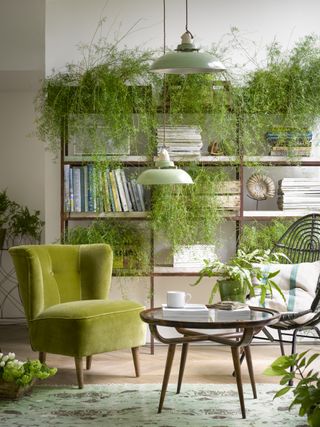 2. Use plant life to enhance a natural feel
Want your home to have a natural feel? Create a (controlled) indoor jungle with oversized plant life; we'd recommend a humungous Swiss cheese plant as a great starting point. Combined with earth toned furniture, this lively living room is a breath of fresh air (literally).
3. Team large, leafy tropicals with bright colours
Want to use house plants to create a tropical feel? Pair large, leafy species with furniture that makes a statement and equally striking abstract art. It really can be as easy as that!
We love the idea of colour clashing with these fun Banjooli Outdoor Chairs, available at Cattelan Italia.
4. Choose an eye catching plant pot
A step-up from the standard plant pot, Mid-century inspired planters are a sophisticated option for displaying house plants; particularly the more dramatic varieties. We love this bronze finish, which really pops when added to a bold colour scheme.
We have more Mid-century modern decor ideas to inspire you.
Find this Brass Planter with Stand at Audenza.
5. Spruce up your desk with a cute terrarium
If you require something small to spruce up a desk or cheer up a home office window sill, look no further than a terrarium; the perfect home for small succulents.
6. Choose tall species to match high ceilings
If you're blessed with high ceilings, choose plant life that makes the most of it. You can afford to pick taller, more dramatic species or equally eye-catching trailing varieties without fear of them swamping the room.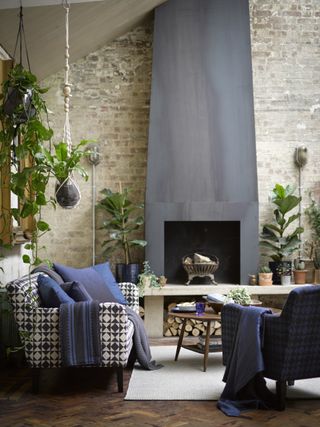 7. Choose varieties that enhance a maximalist space
Striking in their appearance, mother-in-law's tongue and larger species of cacti can enhance the dramatic feel of a maximalist scheme, while adding texture to a space. Despite competing with bold pink tones and clashing patterns, these house plants hold their own as an eye catching feature.
Curious about Maximalism? Here are 11 ways to get the Maximalist look.
8. Make plants a feature in a minimalist space
House plants can really bring a coffee table to life, making a feature out of an often overlooked space. The trick to achieving this look effectively is ensuring an assortment of species, sizes and pot styles; arranged with little uniformity.
Browse our pick of the best coffee tables for any budget.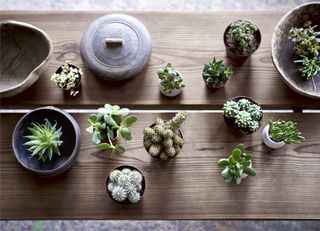 9. Find an alternative use for wicker baskets
In addition to making a simple, yet stylish, storage solution, wicker baskets work as a great home for house plants. Rather than hiding storage baskets away, make a feature out of them with some added greenery.
Find similar Storage Baskets at House of Bath.
10. Display plants on a wire rack for a millennial feel
Styled with blush tones and a varied assortment of plant life, this space has a particularly millennial feel. Propped up against the wall, this light blue wire rack offers a great solution for displaying plants and acts as an eye-catching focal point within the space. To achieve this finished look, simply add mismatching, bright toned plant pots and one of each of your favourite house plants.
To achieve a similar look, try Etsy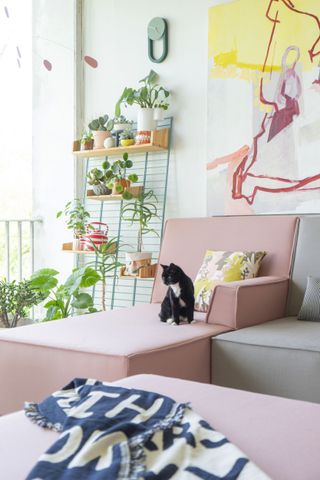 11. Choose delicate house plants for a sophisticated feel
With its image reflected in a stunning octagonal mirror, this delicate house plant makes an understated impact on a sophisticated dining space. In addition to making the room seem larger, this clever use of reflection creates a design feature that is equally captivating and calming.
12. Create an industrial vibe: display on a ladder shelf
Adding house plants can be an effective way of injecting a pop of colour into an otherwise monochrome, industrial-style decorating scheme. While understated, each plant adds a lively touch and helps create a more homely feel.
For a similar ladder shelf, try Limelace.
13. Experiment with the height and positioning of plants
While smaller plants often look better clustered together, creating space between larger varieties is usually the best way of displaying them and (unless that's the effect you're going for) prevents your house from looking like an indoor jungle. Experiment with the positioning of house plants to find a combination that works for you.
Find similar plants at Ikea.
14. Display your plants in an indoor greenhouse
This miniature greenhouse, with it's simple structure, would make an eye-catching addition to any Scandi-inspired home. If your preference is for smaller species, this striking piece is a great option for showcasing your greenery and bringing the magic of nature indoors.
Browse our gallery of cosy Scandi room design ideas.
Find it at Einrichten Design.
15. Group pot plants for a contemporary feel
If you're short on surface space, or are simply looking to make more of a feature out of your house plants, grouping assorted species together on a hanging stoneware tray is a great option that adds depth and interest to a space.
We love this Bloomingville Flowerpot Tray from Beaumonde.
16. Pick up a stylish plant stand
Choosing a sleek and contemporary stand to display plants is an easy option if you're looking to make more of a feature from the greenery in your life. Not only does a plant stand make experimenting with the positioning of plants easy, but it can also prevent a space from feeling cluttered if you've decided to introduce lots more house plants into your home at once.
We love the Satsumas Plant Stand from Ikea.
17. Fill up kitchen worktops with house plants
Want to give your kitchen plenty of green appeal with house plants? Why not pack out the corners with pots of easy-care, steam-loving evergreens (or faux plants if your kitchen's light deprived). Paint the walls in a deep green and you'll accentuate the hot-house effect further.
We have more colourful kitchen design ideas.
Want even more house plant inspiration?